Auxilium Pharmaceuticals (NASDAQ:AUXL) recently reported its second quarter 2014 financial results. The company's total revenues for the second quarter of 2014 came in at $83 million, compared to $100.5 million in the year-ago period, a 17% decline. Auxilium reported a net loss of $21.8 million or $0.44 per share in the second quarter on non-GAAP basis, compared to a net profit of $11 million or $0.22 per share in the year-ago period, primarily due to decreased Testim revenues, lower gross margin and increased SG&A expenses. As a result of this weak financial performance, the shares of the company corrected significantly post earnings, which I believe is an excellent investing opportunity for long-term investors.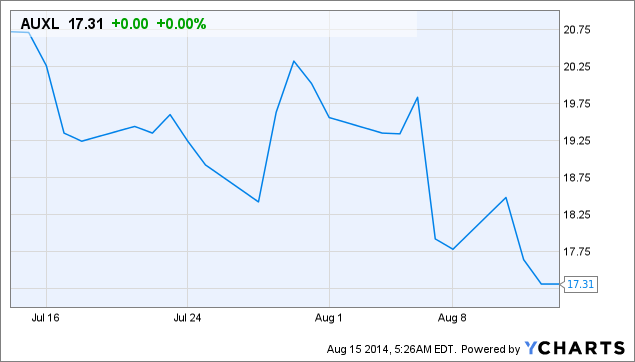 AUXL data by YCharts
The decline in Auxilium's second quarter earnings and revenue was not entirely unexpected, which was primarily driven by a decrease in Testim and TESTOPEL revenues, offset by an increase in XIAFLEX and STENDRA revenues, as a result of the recent product launches in Peyronie's Disease and erectile dysfunction, respectively. Adrian Adams, President and CEO of Auxilium, said, "Through the second quarter of this year, we are encouraged and pleased with the launches of XIAFLEX for Peyronie's disease and STENDRA for erectile dysfunction. We believe these products offer patients important new treatment options and represent growth opportunities for Auxilium."
In my original analysis I opined that despite Testim's near term opportunities, XIAFLEX has the potential to replace Testim as Auxilium's lead growth driver. Things are panning out exactly as I expected, and I believe that going forward XIAFLEX and STENDRA will continue to drive revenue and earnings growth for Auxilium. The stock received an "underperform" rating after the second quarter earnings, which I believe should be utilized to load up the stock for the long-term.
Disclosure: The author has no positions in any stocks mentioned, and no plans to initiate any positions within the next 72 hours. The author wrote this article themselves, and it expresses their own opinions. The author is not receiving compensation for it (other than from Seeking Alpha). The author has no business relationship with any company whose stock is mentioned in this article.