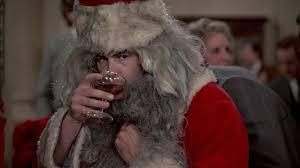 Dan Akroyd from the movie "Trading Places"
Everybody knows I am one of the biggest Molycorp, Inc. (MCP) bears. I have been accused of everything from unnecessarily bashing the stock, to having a vendetta against the company. On a previous article, a commenter even compared me to Bill Ackman, the short seller who has been tormenting Herbalife, Ltd. (NYSE:HLF) for months:
[He's] one of the reasons that the stock is as beaten up as it is and you're are asking him for a recommendation? This guy is a hater. He may be right to hate Molycorp but he's as over the top as [Bill] Ackman is on Herbalife.
My short thesis was that [i] the company needed to find a solution to its cash burn, [ii] Molycorp could not support more debt, nor would management or senior debtholders agree to more indebtedness and [iii] any solution would be dilutive to the stock. That said, the company reported another dismal operating performance in Q2. Revenue was $116 million and net losses were $84 million, a slight improvement above the $89 million loss incurred in Q2 2013. Cash burn was $80 million, higher than the $64 million I was anticipating. However, after management announced a $400 million lifeline from Oaktree, my short thesis evaporated. Below are the company's historical losses: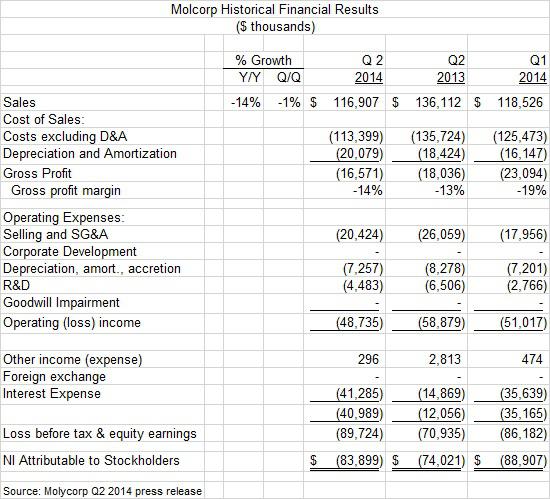 Just when longs were licking their chops for the short covering that was to ensue, analysts from J.P. Morgan (NYSE:JPM) and Euro Pacific decided to re-ignite the bear case.
Wall Street Turns Sour
For months I was practically screaming the bear case by myself. My $1.60 per share valuation of the company sent longs into a fury. Meanwhile, Wall Street was practically silent on Molycorp's valuation and capital hole. And when the Street did speak up, it was to stop a bear raid on the stock, as an analyst from DA Davidson did in early July. The stock tested my $1.60 price target and was about to plummet further. I was salivating from the profits I was about to make from my short position. Then out of nowhere, DA Davidson confirmed its $7 per share target on the stock, after supposed having spoken with management. I and other shorts were forced to cover, driving the stock back up into the $2.20 range. DA Davidson cost me a lot of money that day.
Euro Pacific Downgrades From Hold to Sell
After the company announced Q2 earnings on August 6th, the stock rose from $2.04 to $2.35 the next day - a 15% increase. The stock was poised to blow past $2.50 and maybe even $3.00 - the strike prices for popular call options. Again, I was licking my chops from the profits I was about to make on my straddle. The stock stalled at $2.36 on August 8th and pulled back to $2.32 on August 11th - the next trading day. That morning Euro Pacific downgraded the stock from Hold to Sell, citing continued price declines in the company's product suite and lagging production at Mountain Pass.
JPMorganChase Reiterates Underweight
JP MorganChase also weighed in on August 11th, reiterating its Underweight rating on the stock. I saw the profits from my call options evaporating in front of my eyes. "JP Morgan has been silent for months. Why weigh in today?", was my question. A commenter on stocktwits.com was equally dismayed:
$MCP So is JP Morgan done covering yet? ... Talk about late to the party
I did not read the actual research report, but another commenter on stocktwits implied that JP Morgan had a ten cent price target on Molycorp:
MCP Wait ... JP Morgan really has a $0.10 price target on Molycorp? How is that possible?
The stock reacted to the downgrades, slowing making a descent to $2.02 per share, yesterday's closing price. Below is the one month stock chart on Molycorp: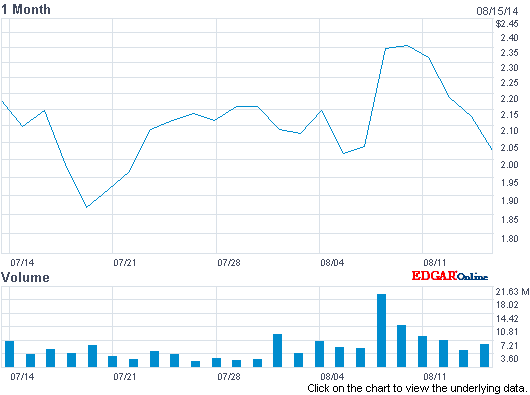 Good News Already Priced In
There really are no more positive catalysts for the stock at this point. Over the past three months longs have been bullish on the stock, not due to the company's stellar operating performance, but due to [i] short covering offering a floor to the stock and [ii] a capital raise that would buoy the company's prospects and send the stock soaring. Judging by daily trading volume in Molycorp, shorts have slowly started covering. Secondly, after the Oaktree deal, all of the positive catalysts have been baked into the price. The only catalysts left are analyst actions (which will most likely be negative) and quarterly earnings reports from Molycorp, which will definitely be negative.
Not For The Faint of Heart
Once the stock breaks the $2 level, I see it descending further. This stock is not for the faint of heart. For those who can stand the volatility over the next few quarters as rare earth prices hopefully turn around, the stock may pay off. Of those who cannot, I would advise that you sell the stock.
Conclusion
After Molycorp announced its financing arrangement with Oaktree, the stock soared 15%. The gain was ethereal as Wall Street soured to the stock and the company's business prospects. The only other catalyst to drive the stock higher is positive operating performance, which will not come for several quarters, if at all. Molycorp may no longer be a short play, but it could test $1.60 again.
Disclosure: The author is short MCP. The author wrote this article themselves, and it expresses their own opinions. The author is not receiving compensation for it (other than from Seeking Alpha). The author has no business relationship with any company whose stock is mentioned in this article. I own straddles on the stock