The market has been bouncing back recently and has the S&P 500 within striking distance of its all-time highs. The small cap stocks have still not recovered from their recent market weakness which indicates to us that in some regards we find ourselves in a "nifty fifty" type of market. Eventually this will change, especially if M&A picks up in key areas such as banking and technology.
As companies continue to optimize their operating and capital structures, the landscape for increased M&A across the board is now taking shape and could possibly make 2015 a bigger year for M&A (both in terms of dollars and number of deals) than 2014.
Chart of the Day:
We continue to like the opportunity offered by the smaller cap names, especially with their underperformance versus the mid and large cap names.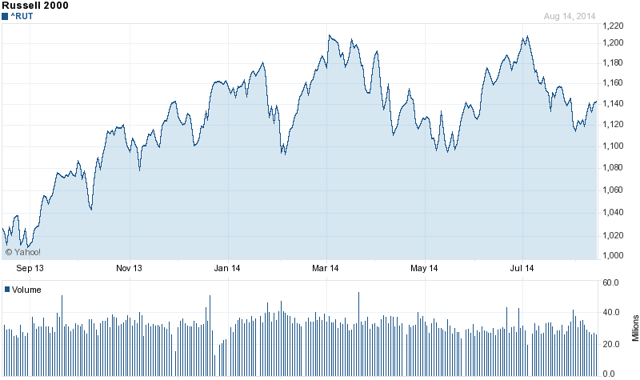 Source: Yahoo Finance
We have economic news today, and it is as follows:
PPI (8:30 a.m. EST): Act: 0.1%
Core PPI (8:30 a.m. EST): Act: 0.2%
Empire Manufacturing (8:30 a.m. EST): Act: 14.7
Net L-T TIC Flows (8:30 a.m. EST): Act: -$18.7 B
Industrial Production (9:15 a.m. EST): Act: 0.4%
Capacity Utilization (9:15 a.m. EST): Act: 79.2%
Michigan Sentiment (9:55 a.m. EST): Act: 79.2
The Asian markets are higher today:
All Ordinaries -- up 0.33%
Shanghai Composite -- up 0.92%
Nikkei 225 -- up 0.02%
NZSE 50 -- up 0.31%
Seoul Composite -- CLOSED
In Europe, the markets are higher this morning:
CAC 40 -- up 1.02%
DAX -- up 0.90%
FTSE 100 -- up 0.72%
OSE -- up 0.83%
Ackman Focusing On GSEs
There are currently a few lawsuits out there where investors in Fannie Mae (OTCQB:FNMA) and Freddie Mac (OTCQB:FMCC) are suing the federal government over plans to wind both entities down while also distributing the profits from each company to the US Treasury. Up until now all of the cases have focused on Fannie and Freddie's preferred shares, now Bill Ackman's Pershing Square is filing suit, along with a few retirees, in an effort to end the payments to the federal government.
Both stocks trade on the OTC market and the companies are set to be wound down, but there is a growing list of hedge fund/private equity fund managers looking at Fannie and Freddie as candidates for recapitalization. This has emboldened many investors to follow the big names into these stocks and each new large investor creates another wave of buying. After the revelation that Mr. Ackman made a half a billion dollar bet in the GSEs to acquire nearly identical sized stakes, shares in both companies rallied.
This is a dangerous game that is being played, but when you have this large amount of smart money and this roster of big name investors with proven track records in special situations carrying exposure, the odds look decent that these battles with the government will result in favorable outcomes for investors.
Beverage Deal
Coca-Cola (NYSE:KO) announced a $2.15 billion deal with Monster Beverage (NASDAQ:MNST) which will see the iconic brand take a 16.7% stake in the energy drink maker while also exchanging brands to optimize each companies' product offerings. Regarding the brands which will be exchanged, Coca-Cola will receive Hansen's Natural sodas and juices, Hubert's lemonade and Peace Tea. Monster will receive the energy drink brands of NOS, Full Throttle, Burn, Mother and Play while also giving Coca-Cola two seats on its board.
The two companies look to assist each other in marketing and distribution in both Canada and the US, which means that Monster will shift distribution from Anheuser-Busch InBev (NYSE:BUD) in certain areas.
Coca-Cola is ramping up its investments in growth areas, with two large investments in the last year as it seeks to increase its growth rate moving forward.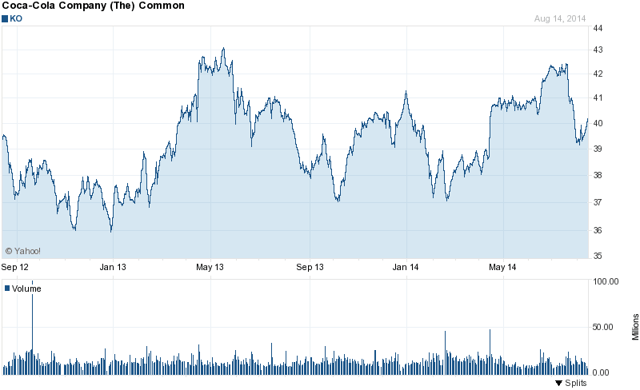 Source: Yahoo Finance
Moving forward Coca-Cola has the option to purchase up to 25% of Monster's stock and can purchase more after reaching that level with approval from the board. The overall deal was similar to that of Coca-Cola's other recent purchase, Keurig Green Mountain (NASDAQ:GMCR), which saw Coca-Cola quickly exercise its right to increase its stake. With the way the deal is structured, and analysts knowing Coca-Cola needs growth both domestically and internationally, the thinking is that Monster could be a buyout candidate once the caffeine issues are resolved and any resulting regulations are understood.
Icahn Strikes Again
In what appears a rather odd move, Carl Icahn announced a 6.6% stake in Gannet (NYSE:GCI); a media company which recently announced that it would be splitting into two companies - a newspaper group and a digital and broadcasting group. We say that it appears as an odd move because many will think that Mr. Icahn accumulated this stake after the split was announced, but the truth is that he began accumulating shares two months ago.
One does have to wonder how much, or even how little, Mr. Icahn had to do with the announcement earlier this month and whether just his presence was enough to entice the board to split the company.
Disclosure: The author has no positions in any stocks mentioned, and no plans to initiate any positions within the next 72 hours. The author wrote this article themselves, and it expresses their own opinions. The author is not receiving compensation for it (other than from Seeking Alpha). The author has no business relationship with any company whose stock is mentioned in this article.
Editor's Note: This article discusses one or more securities that do not trade on a major U.S. exchange. Please be aware of the risks associated with these stocks.