Since January 2009, FS Investment Corp. (NYSE:FSIC) has been operating as BDC and now has a $4.2 billion portfolio of 81% safer senior secured debt and bonds. After becoming a public company in April 2014 I decided to include FSIC as a component in my suggested "Total Return" and "Value" portfolios for many reasons including dividend coverage and growth. The company has reported results (a day earlier than announced) for the quarter ending June 30, 2014 and as a newly public company it is important for investors to monitor results closely. Most shareholders also received a special dividend today of $0.10 per share.
This article will only cover the reported results at a high level and I will wait until the investor call next week to perform a more thorough analysis. The following are my primary takeaways mostly regarding dividend coverage from the latest 10-Q:
Core NII of $0.256 covering dividends by 115%
Fee income of $18.5 million and higher than average
Listing advisory fees of $5.0 million and not included in my core NII
Realized/unrealized gains of $11.3 million
72% of new investments were first lien senior secured
Increased equity participation in portfolio companies
Reduced portfolio yield from 10.2% to 9.9%
Reduced operating cost mostly due to management fees
Higher other G & A
The good news: higher quality portfolio including more first lien debt and equity participation, lower operating costs, meaningful amounts of realized/unrealized gains on investments, superior dividend coverage beating analyst estimates of $0.24 per share if the onetime expenses for public offering and capital gain fees are excluded and next quarter EPS will be calculated using a much lower amount of shares. Recently there have been active insider purchases of shares as discussed in "FS Investment Corporation Goes Public".
The not so good news: lower portfolio yield (most likely due to higher quality investments), increased other G & A (probably due to being a public company) and the fee income will most likely be less in the following quarters.
Q2 2014 Actual Results
I use core net investment income ("NII") that excludes both income and incentive fees related to capital gains. I have also backed out the $5 million in listing fees for the quarter.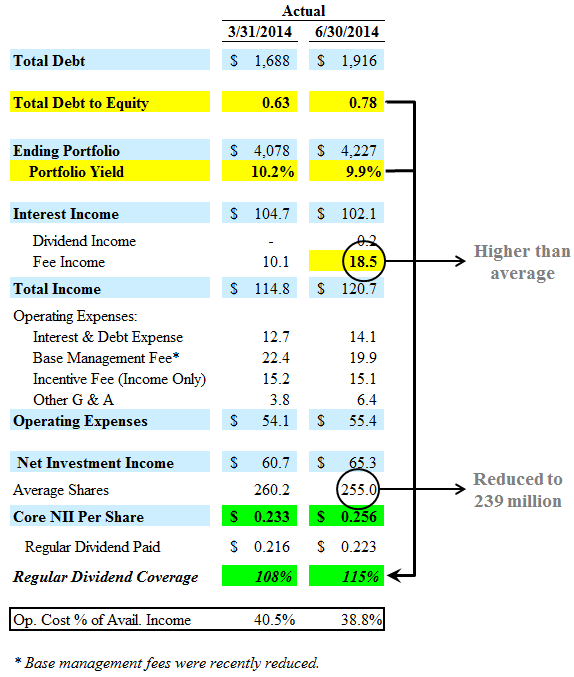 Follow up to my "Optimal Leverage" analysis:
In my article "FS Investment: BDC Dividend Coverage Part 6" I discussed the dividend coverage potential for FSIC and estimated that the company could cover dividends by 117% to 121% using debt-to-equity ratios of 0.70 and 0.80 that was based on the new amount of shares of 239 million. The following are the key differences between the optimal leverage ("OL") analysis and the actual results for Q2:
OL is based on 239 million shares that will be reflective of Q3 2014 results
OL is based on portfolio yield of 10.2%
Q2 fee income of $18.5 million compared to the average of $10.1 million used in OL
Q2 had increased amounts of other G & A
In my upcoming articles on FSIC, I will provide more detail on the recent results and on the earnings call next week I will be looking for detail around direction of portfolio yields and fee income, portfolio quality and direct origination efforts, potential dividend increases and changes to its capital structure including potential equity offerings, preferred leverage and debt facilities. I have put together a "BDC Research Page" that links to various articles on Seeking Alpha including the optimal leverage and dividend coverage series and I will continue to update, as well as my "Index to BDC Articles" for more information on specific BDCs.
Disclosure: The author is long FSIC. The author wrote this article themselves, and it expresses their own opinions. The author is not receiving compensation for it (other than from Seeking Alpha). The author has no business relationship with any company whose stock is mentioned in this article.