I pulled the trigger on buying Japanese small caps this week. The valuation multiples are just too cheap to ignore.
According to Morningstar, the WisdomTree Japan SmallCap Dividend (NYSEARCA:DFJ) is currently valued at a mere 0.31 times price to sales, 2.8 times price to cash flow, 0.7 times price to book and 14.6 times earnings.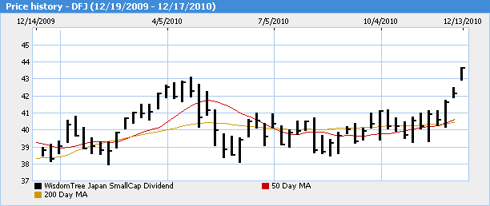 click to enlarge image
While valuation alone doesn't always make for a successful trade, potential catalysts for profit may include:
This week's announcement that Japan is lowering its corporate tax rate (see here). Historically, lowering tax rates has proven a huge impetus to economic growth from Singapore to Hong Kong to Ireland.
With bond yields rising globally, the love affair between Japanese investors and Japanese government bonds may finally be coming to an end (see here).
If Japanese investors were to begin to move out of bonds and back into equities, there could be a lot of upside potential for these stocks. Apart from Japanese retail investors hating domestic equities, foreign investors have long given up on this asset class.
One downside to the trade may be the fact that Japanese government debt levels as a percent og GDP are amongst the worst in the world and are clearly unsustainable. However, Japan is still very much an export driven economy and should a credit crisis in Japan result in a weaker yen, many Japanese corporations would see their international competitiveness improve accordingly.
Disclosure: I am long DFJ.