Given the fact that Tesla Motors (NASDAQ:TSLA) has already surged nearly 74% this year as of this writing, it is not unreasonable to begin to question how much upside is left, or if a correction is warranted. Despite the fact that the stock continues to put in new all-time highs, Wall Street analysts have begun to upgrade shares and ratchet price targets higher. Ultimately, the company is on the horizon of a new generation for the automobile, and while a small pullback is possible - at which point I would be buyer even more shares, there is plenty of upside remaining, even now and the stock is a buy.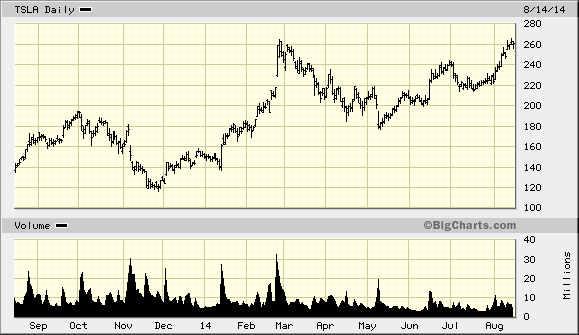 The Analysts
The trading week started with Deutsche Bank upgrading the stock to outperform, which has served as a catalyst for progressive new highs during each session. In a summary of the company's position, JPMorgan released a reminder that "Tesla reiterated its guidance for battery pack costs to decline by ~30% associated with launch of the Gigafactory." With expanded capacity to support its battery needs, Tesla now expects to be able to produce one million vehicles per annum, which represents a 100% increase over previous estimates.
The most compelling analyst report of the week came from Credit Suisse's Dan Galves and Shreyas Patil. In initiating coverage with an outperform rating and a price target of $325 per share, the pair gave a point by point defense of why Tesla's vehicles were simply superior to those powered by an internal combustion engine (ICE), like those made by Ford (NYSE:F), General Motors (NYSE:GM) or Toyota (NYSE:TM). Beyond the obvious potential for savings in fuel costs, some of the highlights of their argument include, fewer moving parts, lower center of gravity for maneuverability, better acceleration and more torque.
When added to the reality that Ford, GM and the ICE are facing increasingly stringent regulations, the argument for Tesla becomes even more compelling. Toyota has become a segment leader in hybrids with the Prius, but when Tesla achieves operating efficiencies available from its Gigafactory and begins to produce a more affordable version, even hybrids will face huge pressure. As the report points out, "If Tesla can get to cost parity with an inherently better product, they will maintain the pricing power they currently enjoy." They conclude with the proverbial knockout punch: "$1,400 - $2,500 / year fuel savings vs. ICE's can drop to margin or be used to drive share. If Tesla can charge a $3k-$4k price premium to ICE's, that's 5+ points of margin on a $40k-$80k average vehicle price. It won't be a fair fight."
Perfection Unattainable
Still, the company is not without its naysayers. A recent article by Drew Sandholm in support of the company mentions that Tesla received a mixed review from Consumer Reports, citing that the Model S has "more than its share of problems." What Sandholm correctly points out is that every time a major concern is raised, the company responds by meeting or beating expectations. Just as Steve Jobs was scrutinized when he went after the smartphone market, CEO Elon Musk will be scrutinized in attacking the auto market. After all, we are now talking about a Silicon Valley company challenging Detroit to a street fight. The standards are high, but the company seems more that up to the task.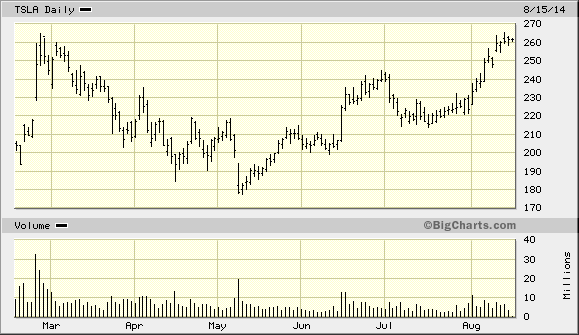 The Trade
Given the gathering strength you're seeing in the stock, Tesla remains a buy, even after the huge week it has had. The stock has effectively taken out some significant resistance levels and is garnering institutional support. There remains a significant short interest, but continued strength could actually create the environment for a short squeeze to drive shares higher quickly - hence not waiting for a meaningful pullback. The stock should be accumulated on weakness, but I would not wait for the dip to begin building a position.
Disclosure: The author has no positions in any stocks mentioned, and no plans to initiate any positions within the next 72 hours. The author wrote this article themselves, and it expresses their own opinions. The author is not receiving compensation for it (other than from Seeking Alpha). The author has no business relationship with any company whose stock is mentioned in this article.