That's right. The time of cognitive dissonance is over: After J.C. Penney (NYSE:JCP) delivered a fantastic first quarter with strong comparable store sales growth, second quarter results were equally impressive. With one little difference: Investors are no longer as pessimistic as they were about the retailer in the first quarter. J.C. Penney's first quarter results caused significant cognitive dissonance for investors as the company hugely outperformed sales expectations.
Buy when others are consumed by fear and pessimism
It is a repeating pattern in the turnaround business: Very few people believe in a turnaround at first, while most investors give on to negativity and dismiss even the slightest possibility of a comeback. As time goes on and results slowly trickle in, more and more investors jump on board. It is so predictable, it is getting really boring (but it remains very lucrative).
This is a behavioral pattern you will see for nearly all companies that go through troubles, which expose them to a lot of doubt and criticism. It is somewhat like bullying in a schoolyard: Let's attack the weakest so that the rest can feel strong as a group.
This, of course, is a reflection of the human condition. Though we all have smartphones, use satellite technology and fly in airplanes around the world, our primal instincts still determine who we align with and why.
A couple of ten thousand years ago it was much safer to go out and fight threatening animals as a group. What does tiger and bear killing 50,000 years ago have to do with an investment in J.C. Penney today you ask? Everything.
Because our ancestors desired and needed the strength of the group for survival purposes, we exhibit the same traits today. Modern day psychologists actually coined a phrase for it: Conformity.
We are all still herd animals, which seek out the protection of the group in order to feel secure. This, of course, is not necessarily conducive to critical thinking and individuals voluntarily departing the group to strike out on their own are often looked down upon, dismissed and flat out ostracized.
This is why contrarian investing is so much fun. After some time witnessing the emotional reactions of the herd as a detached observer, you can tell from the opposition you receive with respect to your contrarian investments, where exactly in the recovery cycle we stand.
The bottom of the recovery cycle obviously is reached when investors ridicule you for endorsing an investment in the light of adversity (head over to the comment sections of my older J.C. Penney articles to see what I mean, e.g. here). Also, in this regard, check out my controversial article about J.C. Penney entitled "J.C. Penney: Whoa, Just $5 Per Share But I Will Buy More" from the beginning of February where I encouraged investors to double down on the retailer.
Unbeknownst to those bearish investors who flat out deny any turnaround chances from the get-go, it is their emotions and the fear instilled by others which determine their decision making.
However, one thing is quite sure: While missing most of the recovery gains, the hardcore doubters will be lured in to buy at some point because they feel the psychological pressure of 'missing out'.
Why wouldn't you want to buy J.C. Penney at $5 when the company does all the right steps to turn the ship around, but are so eager to jump in at $10 full of excitement? It doesn't make any sense.
Second quarter results
More good news, obviously, were presented yesterday by J.C. Penney, which delivered another consecutive quarter of solid performance results:
Third consecutive quarter of positive sales growth.
Same store sales were up 6% vs. analyst expectations of 5.8% (notice how high analyst expectations have gotten).
Revenues increased 5.1% year-over-year to $2.80 billion.
Free cash flow stood at $76 million, solidly positive.
Gross margin improved by 640 bps year-over-year and 290 bps quarter-over-quarter to 36.0%.
In addition, the retailer gave a strong guidance for the remainder of the year, including:
Mid-single digits comparable sales growth in 2014.
Liquidity of about $2.1 billion at the end of the year.
Positive free cash flow.
Improvements in its gross margin.
If this is not a turnaround, then what is?
Chart situation
Second quarter results and particularly strong comps have caused heavy after market action in J.C. Penney's stock. Shares closed 7.5% higher at $10.05 as investors cheered J.C. Penney's sales results and, most importantly, the third positive comps growth quarter in a row.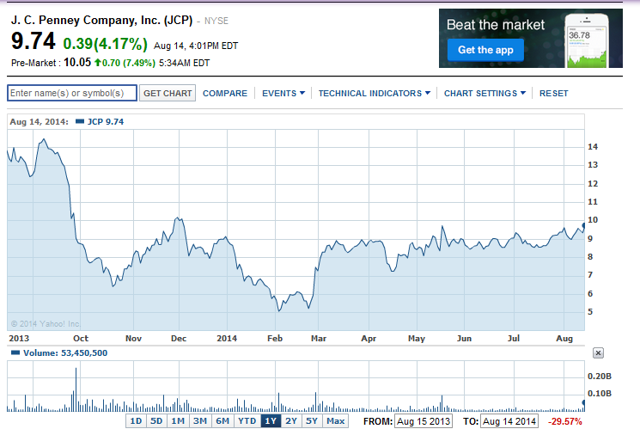 (Source: Yahoo Finance)
Conclusion
I cannot help but wonder why investors wouldn't want to buy a J.C. Penney when it is on sale, but are falling over themselves when they can buy the retailer at twice the price. The only reason to explain this irrational behavior is "fear". That's right, investors are fearful to buy a company that is going through hard times because nobody else does (thank you, herding behavior). And that's exactly the mistake. Remember Warren Buffett: "Be greedy when others are fearful and be fearful when others are greedy".
The right time to sell J.C. Penney will be exactly when investors shout "J.C. Penney" from the rooftops and it is preferably those investors shouting, who barked against J.C. Penney at $5 the loudest. Strong Buy.
Disclosure: The author is long JCP. The author wrote this article themselves, and it expresses their own opinions. The author is not receiving compensation for it (other than from Seeking Alpha). The author has no business relationship with any company whose stock is mentioned in this article.