Every week we include in our weekly ranking report a list of the highest quality and lowest quality stocks as defined by four key factors: 1) Relative Value; 2) Operating Momentum; 3) Analyst Revision Momentum; and 4) Fundamental Quality. At the end of each month, we take roughly 1/3 of the stocks on this list to construct our various long/short and long-only model portfolios based on real trade data.
This systematic approach to uncovering attractive stock ideas has presaged a number of significantly positive sell side ratings changes. For example, Starbucks Corp. (NASDAQ:SBUX) has been listed as a "high-quality" stock since November 12, and T. Rowe Price (NASDAQ:TROW) has been in our model portfolios since November 30 -- both were placed on the Goldman Sachs (NYSE:GS) Conviction Buy List last week. (For additional examples, see this article on Seeking Alpha.)
This week, 67 stocks make the "high-quality" list versus 63 last week, with 7 additions and 3 deletions. 33 stocks make the "low-quality" list, up from 32 last week, with 6 additions and 3 deletions. The most interesting "high-quality" long ideas this week is Lam Research Corporation.
Lam Research Corporation (NASDAQ:LRCX)
This company is a $6.4b market cap semiconductor equipment company based in Fremont, California. Similar to Varian Semiconductor (VSEA), which in our opinion is another attractive semiconductor stock, LRCX designs, manufactures and markets semiconductor processing equipment used in the fabrication of integrated circuits.

While Varian looks attractive, LRCX looks like the better relative idea, trading at 9.7x CY2011E EPS versus 12x for VSEA, and with stronger ROIC prospects as it relates to relative levels and growth prospects. Like VSEA, it recently experienced a big upgrade in consensus EPS while revenue remained roughly unchanged. LRCX currently looks attractive, and this relative attractiveness has the potential to improve if semiconductor industry fundamentals can support higher levels of revenue growth. LRCX has been on our "high-quality" list for several weeks now, but just recently achieved scores of 5 in our four key factors that we focus on (see table below).

Currently 11 sell side analysts have an average $49 stock price target for the stock, ranging from $32 to $68. The high-consensus target looks achievable to us -- it represents a recent high 9.1x EBITDA multiple applied to an implied 12-month consensus high trailing EBITDA estimate of $7.50/share two quarters out. Since recent volatility has been running close to 9%/month, some ratio relative to this figure could support a reasonable short-term price target and stop loss.

click to enlarge images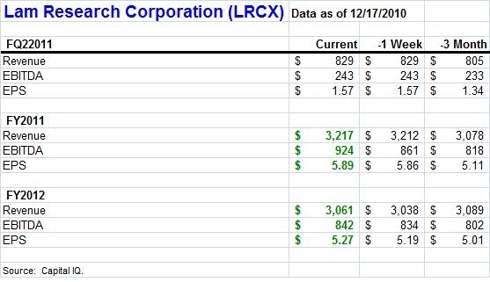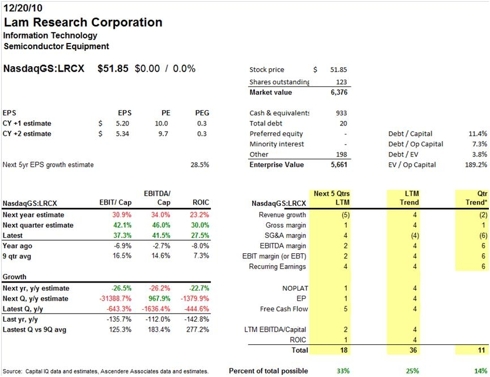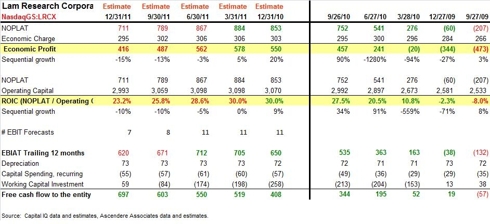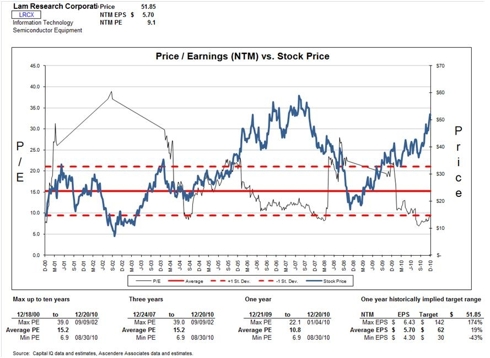 Disclosure: I am currenly long TROW and may purchase LRCX within the next 72 hours. Through the independent equity research and management firm, Ascendere Associates LLC, I offer a premium equity research newsletter for which I receive compensation. Recent issues of this newsletter have mentioned stocks in this article. I also receive compensation through various equity research consulting and advisory services, as well as for licensing brokerage trade data to Covestor, Ltd. for use in its investment advisory service.