For 76 years, state-run Petroleos Mexicanos (Pemex) has dominated the Mexican energy industry. If you have traveled in Mexico, you recognize the name, as it is (was) the only place to stop for gas - there were no competitors. I first wrote about this event in December, when the Mexican Congress passed the law for the first time. On Wednesday, President Pena Nieto made the legislation official, signing into effect laws that significantly reduce Pemex's power and control while providing investment opportunities to firms from the U.S. and elsewhere. This will have large and long-lasting implications for oil companies who can now bid on the estimated 13.5 billion barrels of proven oil reserves. However, a much larger potential windfall exists, as Pemex estimates that the Gulf of Mexico could hold about 27 billion more barrels of reserves, which could be extracted with proper development and exploration.
Pemex is being given 83% of Mexico's "proven and probable" oil reserves. Mexico, currently the 10th largest oil producer, according to the U.S. Energy Information Administration, has seen its oil production drop significantly over the past several years during Pemex's reign, as its state-run industry has not been able to keep up with the rise in global production.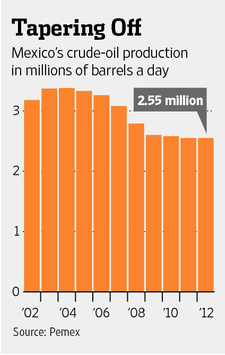 (Source: Pemex/WSJ)
In order to spur production again, Mexico is doling out its energy reserves. While Pemex's 83% market share of "proven and probable" reserves may seem limiting to the potential of foreign investors in the energy market, the company was only allotted 21% of "possible reserves," (they asked for 31%) which includes the 27 billion barrel estimate above. The remaining 79% amounts to over 21 billion barrels of oil that could be extracted from the Gulf of Mexico. One report from last year has Mexican potential oil registering at 87 billion barrels, though I find this situation highly unlikely. So what does all this mean?
For large companies such as Exxon Mobil (XOM), Conoco Phillips (COP) Chevron (CVX), BP (BP), and Royal Dutch Shell (NYSE:RDS.A) (NYSE:RDS.B), this could provide a large investment opportunity. I've already addressed the market potential above, and you can bet that these companies and many others would love to get their hands on this untapped Mexican oil. As I wrote in my last post, in March of last year Chevron and another company made huge discoveries in the Gulf of Mexico, at the "Coronado" and "Shenandoah" prospect locations (see map and drilling details below).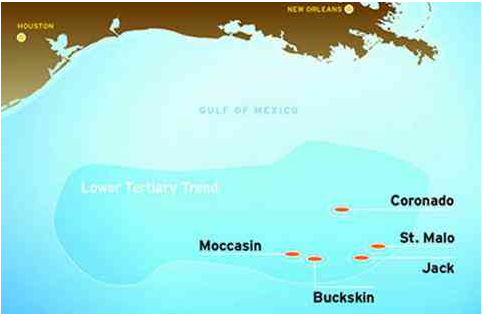 Details on Chevron's find in "Coronado" (hint: it's very deep):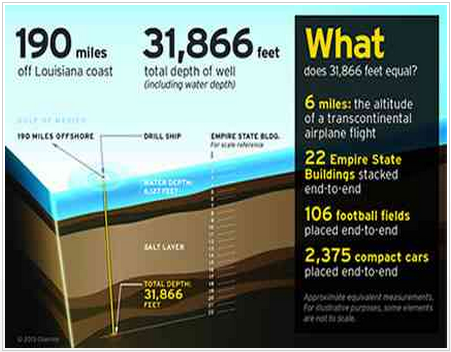 (source: Chevron PR)
Success at locations in the Gulf of Mexico (like Coronado and Shenandoah) will inflate hopes for similar discoveries and drive investment at "possible reserve" locations, even if they seem like riskier propositions. Shell reported the additional discovery of 100 million barrels a couple weeks ago, helping to "fuel" some of this Mexican oil frenzy.
The Process:
Mexico hopes to return to 2004 production levels by 2025, but in order to do so, needs drilling and exploration to begin quickly. To incentivize production and project commencement, the government will be executing rounds of bidding for the remaining 79% of reserves. "Round One" is projected to begin as soon as February, but could be pushed back to as late as September. A very important item to watch is how the Mexican government handles the bidding process and new procedures. Mexico will need to make strides in eliminating corruption, back-handed dealings, and favoritism, and ensure that the bidding and production oversight process run smoothly.
Mexico's goal is to attract more than $50B of investment in the next five years; a frictionless legislative process will be imperative to meeting this benchmark.
Key Takeaways and Notes:
With experience drilling in the Gulf of Mexico already under their belt, coupled with vast resources and expertise, Chevron, Shell, BP, XOM, COP, and other large players seem primed to capitalize on this investment opportunity in Mexico's oil and energy sector. However, many other companies are likely to vie for a piece of the pie as well; simply because Chevron has done it before does not mean they will bid the most for the potential reserves, be the most willing to drill, etc.
I'll keep you abreast of updates on the bidding process and what it means for specific companies as they win/lose contracts, begin drilling, etc.
Thanks for reading, have confidence.
Disclosure: The author has no positions in any stocks mentioned, and no plans to initiate any positions within the next 72 hours. The author wrote this article themselves, and it expresses their own opinions. The author is not receiving compensation for it (other than from Seeking Alpha). The author has no business relationship with any company whose stock is mentioned in this article.