The companies that succeed are often the ones who just improve better and faster than the competition and just keep doing that. And that is the essence of BYD.
This how Berkshire Hathaway (NYSE:BRK.A) Vice Chairman Charlie Munger described BYD (OTCPK:BYDDY) in an interview with Fox Business back in May 2010. Berkshire Hathaway owns 9.9 percent of BYD through its MidAmerican Energy Holdings subsidiary. Charlie Munger introduced Buffett to the company that he had discovered via Li Lu, a hedge fund manager that also happens to have a large stake in BYD.
"Build Your Dreams" or "BYD" is in the business of making cars: conventional, hybrids and electric ones. It is also a major battery and electronics manufacturer that supplies components to major cell phone manufacturers. Despite the fact that the car division of BYD didn't even exist until 2003, it is now bringing in the most revenue. In 2009, over half of the revenue came from the auto division, while handset components and assembly services contributed 37% and the battery division 10%. So far, the growth has been mostly due to the home market, as over 80% of revenue comes from China. Therefore, the potential of this company is huge if it succeeds also in other markets.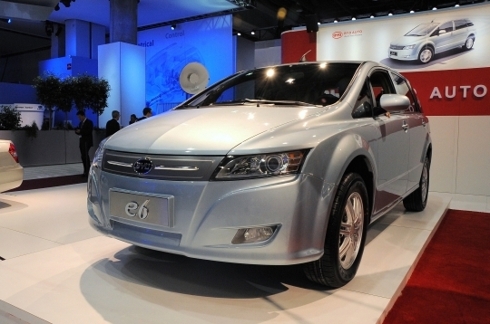 Click to enlarge
Picture: BYD e6 shown at 2009 North American Auto Show, Detroit, Michigan, US. Source: Wikipedia.
Wang Chuan-Fu founded BYD back in 1995 in Shenzhen, China. By 2000, BYD had become one of the world's largest manufacturers of cellphone batteries. Both Buffett and Munger sing high praises for the CEO of BYD. "This guy," Munger told Fortune in April 2009, "is a combination of Thomas Edison and Jack Welch - something like Edison in solving technical problems, and something like Welch in getting done what he needs to do. I have never seen anything like it." Buffett actually wanted to buy 25% of BYD, but Wang Chuan-Fu only wanted to let go of 10%, which Buffett took as a good sign.
Looking at the owners of the company, one can immediately see that majority of the stock is controlled by insiders and a few investment companies.
click on charts to enlarge

Click to enlarge
Notes:
*) owned 89.5% by Mr. Lu Xiang-yang
**) via MidAmerican Energy Holdings Company
***) controlled by Mr. Li Lu
The market capitalization of BYD is about USD 13 billion when valuing the company, using all outstanding shares, and the price of H shares listed in Hong Kong and available for foreigners to buy. P/E 2009 is roughly 21 and P/E for 2010 can be estimated to be in the same ball park given that the profitability that fell drastically in Q3 will pick up. Otherwise, the P/E 2010 might be closer to 30. Therefore, by no means the company can be considered cheap.

Click to enlarge
The revenue growth has been very good and gross margin has stayed in the range of 19-22 for more than five years. The problem with BYD seems to be that the net profit swings quite wildly. Apparently, in Q3 2010, BYD was barely making a profit, while the first half of 2010 seemed to go better than ever. Despite this, earnings per share have gone up consistently over the long run and are likely to do so also in the future if gross profit margin stays in the same ballpark as now.

Click to enlarge
Using the current price for H share ($5.42 for BYDDF.PK), the P/B of the company is 4.5. Therefore, it can hardly be referenced as a value investment. It is clearly a growth play. So far, the growth has been phenomenal and more importantly – profitable. It is quite intriguing to find Buffett and Munger still so committed to BYD at these valuation levels. They have stated that BYD might become one of the biggest auto manufacturers in the world. Bold statement, but not at all hard to believe given what they have managed to achieve so far.
Disclosure: I am long OTCPK:BYDDF.