The U.K. stock market is well known for having the largest sector weighting in financials, making up around 19% of the index. Inside of the financial services sector we have three insurance companies, two of these have been reported on briefly here at Seeking Alpha. These are Admiral Group (OTCPK:AMIGF), and Prudential PLC (NYSE:PUK).
All three have nine years of consecutive annual dividend increases but based on valuation and growth, Catlin Group (OTCPK:CLNGF) comes out way ahead of its peers. I've recently purchased the company as it's one of the cheapest to own in my portfolio, currently making up 8.74% of my portfolio.
I hope to shed some light on this undiscovered company here on Seeking Alpha, so it hopefully gives my readers an alternative as opposed to rushing to the other two companies previously mentioned.

Company Overview
Catlin Group Ltd. underwrites specialty insurance and reinsurance worldwide. The group specializes in property and casualty treaty reinsurance, structured risk and other coverage, as well as professional indemnity, property, general liability, D&O and commercial crime coverage for U.K. policyholders.
The Business Model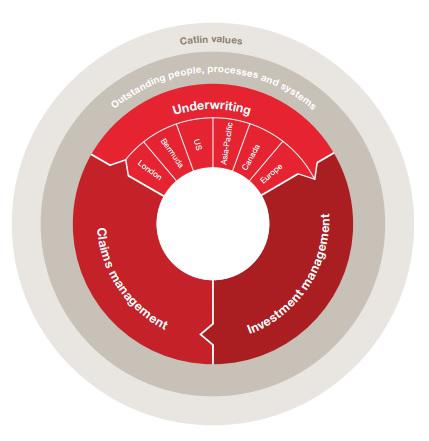 Underwriting is the process of reviewing applications submitted for insurance or reinsurance coverage, and deciding whether to provide all or part of the coverage requested and determining the applicable premium.
Underwriting is the core of its business operations and the company does it perfectly, with underwriters focused on bottom-line growth, they understand the importance of profit margins. The underwriters are experienced enough to realize that they can turn business away if they don't get the margins they require. Judging from the annual reports, the company looks to maintain an attritional loss ratio of 50-55%, this means that the profit margins are 45-50% for each contract or account managed.
This is done by focusing on technical pricing, having access to different types of business globally and then cherry picking the most profitable with superior portfolio management. A reputation of giving excellent service to brokers and clients ensures that the company's revenue increases without it being a major focus point.
Gross Premiums for 2013 stood at $5,309m, and this was provided from the following six product groups.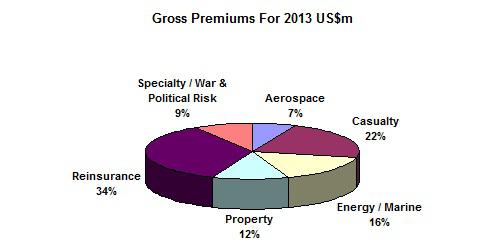 Global Operations
The company's strategic plan is to push growth in its global operations outside of its underwriting hub in London. The hubs are based in London, Europe, Asia Pacific, U.S., Canada, and Bermuda. These are all well positioned and serve the world's major insurance markets. The company has definitely come a long way from its humble beginnings as an underwriting agency at Lloyd's of London in 1984. Lloyds of London is an insurance market located in London's primary financial district, the City of London.
Following up on the $5,309m gross premiums for 2013, this is the breakdown for each of the underwriting hubs and how it compares to the previous financial year. Information is provided from the 2013 Annual Results page 2 and 3.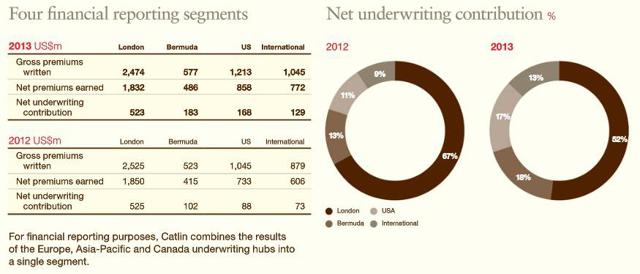 Catlin Group's Interim Results
The company posted its 2014 Interim Results on Friday 8th August and it was massively positive to investors at a time when the insurance industry is taking a beating. Net underwriting contribution was $536m compared to $441m for H1 2013 for a 21.54% increase. If we look at that figure based on underwriting contributions produced by non-London hubs it grew by 48% compared to 43% for H1 2013.
Pre-Tax Earnings grew an incredible 118% to $318m compared to $145m in H1 2013, and a 129% increase in net income. Interim dividend has been increased by 5% to £0.105 pence per share.
From these results I would expect a minimum of £0.325 pence per share, for a modest 4.83% increase based on previous final dividends that were increased by 1 pence. Though £0.335 pence per share would offer an 8.06% increase.
This is at a time when we had two aviation disasters in July, one being at Tripoli Airport in Libya where an estimated 90% of aircraft were destroyed, and the other being MH17 which was brought down by Rebels in Donetsk in Ukraine.
The two brought estimated net losses to the company of less than $50m, though the company says this figure is low based on the historic average of large single-risk and catastrophe events.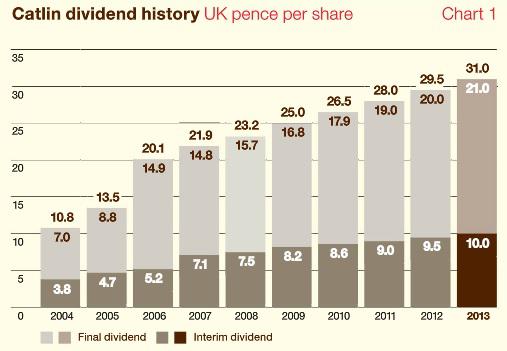 Conclusion
From a valuation standpoint Catlin Group is the clear leader in the insurance industry. It's price to cash flow from operations per share, price to earnings, and price to pre-tax earnings are well below Admiral Group and Prudential PLC. All three have nine years of consecutive annual dividend increases, so all could be considered for a dividend growth investor. However if you look at Catlin Group's small payout ratio of only 45.81% with a forecast yield of 6.30% offers scope for continual dividend growth going forward where as the other two companies are questionable.
We can also see that its beta of only 0.70 means the stock price volatility relative to the market is well below its peers, offering further safety to investors.

The company's global strength with a strong management who focus on reducing risk and asset allocation while maximizing profit makes this a trustworthy company to add to your portfolio.
Also worth mentioning that the ex-dividend date is on the 20th of August, with the interim dividend of 10.5p offering a 2.04% return based on the current share price of £5.14.
Disclosure: The author is long CLNGF. The author wrote this article themselves, and it expresses their own opinions. The author is not receiving compensation for it (other than from Seeking Alpha). The author has no business relationship with any company whose stock is mentioned in this article.
Additional disclosure: All images used are from the 2013 Annual Report (links provided in the article), the pie chart and quick valuation metrics in the spreadsheet were designed by myself using information from the annual report and ADVFN respectively.
Editor's Note: This article discusses one or more securities that do not trade on a major U.S. exchange. Please be aware of the risks associated with these stocks.