Fidelity Investments is making a move to help its retail customers grab a slice of the action as a continuous stream of initial public offerings (IPO) surge through Wall Street in 2014.
The brokerage has a simple and elegant plan that they've put in motion-team up with Credit Suisse (NYSE:CS), a huge investment bank. This plan will allow Fidelity's retail clients to get their hands on promising IPOs, as well as follow-on share sales, underwritten by Credit Suisse.
Since Fidelity's fund managers can already get their hands on IPOs, the deal is structured to apply only to serve the firm's retail customer base. The partnership will allow the brokerage's retail customers the chance to acquire the most admired public offerings currently appearing in the U.S. market.
Precedence For The Deal
Although the idea might appear revolutionary, it actually has some solid precedence.
Fidelity teamed up with Kohlbert Kravis Roberts (KKR) only five years ago to give retail customers a chance to get IPOs arranged by KKR. However, the brokerage firm's current arrangement with the investment bank appears to be an even better idea, primarily because Credit Suisse underwrites some of the most impressive global offerings.
Already, in the first half of 2014, it ranks sixth in the world, because it's worked with some 63 IPOs. In fact, Credit Suisse will be the investment banker who will underwrite Alibaba's IPO. The Chinese Internet-based marketing company will make an estimated $420 billion in revenue this year. Alibaba dwarfs even its closest competitor in the world, Amazon, when it comes to revenue. For example, in 2012 Alibaba made $170 billion in sales in 2012 while in 2013 Amazon reported only $74.4 billion.
Benefits for Credit Suisse
After Fidelity approached Credit Suisse with the idea, the investment banker immediately saw the benefits of accessing the brokerage's direct line of discount clients. These clients would be open to high dividend stocks offerings from master limited partnerships (MLPS) and real estate investment trusts (REITs). Such high-yield companies made up 30% of businesses handled by Credit Suisse. In short, the investment bank could distribute shares to the mass market in a way that they could not have done before.
Currently, the deal only pertains to companies listed in the U.S. However, retail customers will still be able to get a chance to access, Alibaba's (NYSE:BABA) IPO because it will be listed in the New York Stock Exchange.
Not only will both companies benefit, as well as the clients they serve, but the IPOs will continue to get sweeter as the year unfolds. In this first half of 2014 alone, 232 companies have made public offerings, which represents a 79% increase compared to IPOs during this time frame a year ago.
A Bright Spot For Credit Suisse Investors
The deal with Fidelity brings a bright spot to Credit Suisse's struggles YTD.
CS reported its greatest quarterly loss since the financial crisis ($779 million)-following a settlement for tax evasion.
The mega-bank has also faced criticism over its dark pool activities.
YTD CS stock has been in sharp decline.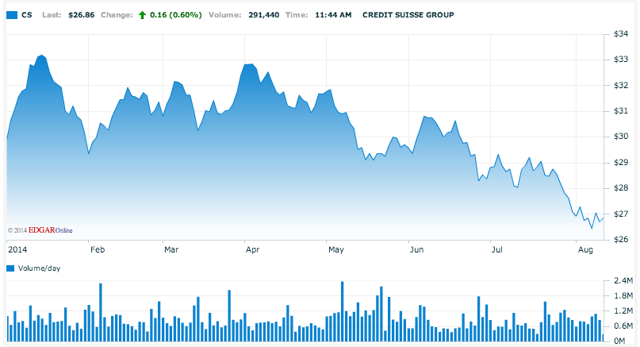 (Nasdaq.com)
While the boost from the new partnership with Fidelity and its retail investors is certainly a bonus, we don't see it as quite enough to turn CS into a buy yet in 2014.
As an alternative, we suggest investors look into Goldman Sachs (NYSE:GS), which has posted strong results in Q2, despite a difficult environment, and looks strong moving forward YTD.
We invite readers wishing to join the discussion on Credit Suisse, Goldman Sachs, and other mega-banks to click the +Follow button above the title of this article, and those looking for the latest updates to click +Get real-time alerts.
Disclosure: The author has no positions in any stocks mentioned, and no plans to initiate any positions within the next 72 hours. The author wrote this article themselves, and it expresses their own opinions. The author is not receiving compensation for it (other than from Seeking Alpha). The author has no business relationship with any company whose stock is mentioned in this article.