Along with loony stuff, the market of today is presenting us with yet another unsustainable trend. I say "yet another", because the credit crash of 2007/2008 was also based on an unsustainable trend - namely the expansion of credit in excess of income.
So what is this new unsustainable trend? It has got something to do with credit as well, but is rather unrelated to the bubbles of yore. This is a trend where companies, through dividends and buybacks, return more cash to the shareholder than what they produce through free cash flow. If it was just a company here and there doing it, I wouldn't call it a trend. However, at this point it seems that everywhere one looks the same thing is happening.
In some places, the companies doing this have large cash hoards and so it might go on for a while. In others, the companies are already taking on debt to fund the dividends/buybacks. In both cases it's unsustainable.
Examples
While this is happening all around us, there are now several high-profile cases. I will highlight 3 of them:
International Business Machines (NYSE:IBM)
IBM had a massive $15 billion in free cash flow during 2013. Yet, even then it managed to return $17.9 billion to its shareholders, comprised of $4.1 billion in dividends and $13.9 billion in share repurchases. IBM thus returned 119% of its free cash flow to its shareholders. (Source: Company)
Naturally, over time this will lead to expanded debt and is in a general way unsustainable to continue to return more money than the company generates, especially with IBM's overall stagnated business.
Cisco (NASDAQ:CSCO)
Cisco spent $9.5 billion buying back shares, and $3.7 billion paying dividends in FY2014 (Source: Company Presentation).

As per its own admission, this constituted 120% of free cash flow (red highlight is mine).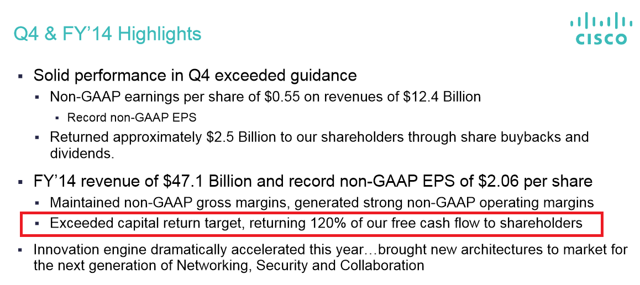 Phillip Morris International (NYSE:PM)
Phillip Morris has free cash flow of $8.9 billion in 2013 (Source: Company Presentation)

Phillip Morris bought back $6 billion in stock and paid a further $5.72 billion in dividends. It thus returned $11.72 billion to its shareholders, or 131% of free cash flow. Naturally Phillip Morris had to expand its outstanding debt. Also notably, Phillip Morris seems to have taken sense and is now projecting $4 billion in buybacks for 2014 and even less for 2015/2016, perhaps trying to bring things back to sustainability.
Conclusion
I don't know when this new trend will end, but I do know it will have to. It's unsustainable. The pace of buybacks and/or dividends in many of these companies will have to be restrained. If we get any kind of economic downturn - which is now seemingly forbidden even if the Federal Reserve has to print head over heels - then this trend might end explosively as cash flow gets somewhat depressed.
Disclosure: The author has no positions in any stocks mentioned, and no plans to initiate any positions within the next 72 hours. The author wrote this article themselves, and it expresses their own opinions. The author is not receiving compensation for it (other than from Seeking Alpha). The author has no business relationship with any company whose stock is mentioned in this article.