Apptigo International Inc (OTCPK:APPG) is a name that I believe is currently the target of a penny stock promotion scheme. It is my view that the stock's intrinsic value is somewhere near $0, and it is with conviction that I recommend that any investors currently in the name sell the entirety of their stakes immediately. I also believe that Apptigo International is a stock definitely worth shorting. My track record of identifying and publicly exposing such highly overvalued equities is excellent.
Little Revenue. Debts. No Business. Bright Future?
As is usually the case with these types of hyped-up scams, it takes only one quick glance at the balance sheet to realize that the $160M market capitalization that this equity commands is beyond ludicrous. With $420,233 total assets and $0 in revenue. It's my suspicion that the purpose of this company is not to succeed, but to sell stock. The recent volume is due to overly bullish promotional mailers. This has a very high risk of an SEC suspension.
Picture of $APPG Chart
You can see that trading in Apptigo International started seeing really increased volume on July 19, 2014. You can see it was around this time this landing page went up. Coincidence with the time of the hard mailer and increased volume in Apptigo International? Absolutely not.
Hard Mailer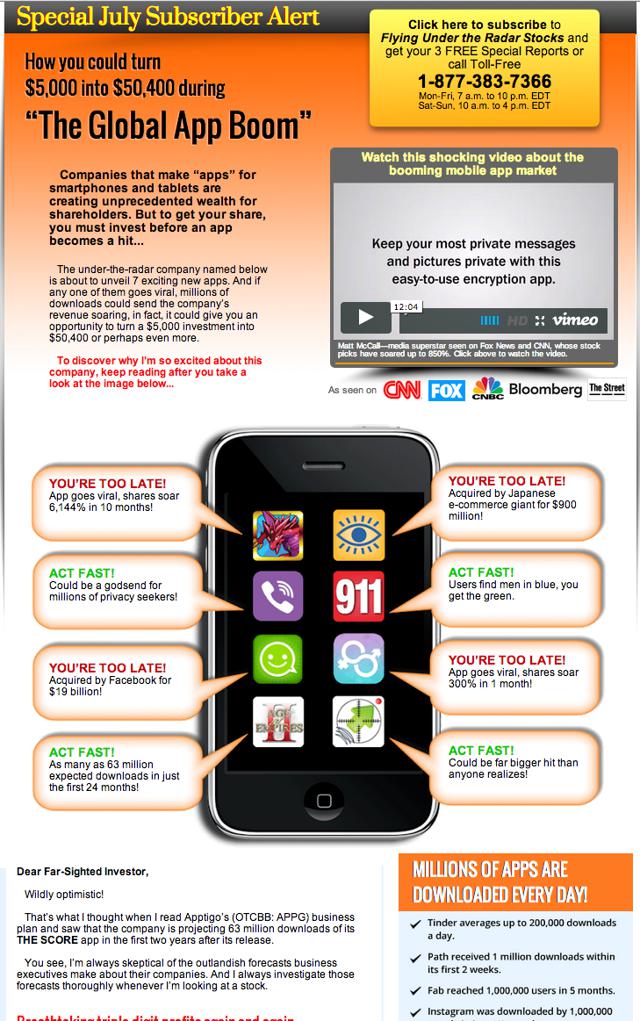 Click to enlarge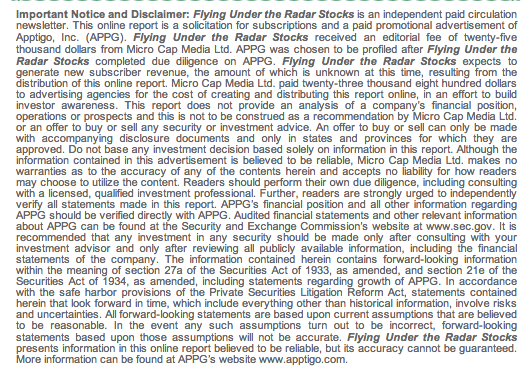 Disclaimer
"Important Notice and Disclaimer: Flying Under the Radar Stocks is an independent paid circulation newsletter. This online report is a solicitation for subscriptions and a paid promotional advertisement of Apptigo, Inc. (OTCQB:APPG). Flying Under the Radar Stocks received an editorial fee of twenty-five thousand dollars from Micro Cap Media Ltd. APPG was chosen to be profiled after Flying Under the Radar Stocks completed due diligence on APPG. Flying Under the Radar Stocks expects to generate new subscriber revenue, the amount of which is unknown at this time, resulting from the distribution of this online report. Micro Cap Media Ltd. paid twenty-three thousand eight hundred dollars to advertising agencies for the cost of creating and distributing this report online, in an effort to build investor awareness. This report does not provide an analysis of a company's financial position, operations or prospects and this is not to be construed as a recommendation by Micro Cap Media Ltd. or an offer to buy or sell any security or investment advice. An offer to buy or sell can only be made with accompanying disclosure documents and only in states and provinces for which they are approved. Do not base any investment decision based solely on information in this report. Although the information contained in this advertisement is believed to be reliable, Micro Cap Media Ltd. makes no warranties as to the accuracy of any of the contents herein and accepts no liability for how readers may choose to utilize the content. Readers should perform their own due diligence, including consulting with a licensed, qualified investment professional. Further, readers are strongly urged to independently verify all statements made in this report. APPG's financial position and all other information regarding APPG should be verified directly with APPG. Audited financial statements and other relevant information about APPG can be found at the Security and Exchange Commission's website at sec.gov. It is recommended that any investment in any security should be made only after consulting with your investment advisor and only after reviewing all publicly available information, including the financial statements of the company. The information contained herein contains forward-looking information within the meaning of section 27a of the Securities Act of 1933, as amended, and section 21e of the Securities Act of 1934, as amended, including statements regarding growth of APPG. In accordance with the safe harbor provisions of the Private Securities Litigation Reform Act, statements contained herein that look forward in time, which include everything other than historical information, involve risks and uncertainties. All forward-looking statements are based upon current assumptions that are believed to be reasonable. In the event any such assumptions turn out to be incorrect, forward-looking statements based upon those assumptions will not be accurate. Flying Under the Radar Stockspresents information in this online report believed to be reliable, but its accuracy cannot be guaranteed. More information can be found at APPG's website apptigo.com."
You can see obviously someone is interested in increasing public awareness for Apptigo International Inc. Most likely the insiders, who own 8,925,000 free trading shares in Apptigo International. Why else would someone spend $23,000 to increase public awareness? I suspect the budget to be much more than what the disclaimer is stating from my experience with these types of play and the daily volume. At these levels, those are worth about $11 million! It is worth it to them, because if they can bring in buyers and liquidate their shares around these prices, that can mean millions in profits! Running pump and dump schemes is a lucrative business, and that is why we see it way too often. My job is to wake you up.
Dodi Handy Involvement
Dodi Handy is handling IR duties for Apptigo International Inc. She runs Hanover Elite and Elite Financial Communications groups. She was involved with AWSR when it saw a pump and dump campaign by awesompennystocks. She was involved with DiMi Telematics International, Inc, which saw a pump and dump campaign. I contacted the company and actually got a response from Dodi Handy. Of course she denied any involvement, but from my research anywhere she goes a pump is around the corner. Make sure to read this great blog post HERE to find out more about Dodi Handy shady backround.
DIMI Chart Mirrors APPG
What I find funny is how the pump and dump campaigns of both these companies Dodi Handy have been involved with look so similar. Take a look for yourself.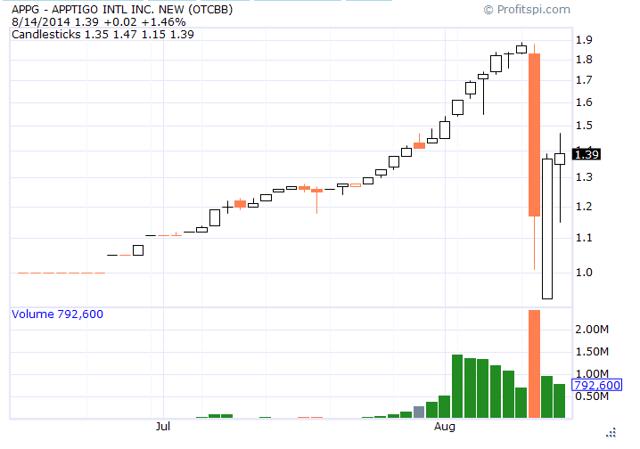 Click to enlarge
DIMI has had some splits since its campaign so I found the actual chart during its promotion on a blog.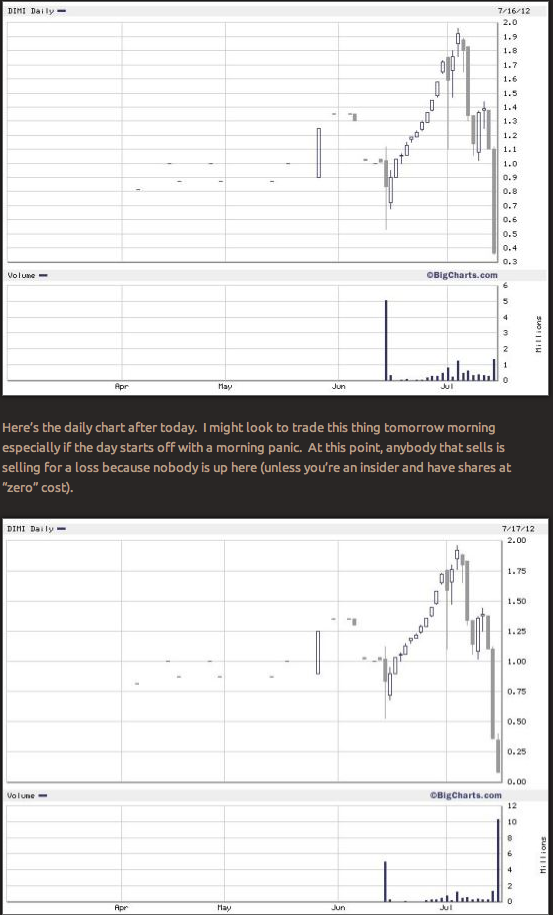 Now it will be interesting to see if Apptigo International will have a death drop soon after couple days of bouncing like DiMi Telematics International, Inc. did. DiMi Telematics International, Inc. went from $1.30 to $0.10 in the matter of a couple days! I recommend you not to be long the stock to find out because once a stock starts dumping its hard to get out just like Apptigo International Inc first hard drop from $1.80's to low of $1.00 in one day.
My Recommendation
If you own shares of this company, get out now. Do not hope that you can hang on to sell them to a greater fool. These shares are worthless. I have showed you that the reason for the promotional spam indicates that the individuals behind this stock scam are trying desperately to unload their worthless shares onto the unsuspecting public and book a huge profit before the inevitable collapse. If you are a more sophisticated investor and can get a borrow on these shares, then I believe that shorting this name will be highly lucrative for you. Apptigo International has shady promotion with a manipulated chart pattern. Makes me believe that it has a high risk for an SEC Halt. It is my opinion that this is too risky to hold period with a very high risk of an SEC Halt. You have been warned.
Disclosure: The author is short APPG. The author wrote this article themselves, and it expresses their own opinions. The author is not receiving compensation for it (other than from Seeking Alpha). The author has no business relationship with any company whose stock is mentioned in this article.
Editor's Note: This article covers one or more stocks trading at less than $1 per share and/or with less than a $100 million market cap. Please be aware of the risks associated with these stocks.