Coca-Cola (NYSE:KO) recently announced it will acquire a 16.7% stake in the fast growing energy beverage business Monster (NASDAQ:MNST) for $2.15 billion, or about $77 per share of Monster. The deal is expected to close at the end of 2014 or the beginning of 2015. Coca-Cola will finance the transaction with cash on hand.
Brand Transfers
The transaction is not a simple equity purchase. Coca-Cola will transfer monster ownership of its worldwide energy brands which include the brands NOS, Full Throttle, Burn, Mother, Power Play, and Relentless. In return, Monster will transfer Coca-Cola ownership of Hansen's Natural Sodas, Peace Tea, Hubert's Lemonade, and Hansen's Juice Products. The deal will also make Coca-Cola Monster's preferred distribution partner worldwide, while Monster will become the exclusive energy play of Coca-Cola.
The trading of brands better aligns each business with what it does best. Monster sold $3.1 billion in energy drinks in 2013 in the US, versus $3.4 billion for Red Bull. Monster's energy drink sales are rapidly rising in the US. Monster will likely be the number one energy brand in the US by 2014 or 2015. Adding NOS and Full Throttle sales to Monster's sales will create an energy business that would have had $3.5 billion in energy drink sales in 2013; larger than Red Bull. Monster is adept at marketing energy drinks in the US. The company will likely be able to position the NOS and Full Throttle brands for faster growth domestically than Coca-Cola has been able.
Source: Caffeine Informer
Coca-Cola will benefit from Monster's non-energy drink brands. The Peace Tea brand was the 10th largest ready to drink tea brand in the US by 2013 revenue. Coca-Cola is not a dominant player in the ready to drink tea industry despite owning the Gold Peak , FUZE, and Honest Tea brands. Ready to drink tea has grown over 6% per year over the last 6 years. The market is expected to continue to grow significantly faster than the overall beverage industry over the next several years as consumers continue to switch from sodas to healthier alternatives.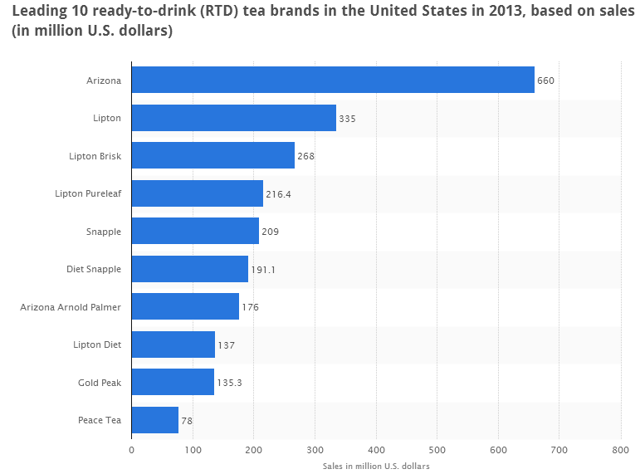 Click to enlarge
Source: Statista
Monster Opportunity: Global Growth
Internationally, Monster trails Red Bull significantly. About two thirds of Red Bull's sales come internationally, versus just 23% of sales being from international markets for Monster.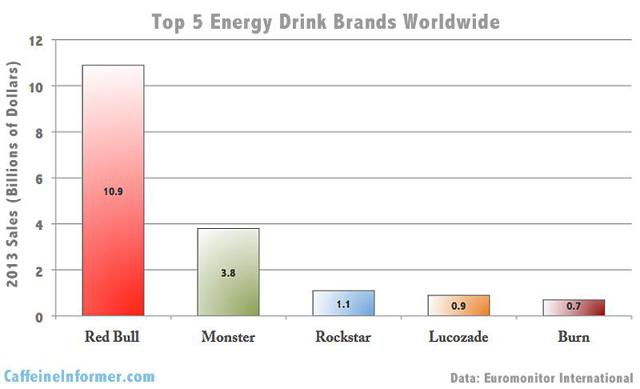 Click to enlarge
Source: Caffeine Informer
Monster should see an uptick in sales from access to Coca-Cola's extensive global distribution network. Coca-Cola is the leading seller of carbonated beverages worldwide. The company's distribution network is second to none. Monster currently generates about 23% of its sales internationally. For comparison, Coca-Cola generates about 47% of its non-bottling revenue outside North America. Coca-Cola's extensive global distribution network and global marketing knowledge will greatly benefit Monster by giving them greater access and knowledge on how to tap global markets. If the Monster brand can recreate its success internationally, it may one day eclipse Red Bull as the dominant global energy drink.
Coca-Cola Gets Stake In Monster's Growth
Coca-Cola is significantly larger than Monster. Monster has a market cap of about $12 billion versus $176 billion for Coca-Cola. Monster is still in its growth phase, as energy drink demand increases year after year. Coca-Cola is a more mature business that is focusing on global expansion funded from its strong cash flows and iconic brands. Coca-Cola's stake in Monster will allow the company to participate in Monster's growth going forward. If Monster can continue to grow its revenue and earnings between 8% and 10% a year, shareholders of Coca-Cola will see additional growth of about 0.1% a year from their share of the company's growth. This may seem inconsequential, but Coca-Cola's stake in Monster will account for a larger share of its overall growth as Monster grows faster than Coca-Cola.
Coca-Cola Is a High Quality Dividend Growth Stock
Shareholders of Coca-Cola have much to be happy about. The company has a dividend yield near 3%, regularly repurchases shares, and has a long history of growth. Coca-Cola has managed to grow revenue per share and dividends per share by about 9% a year over the last decade, despite headwinds from the slowly declining soda industry. The company has achieved growth through greater global market penetration and a highly diversified portfolio that includes 17 billion dollar brands. Eleven of the 17 billion dollar brands are non-carbonated (still) beverages brands.
Coca-Cola has done especially well expanding into the juice category. The company's Minute Maid, Minute Maid Pulpy (China focused brand), and Simply brands all sell over $1 billion a year. Amazingly, the company has captured 33% of global juice growth since 2007.
Source: Coca-Cola CAGNY Conference Presentation
Coca-Cola is a Top 10 ranked stock based on The 8 Rules of Dividend Investing. The company has a fairly high dividend yield, strong historical growth rates, one of the lowest standard deviations of any publicly traded business, and a shareholder friendly management that has increased its dividend payments for 52 consecutive years. Coca-Cola's purchase of 16.7% of Monster will be beneficial to the company's long-term results. It is yet another solid capital allocation decision from a business with a history of smart investments.
Disclosure: The author has no positions in any stocks mentioned, and no plans to initiate any positions within the next 72 hours. The author wrote this article themselves, and it expresses their own opinions. The author is not receiving compensation for it (other than from Seeking Alpha). The author has no business relationship with any company whose stock is mentioned in this article.