Apple (NASDAQ:AAPL) allowed Xiaomi again to get away with its iPhone-imitating practice. The new flagship Xiaomi Mi 4 Android phone is very similar to Apple's iPhone 5S. The pseudo-iOS UI customization of the Android Kitkat OS completes the Apple vibe of the Xiaomi Mi 4.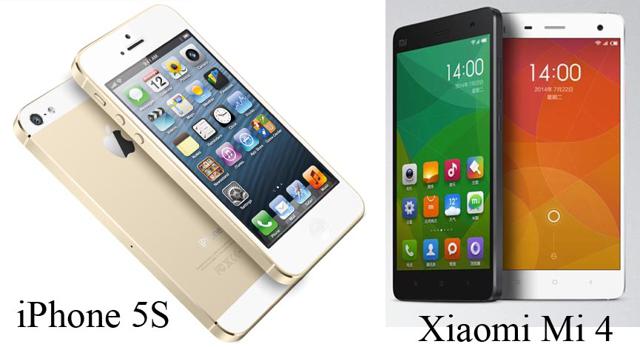 Source: apple.com, xiaomiworld.com
Imitating Apple quickly allowed Xiaomi to win the hearts of Chinese customers. Xiaomi is now China's biggest smartphone vendor. The $320 price tag of the Mi 4 will help Xiaomi widen its lead over Apple, Samsung (OTC:SSNLF) and Lenovo (OTCPK:LNVGY). Samsung's recent miserable quarter earnings report is partly attributed to Xiaomi's rapid market share grab in China - the largest market for smartphones.
Investors should not say that Xiaomi only threatens Samsung. Apple's non-U.S iPhone sales will eventually suffer from Xiaomi's global expansion. The risk is not only for the coming iPhone 6.
Apple is doing good business unloading refurbished iPhone 4/iPhone 4S units to emerging markets. However, Xiaomi is already dumping brand new Mi 3 phones in emerging countries like the Philippines for 10,500 pesos ($241).
The cult status aura of refurbished iPhone 4S, which sells for around $250 in the Philippines, may not last long.
BRIC Sales Are Threatened
Apple experienced a great FY Q3 2014 sales surge in China. Apple, with the help of China Mobile (NYSE:CHL), saw a 51% year-over-year growth in iPhone sales in that country. China also delivered a 48% year-over-year growth in iPad sales. However, these big numbers still pales to what Xiaomi has achieved.
Apple is not even one of the top five vendor vendors in China during the second quarter of 2014. Xiaomi, the Apple-imitator, has dethroned Samsung as China's biggest smartphone vendor.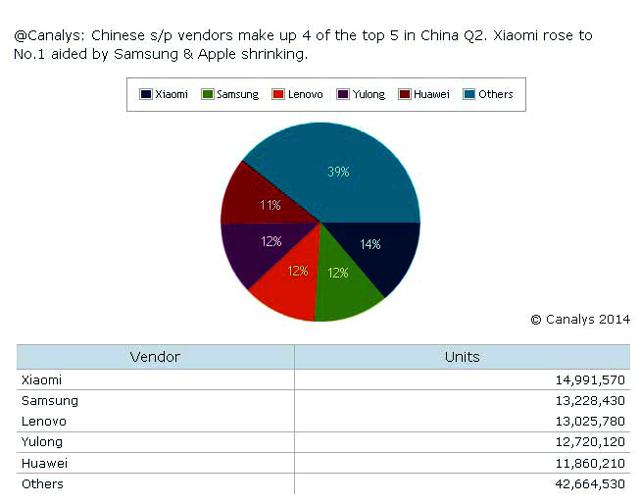 Source: Canalys
China can still be one of Apple's biggest growth contributors for FY Q4 2014. However, long-term iPhone and iPad sales in that country could significantly improve if Apple stops Xiaomi from copying its products.
Apple cannot maximize its BRIC (Brazil, Russia, India, China) strategy if Xiaomi remains free to sell iPhone-like Android phones at $320.
Apple's 2011 copyright infringement suit against Samsung include perceived imitations of Apple's iOS user interface on Samsung's TouchWiz UI. The physical designs of Xiaomi's phones and tablets fall under Apple's trade dress charges that it filed against Samsung Galaxy phones three years ago.
Xiaomi, at the rate that it is growing, now poses a bigger threat than Samsung ever did. A company that can freely sell a premium iPhone-looking phone for less than $350 should have no trouble winning the hearts of Brazilians, Indians and Russians.
Complacency on the part of Tim Cook may allow Xiaomi to dominate non-Chinese markets before 2014 ends. Apple's management should be aware by now that the Mi 4 is not exclusive to China. A Hong Kong-based firm, xiaomiworld.com, is already taking orders for the said phone.
Xiaomi World will ship to the United States and other countries. Ali Express is another Chinese online store that sells the Mi 4 to global customers.
The iPad Mini Got The Xiaomi Treatment Too
The Xiaomi Mi Pad, launched last May, again looks like an iPad Mini. Apple's iPad global sales are already in decline and Xiaomi's 10-country expansion plan for 2014 will only aggravate the situation. Apple's future growth is supposed to come from emerging markets but Xiaomi is already plotting to saturate Brazil, Russia and India with $240 Mi Pad tablets.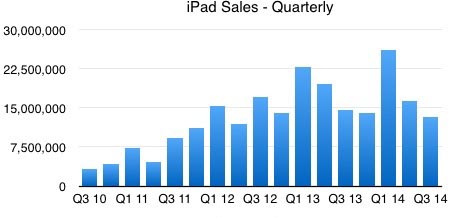 Source: zdnet.com
The consecutive drop in quarterly iPad sales for 2014 may worsen when Xiaomi starts selling the Mi Pad in BRIC markets.
Conclusion
It is imperative that Apple requests Xiaomi to cease its practice of imitating the iPhone and iPad's physical design and OS user interface. The copycat technique of Xiaomi is a deliberate act that calls for a prompt and deliberate reprimand from Apple.
Xiaomi is precisely doing what it is doing now because it helps sell more phones to people that cannot afford a $600 iPhone. A $320 Mi 4 that does not look like an iPhone will not have the same appeal to BRIC customers. Imitation is the worst kind of flattery when it involves billions of dollars.
It is dangerous for Apple's long-term growth to let Xiaomi continue producing iPhone-like phones. Apple's tolerant attitude toward Xiaomi has helped it become the fifth-largest vendor of smartphones.
Xiaomi's rocket ascent to the top of the global charts will only grow faster once Brazil, India and Russia officially start getting the new Mi 4 and the older Mi 3.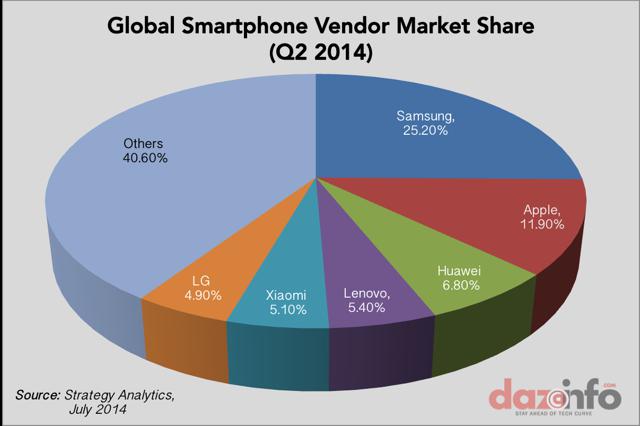 China is now a bigger market for smartphones than the U.S. As long as Xiaomi is free to lure buyers with Apple-like products, Apple's success in China and other emerging markets will not reach its maximum potential.
Apple's continued inaction on Xiaomi's flagrant copycatting has not dampened many analysts' Strong Buy rating for AAPL. American analysts are apparently also discounting the threat posed by Xiaomi.

Source: BarChart Opinion
Disclosure: The author is long AAPL. The author wrote this article themselves, and it expresses their own opinions. The author is not receiving compensation for it (other than from Seeking Alpha). The author has no business relationship with any company whose stock is mentioned in this article.
Editor's Note: This article discusses one or more securities that do not trade on a major U.S. exchange. Please be aware of the risks associated with these stocks.