On August 14, 2014 MYOS Corporation (NASDAQ:MYOS) announced financial results for the second quarter of 2014. The company reported approximately $1.7 million in revenue, compared to $0.7 million in revenue for the corresponding quarter of 2013. The increase was primarily due to new product sales arising from expansion into the age management market through a distribution agreement with Cenegenics. Under the arrangement, Cenegenics promotes and distributes a proprietary formulation of Fortetropin through its age management centers located throughout the U.S. In addition, there were higher sales to Maximum Human Performance (MHP), which distributes MYO-T12 under the brand name MYO-X in sports nutrition markets. Sales to MHP and Cenegenics accounted for 60% and 40% of revenues, respectively.
Net loss for the quarter was $1.0 million, or $0.34 per share, which included $0.3 million in R&D expenses and $1.7 million in G&A expenses. The company exited the second quarter of 2014 with approximately $2.3 million in cash and cash equivalents, and we estimate that will be sufficient to fund operations for at least the next 6 months.
The company announced a number of milestones this quarter, with perhaps the most important being positive top-line results from the clinical study of Fortetropin™ showing muscle building activity of the compound in modestly resistance trained male subjects.
Fortetropin Clinical Efficacy
On July 22, 2014, MYOS reported positive top-line clinical study results of the use of Fortetropin in building muscle in male subjects. Fortetropin is a bionutritonal supplement composed of a complex mixture of proteins, peptides, and lipids previously shown to inhibit myostatin, and is the active ingredient in MYO-T12, currently sold under the brand name MYO-X. For a detailed overview of myostatin, Fortetropin, and potential uses of the product we invite investors to review our Zacks/SCR Initiation Report from July 2014.
This study was conducted at the University of Tampa and led by Dr. Jacob Wilson, Ph.D., Assistant Professor and Director of the Skeletal Muscle and Sports Nutrition Laboratory. The randomized, double blind, placebo controlled trial was designed to analyze different body composition measurements (lean mass vs. fat mass) along with strength performance at two dose levels of Fortetropin. A total of 45 males were enrolled in the study, which involved adhering to a supervised nutritional intake program and a monitored modest resistance training regimen over the course of 12 weeks. The subjects were divided into three groups: placebo, 6.6 g, and 19.8 g dosing arms of Fortetropin daily. All exercise sessions were conducted and monitored by trained personnel and the subjects diets consisted of approximately 54% carbohydrates, 22% fat, and 24% protein.
On August 6, 2014, MYOS announced the publication of a white paper entitled "The Impact of Fortetropin on Muscle", which provided data regarding the clinical effects of Fortetropin, including data from the Tampa Study. The first piece of data presented was the effect of Fortetropin on serum myostatin levels in a double blind, randomized, placebo controlled, parallel, single-dose study involving two groups of 12 healthy male subjects. One group was given a dose of 6.6 g of Fortetropin™ while the other group received placebo. Blood measurements were taken at 6, 12, 18, and 24 hours with results showing a greater than 30% decrease in serum myostatin levels in the Fortetropin treated group compared with almost no change in the placebo treated group.

Click to enlarge
Also included in the white paper were results from the Tampa Study that showed a statistically significant increase in both muscle thickness and lean body mass in subjects taking Fortetropin compared to placebo. Lean body mass was quantified through Dual Emissions X-ray Absorptiometry (DEXA) with direct ultrasound measurements utilized to measure muscle thickness of the quadriceps.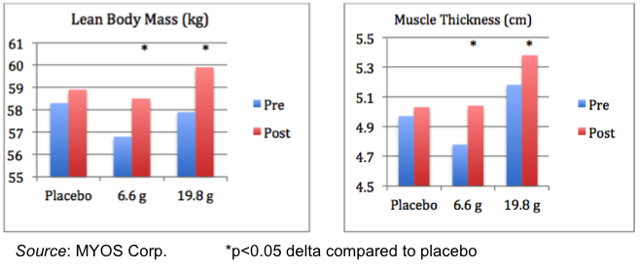 Click to enlarge
One unexpected and potentially important finding from the Tampa Study was a statistically significant decrease in fat mass in subjects taking 19.8 g Fortetropin daily. While unexpected, this data is not without precedent in various studies involving myostatin. Animal studies utilizing mice deficient in myostatin have shown that those animals have a suppression of body fat accumulation, including in mouse models of obesity (McPherron et al., 2002). In addition, it was shown that myostatin deficient mice have an increase in insulin sensitivity and glucose uptake, with the reduction in adipose tissue a result of metabolic changes in the skeletal muscle (Guo et al., 2009). These data suggest that increasing muscle mass through administration of myostatin agonists, such as Fortetropin, may be a promising therapeutic target for patients with obesity and diabetes. MYOS is currently planning future studies to examine this phenomenon.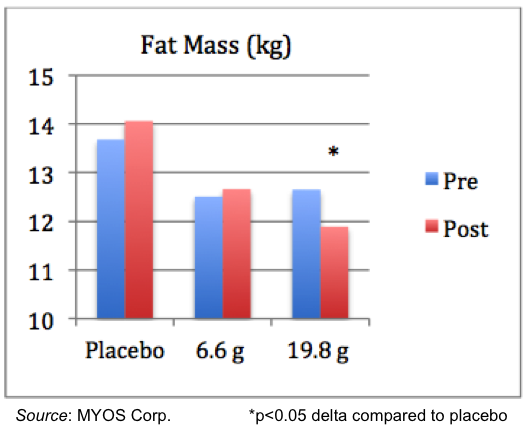 Additional Corporate Updates
In addition to the data from the Tampa Study, during the second quarter of 2014 MYOS announced a number of corporate updates, including:
On July 24, 2014, MYOS announced that it received a Notice of Allowance from the U.S. Patent and Trademark Office for the U.S. Patent Application Serial No. 13/765,340 that covers the company's proprietary methods of manufacturing Fortetropin. When issued, the patent ("Process for Producing a Composition Containing Active Follistatin") will provide intellectual property protection for manufacturing the core component of MYOS' commercial muscle health products and will have an expiration date of 2033. The patent is expected to be issued by the end of the third quarter of 2014.
On July 25, 2014, MYOS announced that it signed an extension of the supply agreement with Deutsches Institut fuer Lebensmitteltechnik e.V (DIL), the German Institute of Food Technologies, for the continued manufacturing and supply of Fortetropin. DIL is the current manufacturer of Fortetropin™ with an agreement that now runs through the end of 2016 with a significant cost-savings component.
The company intends to launch a line of proprietary branded products in the first quarter of 2015 that includes nutrition bars, high protein meal replacements, powders, and pudding. The pudding product is of particular significance as it is designed for the medical foods market, as supplementation through pudding has much less risk of asphyxiation compared with liquid products, particularly in already sick patients.
On July 30, 2014, MYOS announced the appointment of Douglas Weekes as Chief Commercial Officer. Mr. Weekes will be in charge of the company's marketing, sales, and product development of the portfolio of commercial products derived from Foretropin. He is a 20-year veteran of the consumer products industry with experience leading successful business units at Kraft Foods Group and Henkel KGaA.
Valuation and Conclusion
The data from the Tampa Study shows that Fortetropin supplementation results in significant muscle gains in modestly trained males as study subjects showed increases in both muscle strength and lean body mass. The decrease in fat mass in the highest dose cohort is an intriguing finding and certainly one for which additional follow-up studies will need to be performed. If those results can be replicated, they would have broad implications and could open up an entirely new research focus in metabolism and weight management.
We believe the positive clinical data validates the approach that MYOS is taking and opens up a number of potential revenue streams involving Fortetropin containing products, which the company plans to launch in the first quarter of 2015. In addition, the company continues work on small-molecule drug discovery to target the myostatin regulatory pathway and inflammatory mediators associated with sarcopenia and cachexia.
Revenues came in just as we expected for the second quarter, and we are still forecasting total revenues of approximately $7.2 million for 2014. The revenue potential for 2015 is likely higher, through both increased sales of MYO-T12 as well as the introduction of new Fortetropin containing products. Additional catalysts coming up in the next six months include the presentation of full clinical data from the Tampa Study at a scientific conference and the formulation of a meal replacement beverage and nutritional protein bars. We remain bullish on MYOS and are reiterating our Buy rating on the stock, particularly in light of the positive clinical data showing Fortetropin's ability to increase muscle size and lean body mass. While currently trading at close to $14, we see the stock as undervalued and are maintaining a $20 price target.
Disclosure: The author has no positions in any stocks mentioned, and no plans to initiate any positions within the next 72 hours. The author wrote this article themselves, and it expresses their own opinions. The author is not receiving compensation for it (other than from Seeking Alpha). The author has no business relationship with any company whose stock is mentioned in this article.
Disclosure: I/we have no positions in any stocks mentioned, and no plans to initiate any positions within the next 72 hours.
Business relationship disclosure: I work as a Consultant Analyst for Zacks Investment Research. The article is written by me and is 100% my opinion. I receive compensation from Zacks for writing equity research reports and providing valuation analysis on this company's stock and expect to do so in the future. Zacks receives compensation from the company. Please see the Zacks Disclaimer for further information: http://scr.zacks.com/Disclaimer/default.aspx