By David Russell
Finish Line (NASDAQ:FINL) is close to a five-year high, and the traders are calling a top as earnings loom.
optionMONSTER's tracking systems detected the sale of about 2,000 contracts each in the January 17.50 calls and the February 20 calls, which priced for $1.50 to $1.70 and $0.65 to $0.70, respectively. The trades pushed total options volume in the shoe retailer to 17 times greater than average.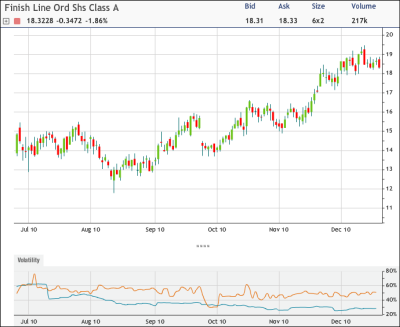 FINL dropped 1.93 percent to $18.31 in morning trading. The shares climbed from under $12 in mid-August to peak at $19.48 last week, but then reversed sharply and have been pushing lower since. It has failed to hold gains for each of the last six sessions, which some chart watchers may consider evidence of a topping pattern.
The company is scheduled to issue fiscal third-quarter results before the market opens on Wednesday. Its last earnings report on Sept. 22 was weaker than expected in terms of both earnings and revenue. FINL gapped lower on the news but then climbed along with most other retailers.
Today's call sellers are expressing a belief that the stock will remain around its current levels or push lower. The trades may be the work of shareholders looking to earn income or of speculative bears hoping for another poor earnings report.
Implied volatility in the name is about 45 percent versus the realized 35 percent. Implied volatility often falls after results come out, so it makes sense to sell the calls now and then look for premiums to drop.

Disclosure: No position