Looking to earn some steady income from the huge US oil and gas boom? Many of our recent articles have focused on dividend paying stocks within the booming US oil and gas services industry.
This week's focus stock, Compressco Partners LP (NGSJK), not only offers a compelling dividend yield, currently around 7.5%, but its President, Timothy Knox, made this promising statement on GSJK's recent Q2 2014 earnings release, "...we expect to be able to recommend to our Board of Directors a 12%-14% increase in the cash distribution per outstanding common unit attributable to the quarter ending December 31, 2014... To meet the strong demand for compression services, following the CSI acquisition, we expect to grow capital expenditures to between $90 and $100 million in 2015, which will provide incremental revenues and is expected to facilitate additional increases in cash distributions. We currently expect to maintain a coverage ratio of 1.2 times distributable cash flow to distributions, consistent with the Partnership's past practices."
(Source: GSJK website)
Dividends/Distributions: Here's a comparison of GSJK's current quarterly distribution, and what it will pay in 2015, if it increases its distributions by at least 12%: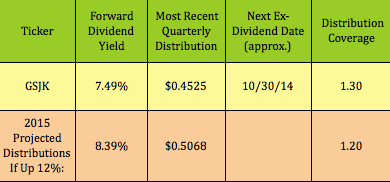 GSJK has maintained good distribution coverage ratios over the past four quarters, averaging 1.30:

You can follow GSJK's current dividend yield in the Energy section of our High Dividend Stocks By Sectors Tables.
Profile: Compressco Partners L.P's parent company is Tetra Technologies. GSJK provides compression-based production enhancement services for natural gas and oil exploration and production companies. Its production enhancement services are used in both conventional wellhead compression applications and unconventional compression applications.
It also provides ongoing well monitoring, automated sand separation, lubrication and maintenance, and early production services. The company's conventional applications are primarily associated with mature gas wells with low formation pressures, as well as utilizes gas wells that have experienced significant production declines.
In addition, it designs and manufactures compressor units, including natural gas powered GasJack compressors to provide conventional wellhead and unconventional compression services, electric VJack compressors to provide production enhancement services on wells located in mature oil fields, and SuperJack packages to provide artificial lift production enhancement services on vertical and horizontal wells with insufficient reservoir pressure. (For example, GSJK's equipment increased the oil flow rate for one of its customers from 80 barrels to 150 barrels/day, and increased its natural gas flow by 4x, from 200 Mcf to 800 mcf/day.)
(Source: GSJK website)
GSJK has operations in the United States, Mexico, Canada, South America, Europe and the Asia-Pacific region. Compressco Partners GP Inc. serves as the general partner of Compressco Partners, L.P. The company was founded in 2008 and is headquartered in Oklahoma City, Oklahoma. (See organizational chart at the bottom of this article.)
Options: There are no options available yet for GSJK, so we haven't added it to our Covered Calls Table, or to our Cash Secured Puts Table.
Earnings: Although its growth numbers have gyrated from quarter to quarter, the company has averaged 25% EBITDA growth over the past 4 quarters, and had an outstanding jump in revenue and net income for Q2 2014: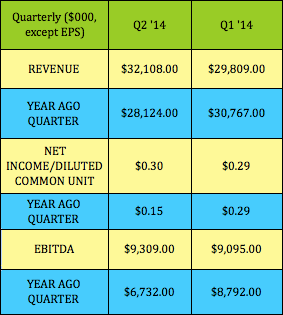 Looking further back in time shows strong growth in EBITDA and revenue as well:

Looking forward, one of the big catalysts that will propel future growth for GSJK is its 8/4/14 acquisition of Compressor Systems, Inc., for $825 million in cash. Ronald J. Foster, Chief Marketing Officer of Compressco Partners, remarked, on the press release, "The completion of this acquisition is a transformative event for Compressco Partners. The significant expansion of our fleet of compressor packages will allow us to participate in the compression market at a broader level and deliver increased flexibility to our customers." (Management expects CSI to be fully integrated for Q4 2014, which is why it's forecasting 12%-14% distribution growth from then on - the Q4 2014 distribution will be paid in Q1 2015.)
Even prior to the CSI acquisition, GSJK has shown strong growth in its fleet and its fleet utilization: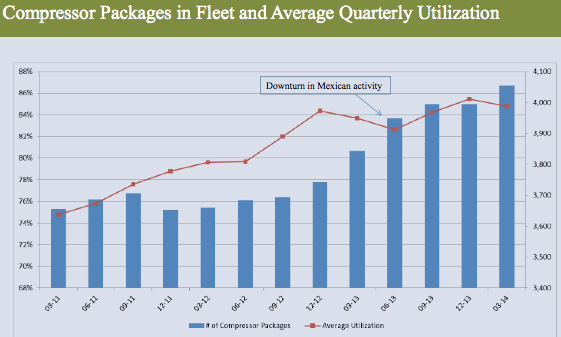 GSJK's operations offers exposure to both natural gas, oil and natural gas liquids, in addition to international exposure:

(Source: GSJK website)
Valuations: Like many stocks in the strong energy sector, you can't really make the case that GSJK is undervalued.

Fly In The Ointment Dept.: Analysts are only forecasting tepid earnings growth for 2014, and better growth for 2015, but GSJK's PEG ratios aren't that low. The EPS growth/unit estimates have declined for 2014 and 2015 due to a dilutive secondary offering that GSJK did in July (see details in Performance section below). However, as noted above, this is really a story about the company's ability to continue to grow its future distributions, via distributable cash flow growth, and to maintain a solid distribution coverage of 1.20.

Financials: GSJK's operating margin looks better than industry averages, and its management efficiency ratios are mainly in line. It also carries less debt:

Performance: Although it has beaten the market year-to-date, GSJK is down -8.69% over the past trading month, due to a secondary IPO, in which it sold 15,280,000 common units at a price of $23.50 per unit. Its share price was 2.85% above the $23.50 offering price, as of intraday 8/15/14. The company is using the net proceeds from the Common Units Offering to fund a portion of the purchase price and related expenses of its CSI acquisition, and to repay borrowings under its existing revolving credit agreement.

Corporate Structure: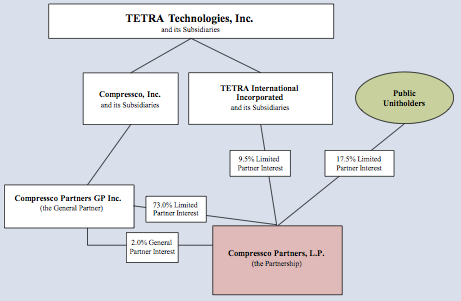 (Source: GSJK website)
All tables furnished by DoubleDividendStocks.com, unless otherwise noted.
Disclaimer: This article was written for informational purposes only.
Disclosure: The author has no positions in any stocks mentioned, but may initiate a long position in GSJK over the next 72 hours. The author wrote this article themselves, and it expresses their own opinions. The author is not receiving compensation for it (other than from Seeking Alpha). The author has no business relationship with any company whose stock is mentioned in this article.