The bad news for Arena Pharmaceuticals (NASDAQ:ARNA) investors this week is that scripts were slightly down. The good news this week is that for the first time (using IMS Health numbers) Belviq sales were above the levels reported for Vivus's (NASDAQ:VVUS) Qsymia. Belviq edged out Qsymia by a handful of scripts via the fact that week over week numbers for Qsymia were down 3% while Belviq sales were down just 1%.
As stated above, this week was flat vs. the week prior. Last week it looked as if Belviq may have been bucking the seasonality trend, but this week the balloon deflated a bit with flat results. The bottom line is that Belviq is actually still bucking the seasonality trend simply by being able to report smaller declines on down weeks, and more robust growth on up weeks. That being said, the trajectory since June started has been very flat. Nine weeks ago the scripts were just 700 less than they are this week. Taking nine weeks to get 700 higher is about as flat as you can get.
This week, according to IMS Health, Belviq sales were down about 1% and have not yet broken the 11,000 scripts per week barrier. I often get accused of being overly conservative in my analysis with regard to the growth rate and overzealous in terms of the expectation lines I plot. Investors should bear in mind that I plotted the path to $100 million months ago. The trend is keeping pretty much in tune with that line which is represented in green on the chart below. The actual script levels are depicted in orange and still remain barely visible. I have indicated that I felt a shift would take place bringing the orange line above the green line in the next couple of weeks. With this weeks results, that shift may not happen until after the Labor Day Holiday (fair warning). This could mean that a demonstrated and concrete path to sales in the $110 to $120 million level for 2014 still eludes investors for the time being.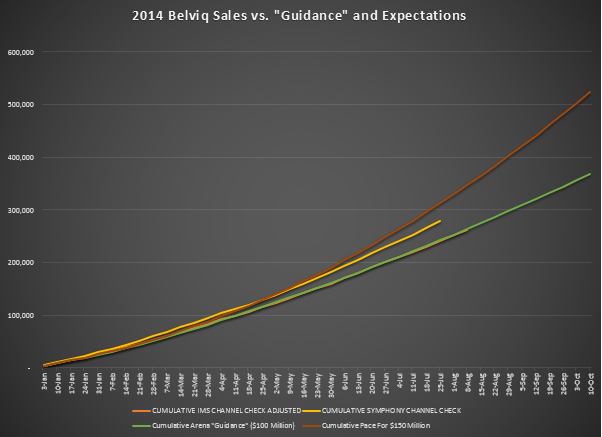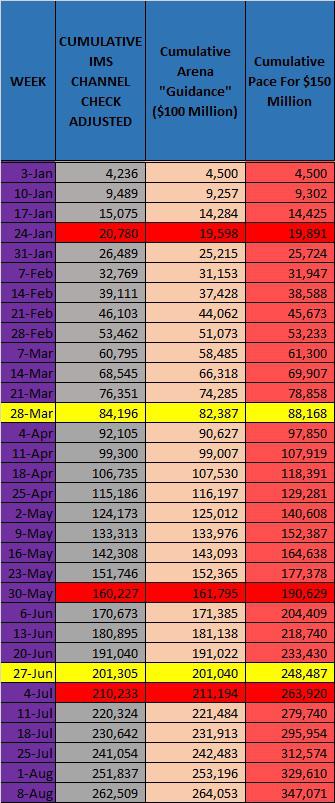 Chart Source - Spencer Osborne
In looking at the script data on a quarter over quarter, and year over year basis, we can see that indeed we are seeing the flattening out demonstrated for the past nine weeks or so. This week script sales were about 23% above the corresponding week from last quarter, and 240% better than the corresponding week from a year ago. Taking this quarter on a whole vs. last quarter, sales are now 36% better than Q2. For perspective, the growth in Q2 was 43% better than Q1 in terms of script sales, and about 22% better in terms of revenue. This shows that the level of free trials was a major part of the script growth. I track the refill data, which will take on a new focus, for my readers on a weekly basis. The average weekly growth is tapering off as the year progresses. At the end of Q1 the average weekly script growth for 2014 was 5.47%. At the end of Q2 that number was 4.08%. Through this week's numbers the same metric now stands at 3.62%. I anticipate this average to continue to trend down into the close of this year.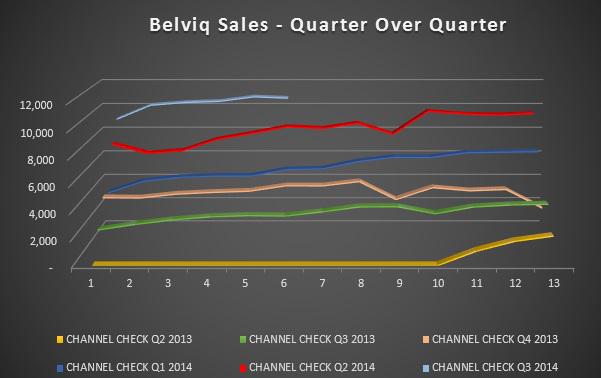 Chart Source - Spencer Osborne
As I have always stated, the main goal is to try to correlate the script sales to the revenue that the company will bring in. The free trials have increased substantially and thus I no longer adjust IMS numbers upward. For the year I have gross sales tracking at $52.4 million, net sales at about $28.8 million, and Arena's share at about $9 million. For the quarter I have gross sales at about $12.2 million, net sales at about $6.7 million, and Arena's share at about $2.1 million. See chart below: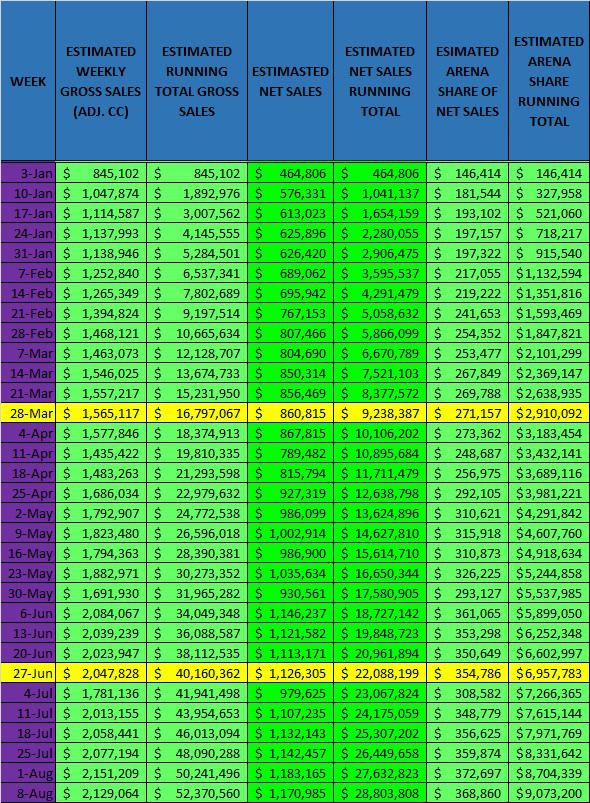 Chart Source - Spencer Osborne
Looking at the revenue picture from a different perspective, I also assess where sales are at on an annualized basis. The concept of this is to see what the current pace would deliver over a 12 month period. If you believe sales will increase, then the annualized number gives you a foundation to work from. I also supply the average annualized run rate for 2014. This allows us to look at the data in a blended manner to try to assess the likelihood of sales reaching desired goals. For Arena, the desired gross sales goal is a minimum of $100 million to reach guidance, and something above $110 million to beat guidance in a more meaningful manner. The chart below outlines the metrics followed by a chart outlining gross, net, and Area's share of net revenue.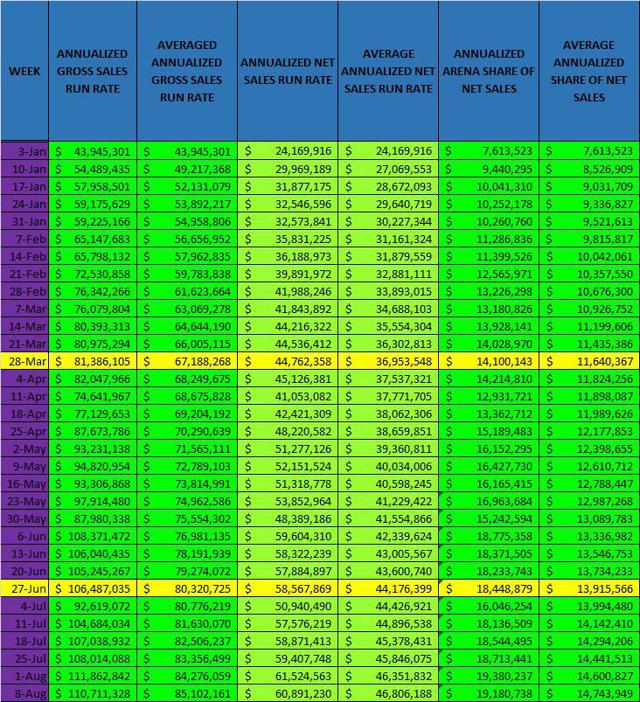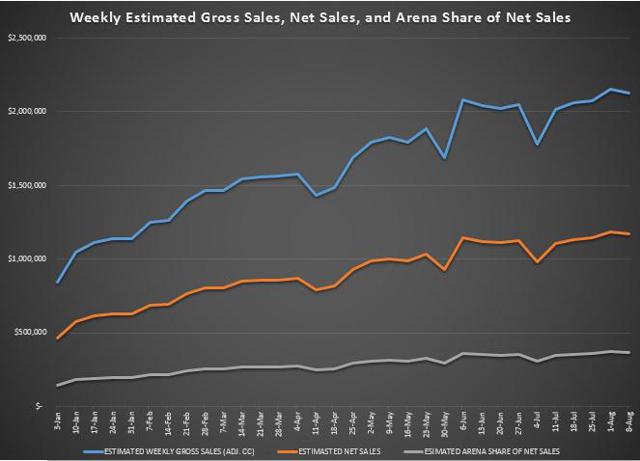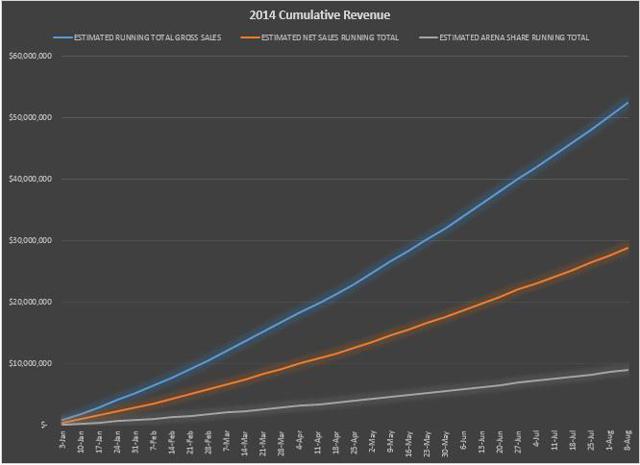 Chart Source - Spencer Osborne
Summary
The seasonality factor does carry an impact in this sector. With increased advertising and additional sales reps, the figures (as flat as they have been) are likely better off than they would have been without these changes. That being said, the key goal here is to see sales grow at a pace that will tell the street that Belviq can be a successful drug for Arena which is capable of financing the pipeline activities in the years ahead. Sales are not yet at those levels. Current sales levels will not impress the street, nor remove the overhang of where this company will be in terms of cash 12 months from now. Investors need to bear these factors in mind as they ponder why this stock has been under so much pressure.
This week the FDA released its Q4 adverse events data and it was quite positive for Belviq, though it only includes the first 6 months of sales.
Investors need to remember that a third competitor could be entering the market. If Orexigen (NASDAQ:OREX) is able to get approval for Contrave in the next few weeks, the landscape will get impacted in some manner and to some degree.
Lastly, we already should be aware that Labor Day is fast approaching. This holiday, four weeks away, will carry an impact on script numbers. If Belviq sales are able to crack the 11,000 mark prior it would be a nice positive, but they will likely drop a minimum of 5% during that week. Keep that in mind because when an equity is under pressure, the negative news can impact critical levels of support and resistance. Stay Tuned!
Disclosure: The author is long ARNA. The author wrote this article themselves, and it expresses their own opinions. The author is not receiving compensation for it (other than from Seeking Alpha). The author has no business relationship with any company whose stock is mentioned in this article.
Additional disclosure: I have no position in Vivus or Orexigen