It seems that every week I see another article somewhere on the demise of golf. I'm not here to say that golf is booming currently, clearly golf sales have been slipping at major retailers and it appears as though the game has lost lots of interest. But, there is one golf company that is rewarding shareholders even in a time when the industry is hurting. Callaway Golf (NYSE:ELY) has been producing and selling golf merchandise and equipment for over 30 years now and the company will certainly live out this downturn.
On August 6th Callaway released very good news that it would repurchase $50 M worth of the company's shares. My calculations come out with this being about 6.45 million shares out of the about 78 million current outstanding at current market price, representing about 8.3% of total shares.
On top of that the company has been paying a quarterly dividend since the mid 90's. It was reduced in 2009, obviously mostly due to macro events. Currently the yield sits around .5% and I do not believe they will cut it in the near future.
The company is growing sales which is a great sign. 2012 was a particularly troubled year for the company and it initiated a turnaround which is now in its second year.
Sales improve since 2012: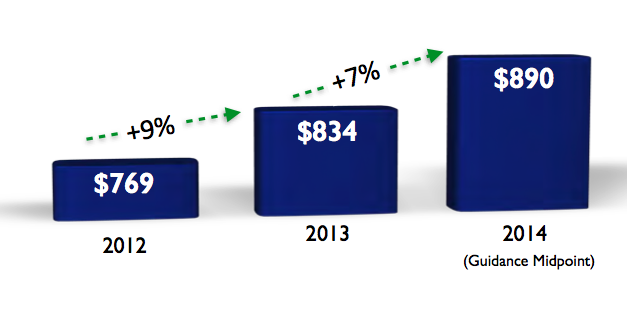 (Source: Callaway investor day presentation)
Revenue for FY 14 is projected to increase 7% Y/Y and the company is expected to increase revenue another 6% in FY 2015. Other things such as gross margins and market share are expected to keep growing as well. Last year gross margins were 37.3% and the goal for this year is 41.7%. The company expects to regain 5% market share this year as well.
Earnings are expected to be deep in the red the remaining two quarters of this year, as the main season comes to a close. Still, overall the year is forecast to remain in the green and next year the company is forecast to double earnings per share.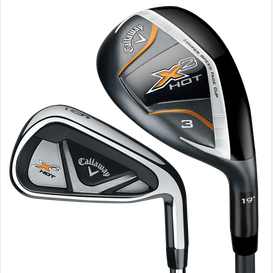 (Source: Callaway webiste)
Also early this month Callaway announced another addition to the Big Bertha line will be released, which was brought back last December after a few years of absence. In the early 2000's the line was wildly popular and it is a good sign Callaway has brought it back. Callaway's main line this season was the X2 Hot and it preformed very well. Irons sales were up 14% for the first half of the year versus last year.
First half of 2014 increase in sales vs last year:
14% increase for irons
8% increase for woods
9% increase for putters
7% increase for balls
5% increase for accessories
One thing that could affect the end of this season in positive way is the Ryder Cup. Much like the World Cup, even people who don't typically watch golf will watch the Ryder Cup. Which offers much more exposure for the sport. After last weekends 2nd place finish for Phil Mickelson, Callaway's biggest player, it is positive that he will be going to the Ryder Cup. So whether the Ryder Cup is a good short-term catalyst for golf or not is not definitive, it certainly cannot be a bad thing.
Something important to note is that Callaway has a minority stake in Top Golf. Top Golf is a rapidly expanding driving range entertainment experience which had a record 2.7 million visitors in 2013. The company offers a unique diving range experience with built in chips in the ball that give information as well as providing drinks and food. A good example would be to compare these driving ranges to a bowling alley. In March analyst Scott Hamman from KeyBanc claimed Top Golf adds $3 of value to Callaway's share price. He then raised his price target from $11 to $14. Whether Top Golf is actually worth $3 a share is not certain, but it is a very valuable asset for Callaway even if they are just a minority owner.
The average price target for the company is $10.50 which is substantially higher than current levels. 6 analysts currently have buy ratings, while 2 have hold ratings. It is good to note the lowest price target is $8.00 which is actually above the current share price.
In conclusion, the golf industry remains a bit flakey at the moment, but Callaway still continues to reward shareholders. Since 2012 the company has grown sales nicely and looks to continue on that track. Bringing back the Big Bertha line is clearly a smart move operationally and when looking at the numbers the Big Bertha line and X2 Hot line have preformed extremely well this year. Going forward I wouldn't say the company is a strong buy, but it is definitely worth a look.
Disclosure: The author has no positions in any stocks mentioned, and no plans to initiate any positions within the next 72 hours. The author wrote this article themselves, and it expresses their own opinions. The author is not receiving compensation for it (other than from Seeking Alpha). The author has no business relationship with any company whose stock is mentioned in this article.
Additional disclosure: Previously I have worked in the golf sales industry. Always do your own research before investing.