Genworth Financial (NYSE:GNW) recently reported its Q2 2014 financial results. Most of the business continued to make progress in what has been an awesome turnaround over the past 18 months led by new CEO Thomas McInerney that will probably make a great insurance turnaround case study in a few years. The notable exception, however, was the company's Long Term Care "LTC" business, which experienced adverse loss severity, leaving many wondering whether the company will have to change its loss assumptions and possibly shore up reserves with a loss adjustment expense, diminishing book value, normalized earnings power, and ultimately shareholder value. The stock is down 17.5% since the company reported, as investors await the results of a LTC review prior to the Q3 earnings release.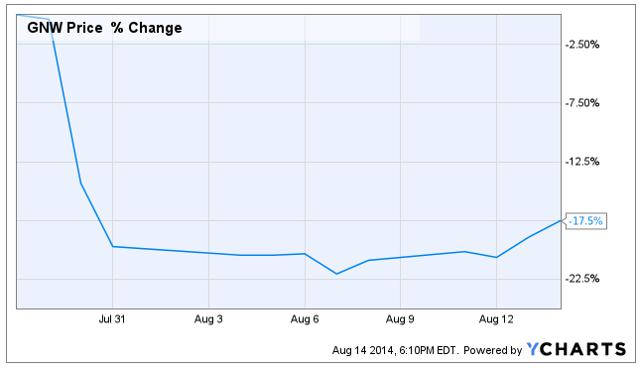 Genworth is a stock I've owned in the past. I often see opportunity in situations involving extreme market negativity; the company has an outstanding leader, and the stock is down big and looks cheap by most surface-level metrics. It's worth a look to say the least.
In this article, I will try to determine whether the LTC issues are a deal-breaker or whether this is a late-game opportunity to get in on a turnaround that still has legs.
Overview
Insurance is a complicated business and I have no actuarial training. Faced with complexity in investing, I've found it helpful to keep things simple and stick to what I know. One good step to make things much simpler in evaluating GNW is to distinguish LTC from the rest of the business. The two are performing very differently and should be treated as such. So in valuing GNW, I will value LTC and the rest of the business separately.
LTC
Last December, the company released the results of a detailed review of LTC reserve adequacy based on data as of 9/30/13. There were many moving parts in the analysis, including assumptions regarding the magnitude of premium increases on in-force policies that the company has petitioned states for, discount rates, forward lapse, interest, morbidity, and mortality rates, and so on. The bottom line is that the company concluded the NPV of all cash flows in the LTC business was a GAAP +$4B and statutory $4.6B:

Source: GNW 12/4/13 LTV Review Presentation
If you ascribe to the view that a business is essentially worth the present value of all future cash flows, then, assuming conservatively and accurately construed, this represents the value of GNW's LTC business.
Many investors suspect, as does GNW management, that the recent adverse loss experience will necessitate changes in the assumptions that resulted in this value and ultimately impair it. Most of the above main inputs are unlikely to change. The only variable, other than Present Value of Future Claims & Expenses "PVFCE," that some might think needs adjustment is Present Value of Future Premiums, but by all accounts management seems to believe the state in-force premium rate approvals are meeting expectations and so I doubt there will be any material adjustment. The adverse loss experience was clearly quite disappointing to management though, so there is a very good chance that PVFCE will increase. The question is - by how much?
In valuing LTC, I created 5 scenarios in which I assume:
No change in PVFCE from December review
1% increase
5.3% increase (eliminating half the margin)
10.6% increase (eliminating the full margin)
21.2% increase (double the above and quite substantial)
I tend to think the probability is skewed closer to no change than a 21.2% increase, but to be conservative I assumed respective probability weightings as follows:
Rest of the Business
In my experience, the average insurer trades at about 10x normalized earnings. I believe:
GNW has a superior manager and will eventually be seen as an average if not above average insurance company.
GNW will eventually earn average returns, which in insurance are between 7-10% ROE. This compares to <5% currently.
I feel safe assuming the rest of GNW, other than LTC, is capable of average returns considering the consistency of the turnaround efforts and that the business was doing above average returns several years ago: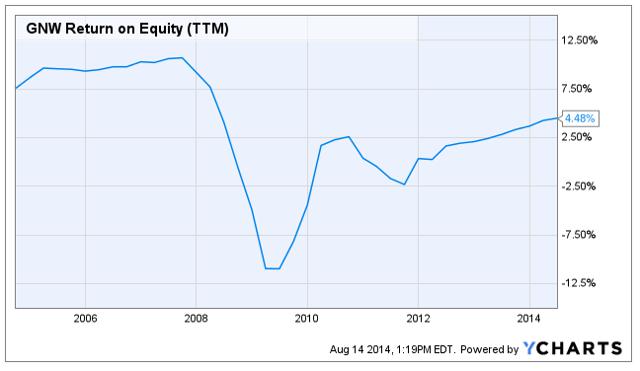 If I am valuing the firm by assigning a multiple to current earnings, but believe current earnings understate normalized earnings power, I should adjust the multiple component accordingly. Unfortunately, I cannot predict how successful the turnaround taking place at GNW will be and in turn what the firm's true ROE power will be, which heavily influences the multiple used. If the firm can eventually earn 10% ROE, that is over double the current rate and so doubling the normal 10x multiple to 20x would make sense. I want to be conservative though, so I instead assumed 15x as my most optimistic multiple and cut that by increments of 1.5x to 9x as follows:
Putting it Together
I matched the above multiples up to the weightings used in LTC to get 5 scenarios with varying degrees of overall conservatism. I then took the probability-adjusted total value per share from each scenario and totaled them. Finally, I compared this to the current quote. The results are shown below: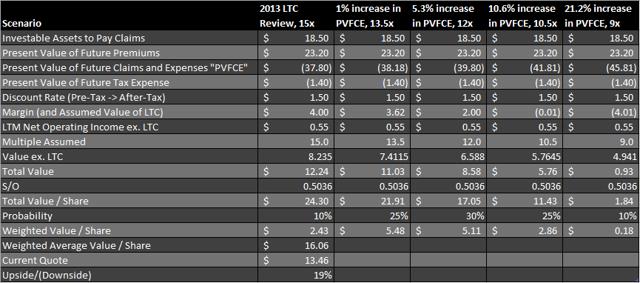 The result is a price target of just over $16 per share and estimated upside of 19%. This seems reasonable. If you'd asked me a few weeks ago what I thought GNW was worth, I'd have probably said somewhere between $20-25 per share, in line with the 2 most optimistic scenarios above, which makes sense because there did not seem to be a high probability of issues in LTC at that time. Things have changed though and I've changed my estimates accordingly.
Conclusion
19% upside seems nice, and remember this is based on NPV and accounts for average appreciation of 8-10% annually as well - maybe even more so considering the company used a 14% discount rate in its margin calculation. However, I will not be purchasing shares at this time because I don't think 19% plus 8-10% annualized returns look overly compelling weighed against a 35% chance of significant permanent capital impairment. If the trend of adverse loss experiences continues and ultimate losses and expenses end up being 21.2% greater than what the company estimated in December, GNW stock could decline by 86%. I am highly concentrated for various reasons, and so this investment, though attractive, exceeds my risk profile. I do believe it is a far better long position than short at this point though.
Disclosure: The author has no positions in any stocks mentioned, and no plans to initiate any positions within the next 72 hours. The author wrote this article themselves, and it expresses their own opinions. The author is not receiving compensation for it (other than from Seeking Alpha). The author has no business relationship with any company whose stock is mentioned in this article.