Large cap stocks will play catch up with small caps in 2011. As we enter the third year of the bull market of 2009 – 20?? expect performance in large cap stocks to accelerate. Historically as bull markets move beyond 24 months investors get more conservative. This is often because interest rates begin to rise as the economy follows Wall Street's lead and larger companies are better positioned to deal with higher interest rates than small cap companies. Valuations as measured by projected P/E ratios are more favorable for large cap stocks at this moment in time, providing a second reason to expect very positive performance from large cap stocks.
We screened our database of the largest 1000 stocks to look for companies with a market cap > $10 billion and found these five stocks with a bullish Chaikin Power Gauge Rating, a 5 year ROE > 85% of all stocks screened, a PEG ratio < 1.5 with last year's ROE in the top 25% of all stocks analyzed. In addition, all 5 of these companies have seen analysts become increasingly bullish about 2011 earnings prospects.
The Chaikin Power Gauge rating is based on a 20-factor model incorporating Financial Metrics, Earnings Performance, Price/Volume activity and Expert Opinions to determine a stock's potential over the next 3-6 months.
We wrote favorably about 3 of these companies: General Dynamics (NYSE:GD), Honeywell Int., (NYSE:HON) and Microsoft (NASDAQ:MSFT), in our Seeking Alpha blog on December 6. The 3 stocks are up an average 3.72% vs. a 1.56% gain for the S&P500 in the same period. This confirms our thesis that large cap stocks with bullish Chaikin Power Gauge Ratings are attractive investments in the current market climate. As all of these stocks are at six month price highs, put them on your Santa's wish list and use any short-term price pullbacks to add them to your portfolio.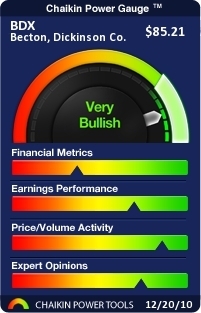 Becton, Dickinson & Company (NYSE:BDX): 85.21
With strong cash flows, a healthy ROE and very high profit margins, the world's largest manufacturer and distributor of medical surgical products is an attractive large cap investment.
Consistent Earnings Growth has led to bullish Analyst Opinions and Upward Revisions of future EPS estimates. Bullish Chaikin Money Flow activity, Chaikin Price Trend and a positive Volume Trend together contribute to a very bullish Price/Volume component in the Chaikin Power Gauge.
The company has shown positive Price Strength vs. the broader market and vs. its Industry, rallying > 20% since hitting a low on August 31. With an attractive Projected P/E ratio on estimated 2011 earnings BDX is well positioned in terms of our "large cap catch up" thesis.
A proven management team has recently announced a 10% dividend increase and has successfully diversified the company's business so that more than 50% of the company's revenue comes from outside the United States.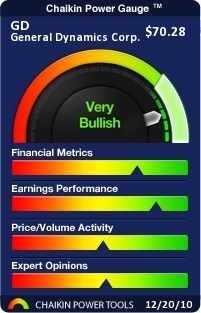 General Dynamics Corporation (GD): 70.28
Although its core businesses continue to be strong, GD is off 10% from its 52 week high. A very strong ROE, high profit margins and healthy cash flows contribute to the company's very bullish Financial Metrics rank.
Consistent earnings growth and a relatively low Projected P/E ratio on 2011earnings lead to a very bullish Earnings Performance rank. Very strong Chaikin Money Flow and low Short Interest provide additional factors adding up to a very bullish Chaikin Power Gauge rating.
The stock has rallied 23% since making its September low and given the contracts it signed with the US Army and the Marine Corps in December, we believe the recent price momentum will continue.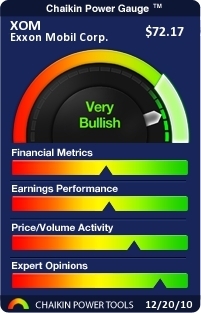 Exxon Mobil Corporation (NYSE:XOM): 72.17
After hitting bottom on July 1, XOM shares have rallied 28% in the last 6 months posting higher highs while outperforming both the broad market and the Integrated Oil group.
The company continues to post quarterly earnings gains with attractive profit margins and a very high ROE. A very favorable Chaikin Money Flow rank contributes to a bullish Price/Volume rank in the Power Gauge rating.
Bullish Analyst Ratings with Upward Earnings Revisions and Insider buying contribute to very bullish Expert Opinions.
With the cold months upon us and the price of oil inching up, we believe Exxon Mobil will continue its rally into 2011 making new highs. Any pullback in price should provide an excellent opportunity to add XOM to your portfolio.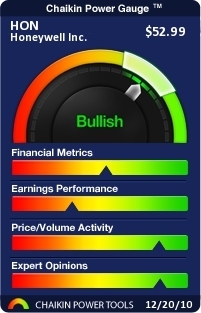 Honeywell International Inc (HON): 52.99
Consistent earnings, attractive profit margins posted over the last 5 years and high free cash flow make HON an attractive stock at current levels despite posting a 30% gain YTD.
The company has shown positive price strength vs. the broad market and its industry, reaching new highs over the last 3 months. Bullish Chaikin Money Flow activity and Chaikin Price Trend contribute to a very bullish Price/Volume component in the Chaikin Power Gauge.
Recent Insider buying and increasingly bullish Analyst Opinions leading to Upward Earnings Revisions add up to very bullish Expert Opinions.
Honeywell is led by an excellent management team as it continues to expand globally. This, along with a bullish Power Gauge Rating reaffirms our belief that HON still has further upside potential in 2011.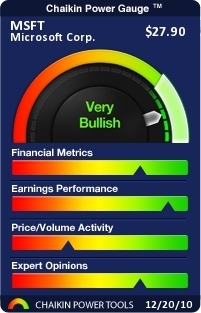 Microsoft Corporation (MSFT): 27.90
MSFT has lost 10% of its value in 2010 while the market has gained over 10%. Clearly, this is not the year Bill Gates wants to remember.
Or is it? With very high profit margins and ROE, strong cash flows and a positive Business Value*, MSFT still has appeal as a large cap investment. The company has continued to quietly post consistent earnings growth over the past 5 quarters while upgrading its product lines, with the Bing search engine even gaining market share as it tries to chase Google (NASDAQ:GOOG).
Analysts, impressed with a recent string of positive earnings surprises, have become increasingly bullish and have revised earnings estimates upwards.
With a very bullish projected P/E ratio based on 2011 earnings estimates, Microsoft makes a strong case to be included in our year-end Santa's investment wish list. Perhaps Mr. Gates will have some surprises for us in 2011.
* Business Value is the most heavily weighted factor in the 20 factor Chaikin Power Gauge rating. It measures free cash flow per share on a relative basis vs. 3000 stocks. It is similar to EV/FCF.
Disclosure: I have no positions in any stocks mentioned, and no plans to initiate any positions within the next 72 hours.