On June 10, 2014, I wrote an article Sino Agro Food Take Action While You Are Waiting stating that Sino Agro Food (OTCQB:SIAF) is a deeply undervalued opportunity and patience is crucial.
Today, the company announced a revenue of $97.0 million for the second quarter. Gross profit, net income, and diluted earnings per share ("EPS") for the quarter were $32.3 million, $23.1 million, and $.14 per share, respectively.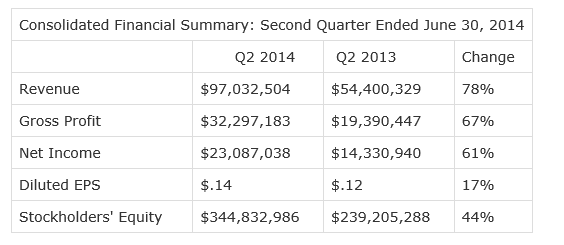 Revenues in the second quarter of 2014 were derived from the sale of goods and consulting services, split 84.9%-15.1%: $82,357,060 and $14,675,444, respectively. The fishery division contributed 89% of revenue from consulting and services in Q2 2014 versus 49% in Q2 2013. This was due to the new Zhongshan Prawn Project.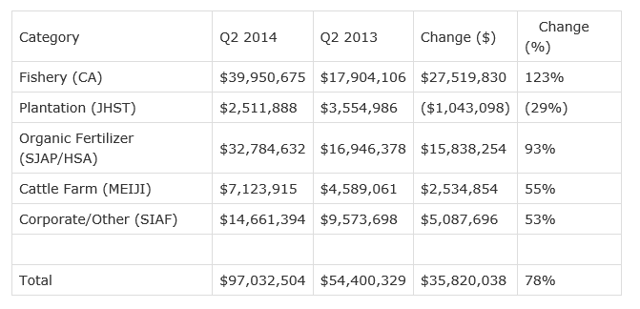 Click to enlarge
Many strategic decisions are taking place that are promising for the future of the company.
Sino's joint venture company Qinghai Sanjiang A Power Agriculture Co., Ltd. ("SJAP"), for example, entered into two contracts with Tesco, PLC to become both a supplier and an in-store butcher shop concessionaire of beef and lamb. The contracts became effective June 19, 2014 and run for five years.
The company is also expanding and branding its product line of meats for retail at grocery stores.
The fishery division of Sino is adding product variety, importing new varieties of seafood from Madagascar for sale and others for production-feasibility testing in the R & D station.
CEO Solomon Lee summarized the second quarter as follows:
"We are seeing the Company's holistic vision come into focus. Meat and seafood production has grown to support complementary and downstream businesses. At the same time, we strive for continuous improvement. Just as we reconfigured APM tanks to accommodate eels in the first quarter, I am particularly pleased by our technical ability to improve prawn yields and margins, starting late in the second quarter.

Overall, we achieved ample and sustainable gross margins across all core divisions and subsidiaries.

While I expect that the current core businesses will continue to provide innovative opportunities to further the farm to table concept, we find ourselves in a new and enviable position. We are now able to achieve growth without new business contracts; yet, we will continue to consider new opportunities on a case-by-case basis as they arise. The newly producing abattoir at SJAP and the new Zhongshan Prawn project portray scaling potential, and projected volumes to feed growing distribution and retail facilities."
Final Note
As mentioned before, Sino Agro Food could easily become a four bagger if the company stays focused and keeps executing. The appointment of Mr. Alan Wong as Chief Internal Auditor on August 1, 2014 will strengthen the company's corporate governance, which will ultimately lead to a higher stock price.
Disclosure: The author is long SIAF. The author wrote this article themselves, and it expresses their own opinions. The author is not receiving compensation for it (other than from Seeking Alpha). The author has no business relationship with any company whose stock is mentioned in this article.
Editor's Note: This article covers one or more stocks trading at less than $1 per share and/or with less than a $100 million market cap. Please be aware of the risks associated with these stocks.