Microsoft (NASDAQ:MSFT) is probably not the first company one thinks about when considering dividend growth. As it happens, though, this mature software company has developed into a respectful dividend growth company in its own right.
It first started paying a dividend back in 2004 at $0.08 per share per quarter and has regularly increased it since to the current level of $0.28. Over ten years, that translates into a CAGR of 13.3%.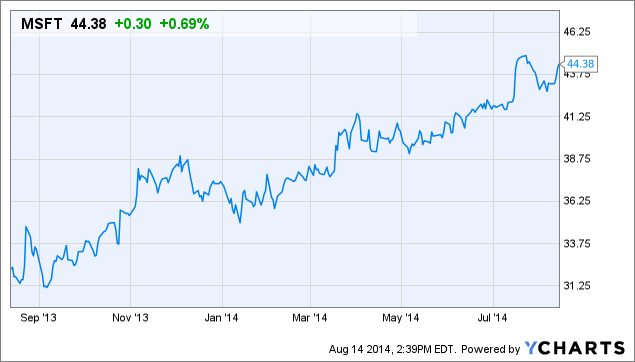 MSFT data by YCharts
As can be seen on the chart above, investors have not only been collecting dividends this past year -- they have also enjoyed a massive run-up in the stock from about $32 the current level of $44; that's more than 37% of appreciation. I guess old, boring Microsoft isn't so boring anymore.
Historical Dividend Growth
Microsoft has a habit of increasing its dividend every fall. The increases have often been fairly large and higher than its EPS growth. This means, of course, that the payout-ratio has increased over time. It is currently around 40%, compared to less than 25% back in 2010.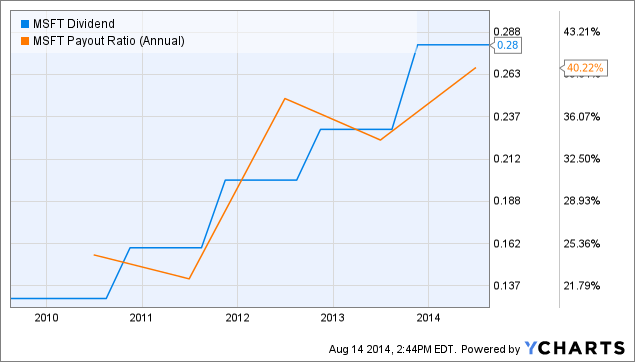 MSFT Dividend data by YCharts
The company has had some significant increases the last couple of years, most notably in 2011 and 2013. The 2013 increase was from $0.23 to $0.28 a share for a growth rate of 21.7% and a current yield of 2.4%.
According to Morningstar, the company made $2.63 per share in the last fiscal year, which with an annual dividend of $1.12, gives a payout-ratio of 42.6%, slightly higher than the Ycharts numbers above. This fairly low payout-ratio means that there is considerable scope to increase dividends even in years of lackluster EPS growth.
September Dividend Hike
Microsoft has now paid a quarterly dividend of $0.28 for four consecutive quarters. It usually announces its autumn dividend in the middle of September. This means that investors can look forward to the announcement of a dividend hike in about a month.
The average estimate for the current fiscal year earnings is for an EPS of $2.72. Admittedly, this is a modest growth rate from $2.63 but the estimates for the next fiscal year is substantially higher, at $3.20.
Given the Board's history of increasing the payout-ratio, I am not too worried about slow growth in any one fiscal year. I expect the Board to look more at the long term growth rate of EPS and continue expanding the payout-ratio for a number of years going forward. Every year since the financial crisis, Microsoft has bumped up its dividend by more than 10% each year. In later years, it has grown the dividend by between 15%-25 % per year.
I think an absolute low estimate for the new dividend will be a quarterly dividend of $0.31, which represents a growth rate of 10%. The payout-ratio will then be 45.6%. A more realistic and more likely number, in my opinion, will be a quarterly dividend of $0.32. This represents a growth rate of 14.3% and a payout-ratio of 47%.
Risk Factors
Microsoft enjoys stable and growing earnings and enjoys a large customer base that continues to upgrade to the newest software versions every time Microsoft comes out with an update. However, Microsoft does have the risk of being bypassed by new technologies from new and innovative companies. Things can happen fast in the tech space, as evidenced by how quickly consumers adopted tablets and smartphones. There is also an element of currency risk as the company sells its products and services globally. The company is trying to transform from being PC dependent and there is still a risk of the company not fully being able to do so.
Current Valuation
I last wrote about Microsoft, and recommended it for long-term dividend investors, back in January of this year. Since then, the stock has appreciated and multiples have expanded a bit.
| | | | |
| --- | --- | --- | --- |
| | Microsoft | Apple | Google |
| Price/Sales | 4.3x | 3.4x | 6.0x |
| Price/Earnings | 16.8x | 15.7x | 30.0x |
| Yield | 2.4% | 1.9% | N/A |
Source: Morningstar
On Price/Sales the company is priced in between its competitors Apple (NASDAQ:AAPL) and Google (NASDAQ:GOOG) (NASDAQ:GOOGL). On Price/Earnings, the company has now surpassed Apple, but is significantly cheaper than Google. When it comes to the yield, Microsoft is the clear winner. In addition, this yield is likely to rise significantly come September.
According to Morningstar, the S&P 500 is currently priced at a P/E ratio of 18.2x, so Microsoft is trading at a discount to the overall market.
The average analyst estimate for EPS growth over the next five years is, according to Yahoo Finance, 7.5% annually. With a constant multiple and adding in the current dividend yield of 2.4%, we get an expected total annual return over the next five years of 9.9%. Certainly not something to get too excited about, but this is approximately what can be expected from the overall market over time. As mentioned, Microsoft is trading at a discount to the market, so the company should be a decent investment going forward. The primary focus when buying this stock should not be stock price appreciation but rather a growing dividend income over time.
Conclusion
Microsoft has turned into a real dividend growth stock over the years, increasing dividends year after year. The stock currently yields a respectable 2.4% and is likely to grow its dividend by 10%-15% come September. The stock is likely to perform more or less like the overall stock market, but with a higher yield and a much higher dividend growth rate. If you are looking for stable and growing dividend income, consider adding Microsoft to your portfolio before September's dividend increase.
Disclosure: The author has no positions in any stocks mentioned, and no plans to initiate any positions within the next 72 hours. The author wrote this article themselves, and it expresses their own opinions. The author is not receiving compensation for it (other than from Seeking Alpha). The author has no business relationship with any company whose stock is mentioned in this article.