Utilities are not a great place to be right now. Because utilities operate in a monopoly-like, regulated environment and have little to no revenue and earnings growth, they are often seen as bond equivalents. After a runup from 2009 to 2012, bonds have been drifting at a relatively high valuation for the last couple of years, and utilities have generally followed suit. When and if interest rates come back to normal levels, bonds will necessarily depreciate, and many believe that utility equivalents will depreciate as well.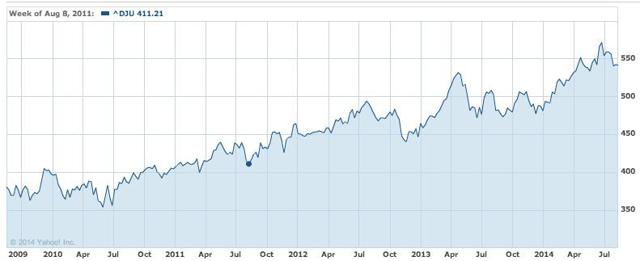 The Dow Jones Utilities Index, Yahoo! Finance
Compounding on that is renewables mandates from individual US states, which forces utility companies to invest in solar, wind and biomass projects despite stagnant demand for energy in general. This has led to expanding balance sheets for utility companies in states with ambitious renewable energy mandates.
Those looking for utilities should be selective and look only for exceptions to these rules. To be sure, there are a good handful of exceptional utilities which offer some growth and are based in states with either modest renewable energy mandates or no renewable energy mandates at all.
Entergy Corporation (NYSE:ETR) is one of those exceptions. Entergy is a $13 billion utility based in New Orleans, Louisiana. The company is effectively divided into two large segments: Generation and utilities. The company's generation unit operates six nuclear power plants in the northeastern US, five fossil fuel-based plants (two in Arkansas, two in Louisiana, one in Massachusetts), and finally two wind plants in Iowa and Texas. The company's utility business, which accounts for most of revenue, operates in Arkansas, Louisiana, Mississippi and Texas; four states with relatively benign regulatory climates.
Entergy has one of the best growth pictures in the country, primarily because the company services an area of the country which I believe will see economic conditions considerably better circumstances for at least the next four or five years: The Gulf Coast of both Texas and Louisiana.
The Gulf Coast of Texas and Louisiana is the latest benefactor of the shale revolution, but not necessarily because of oil production. The reason for this region's prosperity lies in the demand side, not the supply side: The American petrochemical industry is prospering due to the country's low relative price of natural gas and natural gas liquids. This industrial renaissance has lead to steady growth in power demand from Corpus Christi to New Orleans, and Entergy is one of the benefactors of this broad, long-term trend.
Perhaps best of all, Entergy still trades at a reasonable valuation; just 13 times projected 2014 earnings. This article will look at Entergy's earnings results, examine financial fundamentals, and finally will take a closer look at valuations.
Encouraging results
Courtesy of Investor Relations
The above chart is a comparison of earnings between the second quarter of this year and the second quarter of last year. The important figure is operational earnings, which is represented by the blue bars. We see earnings growth of almost 10%, which is quite good for a US utility company.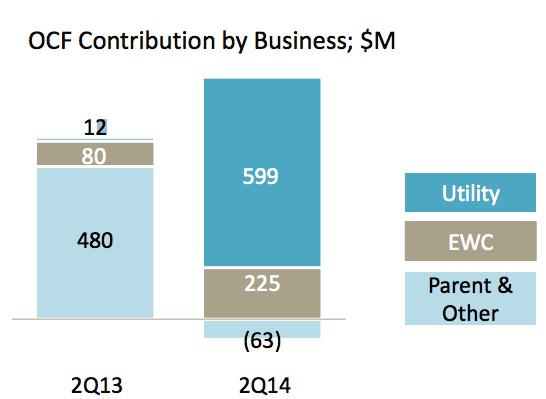 A look at operational cash flow, which does not consider depreciation, shows perhaps an even better picture. Since the company has done some restructuring since last year, this bar chart requires a bit of explanation. Overall, operational cash flow has gone from $572 million to $761 million, a difference of $189 million. While industrial demand growth is surely a part of that, it was not the biggest part. In fact, $145 million of the $189 increase came from the New England generation subsidiary EWC. This spike in generation was due to an unusually cold winter. Still, another $44 million came from the Louisiana, Arkansas and Texas-based utility business.
Financial
Despite minimal electricity demand growth in the United States, American utilities are investing broadly in new generation capacity, thanks largely to renewable energy mandates from the state level. This mandated investment has left many utilities with little choice other than to lever up with despite no hope for commensurate demand growth. Entergy is not one of those companies, and a quick look at the company's balance sheet shows that much.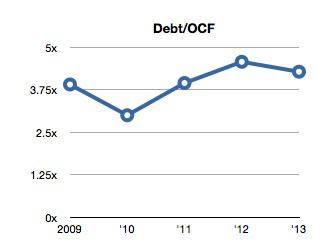 Data by Morningstar
Luckily for Entergy, Louisiana, Arkansas and Mississippi have all said 'no thanks' to renewable energy mandates. And while Texas does have such legislation, it is quite modest compared to other states. As you can see above, the company's debt to operational cash flow has remained steady since 2009.
Valuation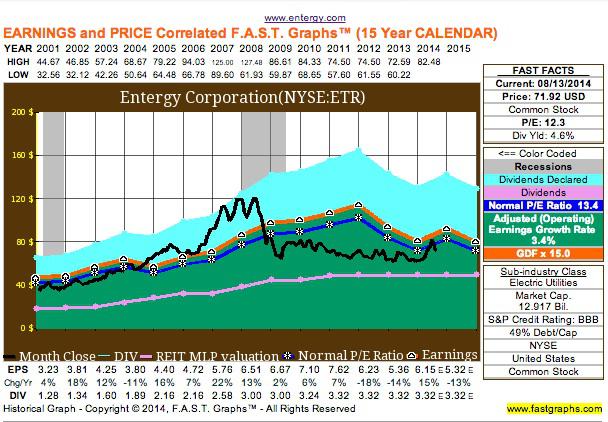 FAST Graphs
Despite having one of the most enviable locations for utilities in the country, Entergy's story still appears to be falling on deaf ears. Price to 2014 earnings sits at a very modest 12.3 times, below even the company's long-term average of 13.4 times. In the chart above, the dark blue line represents Entergy's average PE ratio since 2001. In fact, Entergy has been knocked below its average PE ratio since 2008 and has just barely recovered. However, the company's earnings future is bright due to the industrial renaissance going on all along the western Gulf Coast. Entergy is buyable here, not least due to the stock's healthy 4.55% yield.
Conclusion
Utilities are still good investments, but investors must be very selective with the ones they choose. The best route is to avoid utilities in states with high renewables mandates and focus on utilities which serve pockets of the country that are actually doing very well. The western Gulf Coast is one of those pockets, and Entergy is therefore one of the best choices among utilities today.
Disclosure: The author is long ETR. The author wrote this article themselves, and it expresses their own opinions. The author is not receiving compensation for it (other than from Seeking Alpha). The author has no business relationship with any company whose stock is mentioned in this article.