Low bond yields and the prospect of bond losses as interest rates rise have put much attention on dividend stocks as an alternative source of investment income. How important has dividend income been to total return over the past 10 years? This article looks at yield return versus price return and total return in US Dollars for 36 countries/regions based on the MSCI BARRA indexes.
As one might expect, when total return is low or negative, dividend yield is more important than when total return is high. A corollary to that is that when the stock markets languish or decline, high quality dividend stocks as a group generally tend to outperform (they go down with markets, but generally not so far or for so long), and when the stocks markets boom, high quality dividend stocks as a group generally tend to lag (still positive, but lagging).
Dividends tend to grow and bond income does not. That is a key factor when thinking about long-term "normal" inflation. Who knows what would happen for dividends with hyper-inflation, but bonds would be crushed. Mild deflation might favor bonds if it did not persist for too long, but ultimately prolonged or deep deflation might increase the default rate on bonds. High quality, above average dividends are generally helpful in portfolios, at least in later stages of a person's financial life.
A really important aspect of high quality dividend income for those portfolios at or near the end of the accumulation stage, or that are currently being used to support lifestyle, is the relative stability of dividend yield versus price return. If an investor is making regular withdrawals, for example, and investment income does not cover the full withdrawal amounts, the volatility of prices creates a potentially more rapid depletion of assets than one might expect using straight line total return assumptions. In other words, relying capital appreciation is a riskier approach than relying on dividend income -- not so important to those just starting out, but potentially critical to those in late stages of financial life.
Developed Markets:
This chart shows total return (("TR")), price return (("PR")), yield return (("YR")), as well as the YR as a percentage of TR for 10 years ending December 17, 2010 for those countries/regions in the MSCI BARRA international database for which there is also a country/region ETF available ("proxy" column). The last column on the right shows the distribution yield for the past 12 months for the proxy ETF, that can be compared to the 10-year yield return of the country/region index. The beige shaded rows are ones where the trailing yield on the ETF is greater than the 10-year yield return of the country/region index. It could be that those current country/region yields are higher than they were historically, or that the portfolio composition of the ETF differs materially from the composition of the indexes.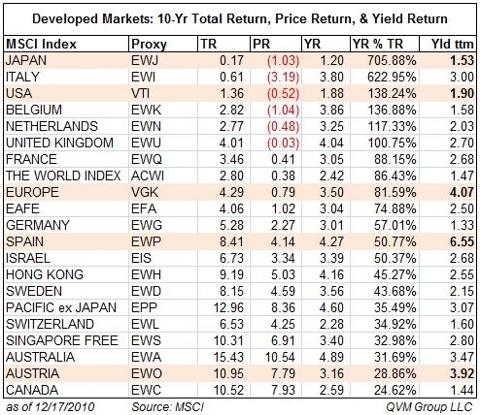 The simple unweighted average yield return for the developed countries/regions is 3.30%, and the median is 3.39%. The median contribution by the yield return to total return is 57%. For the ETF distribution yields, the average yield is 2.62% and the median is 2.55%.
Emerging Markets:
This chart is for the emerging market countries/regions in the MSCI BARRA database with corresponding country/region ETFs.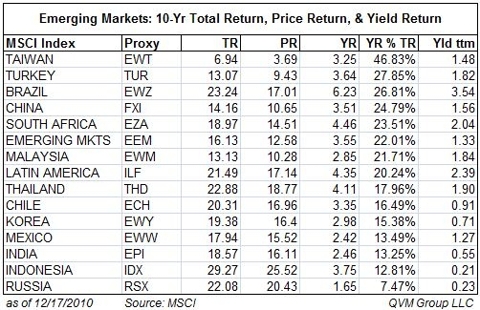 None of the ETFs has distribution yields greater than the 10-year yield return of the corresponding country/region index.
The two tables show that in the last 10 years yield has been critical to the total return of developed markets, but while important, yield has not critical to strong returns in emerging markets.
Our View:
The past is not the future, but if the developed markets are in a comparatively slow growth mode for at leas the next several years, it may be useful to tilt in the direction of high quality, above average yield in developed markets. That compares to more of a price change dominated approach to total return in the emerging markets. In either area, however, high quality, well covered, growing dividends provide a margin of safety that could be important to conservative investors.
We are inclined to own individual stocks as much as possible in the US when pursuing dividend income to minimize the expense drag on yield, although some diversified dividend ETFs or mutual funds can make sense in the mix too.
Disclosure:
I am long EWS, EWC, EEM, ILF, THD, ECH.


Additional disclosure:
As of December 17, 2010 we hold positions in some but not all managed accounts for the following securities mentioned in this article: EWS, EWC, EEM, ILF, THD, ECH.
Disclaimer: Opinions expressed in this material and our disclosed holdings are as of December 17, 2010. Our opinions and holdings may change as subsequent conditions vary. We do not make any commitment to publish or provide any public notice of future changes to our opinions or changes in our holdings.
This published material is not personal investment advice to any specific person for any particular purpose. Do not take any investment action based solely on the contents of any our published material. We are not responsible for your use of our published materials in making any investment decision, and are not responsible for any losses you incur in taking any investment action. You are fully responsible for any use you make of the content of any published material prepared by us, and for any losses that occur as a result of any investment action taken in reliance upon any published materials prepared by us. Investing involves risk of loss of capital.
All of our published materials are for informational purposes only. More factors than considered in our published materials should be evaluated before taking any investment action. Perform your own investment research before making any investment decision. Consider seeking professional personal investment advice before implementing your portfolio ideas.
We utilize information sources that we believe to be reliable, but do not warrant the accuracy of those sources or our analysis. Past performance is no guarantee of future performance, and there is no guarantee that any forecast will come to pass.
We are a fee-only investment advisor, and are compensated only by our clients. We do not sell securities, and do not receive any form of revenue or incentive from any source other than directly from clients. We are not affiliated with any securities dealer, any fund, any fund sponsor or any company issuer of any security.
Disclaimer for all our our materials anywhere in the public domain.