On Thursday, August 14, Agilent Technologies (NYSE:A) reported the results of what I believe to be a very strong third quarter. The company's FQ3 EPS of $0.78/share beat Wall Street estimates by $0.04/share, while its revenue of $1.77 billion beat Wall Street estimates by an impressive $20 million.
In the wake of the company's impressive third quarter, I wanted to examine several reasons behind my decision to consider a long-term position in this healthcare solutions play.
Company Overview
Headquartered in Santa Clara, California, Agilent is a leader in life sciences, diagnostics and applied markets. The company provides laboratories worldwide with instruments, services, consumables, applications and expertise, enabling customers to gain the insights they seek.
The scope of Agilent's business falls into six key market segments which include Food, Environmental and Forensics, Pharmaceutical, Diagnostics, Chemical and Energy, and lastly, Research.
Recent Trend Behavior
On Wednesday, shares of Agilent, which currently possess a market cap of $18.54 billion, a forward P/E ratio of 16.32, and a dividend yield of 0.95% ($0.53), settled at a price of $55.62/share. Based on a closing price of $55.62/share, shares of Agilent are trading 0.64% below their 20-day simple moving average, 2.66% below their 50-day simple moving average, and 0.51% above their 200-day simple moving average.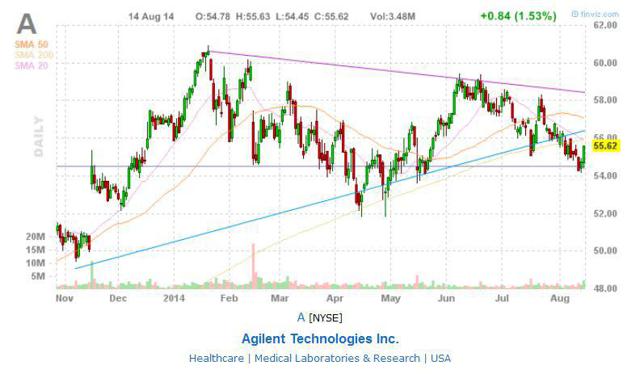 Although these numbers indicate both a short-term and a long-term downtrend for the stock, which would normally translate into a selling mode for both near-term traders and many long-term investors, I strongly believe the company's recent earnings performance could be the first step in reversing the company's trend behavior.
So what drove the company's results higher during the third quarter? According to Agilent's President and CEO Bill Sullivan, "Agilent generated strong revenue and earnings this quarter, exceeding the high-end of our forecasted guidance and while delivering these solid results, both the Agilent and Keysight teams have done an outstanding job of executing the company separation to date which keeps things on pace for the formal separation to take place in early November."
It's pretty clear that the company's long-term growth will be heavily dependent on the continued developments that are related to its expected spin-off of Keysight Technologies that is scheduled for early November. With that said, I strongly believe the revenue growth of both the new Agilent (up 6% as compared to the year ago period) and Keysight (up 8% as compared to the year ago period) will be a key focal point for most long-term investors.
If both companies can continue to demonstrate growth in such areas as Electronic Measurement (in the case of Keysight) and Applied Chemicals (in the case of the new Agilent) I see no reason why full-year revenues estimates for both 2014 and 2015 can't be met and/or exceeded.
It should be noted that the company also demonstrated a 9% increase in its FQ3 reported orders (to $1.74 billion during the quarter) as well as a 7% increase in revenues (to $1.77 billion during the quarter). I strongly believe that if the growth in the company's reported orders carries over into FQ4, Agilent should have no problem in meeting Wall Street estimates, which are calling for the company to earn $0.94/share in terms of EPS and $1.83 billion in terms of revenue.
Conclusion
For those of you who may be looking to establish a position in Agilent Technologies there are two key things to consider. For starters, shares of Agilent are trading at just over 26.3x earnings whereas the shares of both Bruker Corporation (NASDAQ:BRKR) (just under 40.3x) and PerkinElmer (NYSE:PKI) (just over 32.1x) were trading at much higher multiples, which therefore makes shares of Agilent comparably cheaper.
The second of the two things we must consider is the company's upcoming spin-off of Keysight, which will focus on electronic measurement products, while the newer Agilent will focus on the life sciences, diagnostics and applied chemical markets. On Sept. 19, 2013, Agilent announced plans to separate into two publicly traded companies through a U.S. tax-free spinoff of its electronic measurement business. Keysight is currently a wholly owned subsidiary of Agilent, with completion of the separation expected in early November 2014.
If the long-term revenue growth of each of the post-spin-off entities mimics what we saw them demonstrate in the third quarter, there's a very good chance investors will be pleased with each individual entities' performance over the next several years.
Disclosure: The author has no positions in any stocks mentioned, and no plans to initiate any positions within the next 72 hours. The author wrote this article themselves, and it expresses their own opinions. The author is not receiving compensation for it (other than from Seeking Alpha). The author has no business relationship with any company whose stock is mentioned in this article.