The Walt Disney Company (NYSE:DIS) is synonymous with steady, appreciable growth, prescient M&A activity, and the creation of shareholder value. The incremental, positive upticks in revenue, EBITDA and free cash flow over a 5-year period, shown on the chart below, showcase Disney's drive toward enhanced profitability. During the same time frame, operating margins widened 4.3%, from 15.8% in 2009 to 20.1% in 2013. The synergistic interplay between business segments, growth metrics strengthening like clockwork and future earnings potential of this media giant indicate opportunity on the long side.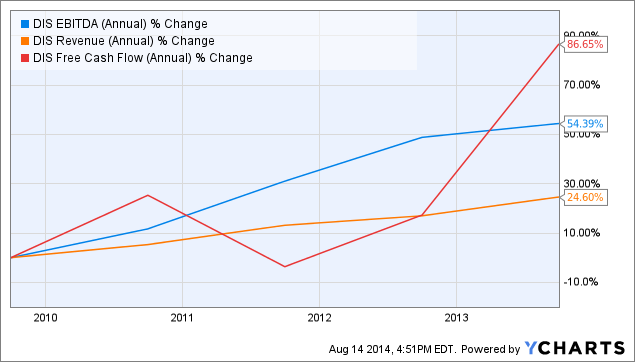 Risk/Reward
From a risk/reward perspective, however, there is little room left for shares of Disney to run. Currently trading at $88.65/share, a long position entered at these levels would offer a 10.5% upside in keeping with a 12-month price target of $98/share. This 1.26% return fails to satisfactorily compensate the investor for the 9.24% equity risk premium. Simply stated, the growth is priced in, while the outlook is positive, bullish price action has this stock trading at levels where a bid is difficult to justify, using conservative metrics.
DCF: Revenue, EBITDA and FCF Projections
The charts below demonstrate the sensitivity, of the total equity value, to changes in the forward revenue growth rate, and illustrate the corresponding free cash flow, and EBITDA, growth projections.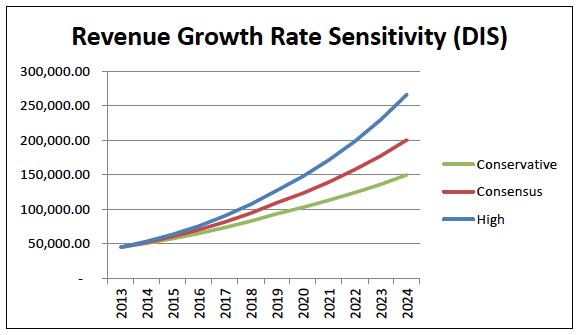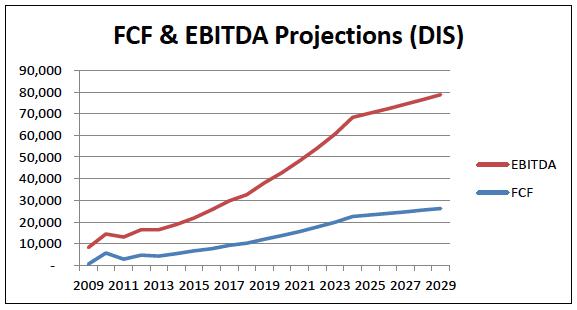 DCF: Fair Value Sensitivity Analysis
A fair value estimate of $98/share is derived using the perpetuity growth method, where the terminal perpetuity growth rate is 2.5% and the discount rate is 10%. Assumptions include $12,046.0mm net debt, as well as 1750.0mm diluted shares outstanding. The sensitivity of total enterprise value, total equity value, implied terminal EBITDA multiple and the price per share are shown below.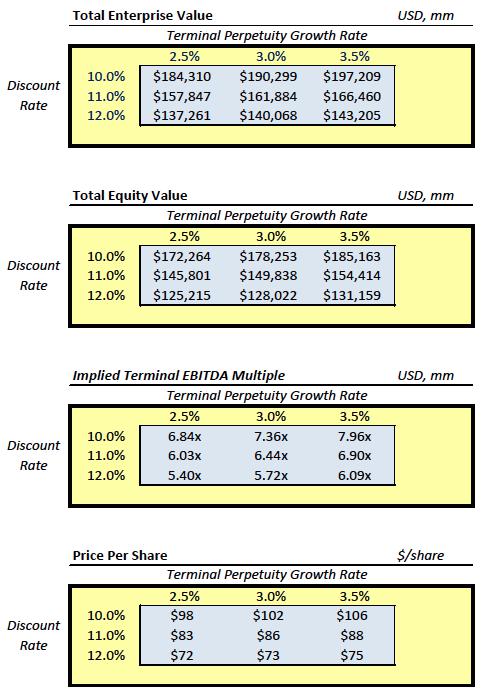 Conclusion
Neutral: The risk/reward is not favorable at $88.65/share, with an upside target of $98/share. That being said, this is a name in which buying opportunities are few and far between. Patience is critical, and if the price comes in, around the $84/$82 level, it's a buy.
Disclosure: The author is long DIS. The author wrote this article themselves, and it expresses their own opinions. The author is not receiving compensation for it (other than from Seeking Alpha). The author has no business relationship with any company whose stock is mentioned in this article.