By Sheena Lee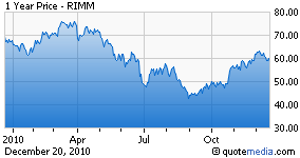 Research In Motion's (RIMM) fiscal third quarter results [see transcript] beat Wall Street expectations as the BlackBerry maker saw steady expansion in markets outside of the United States. While many analysts raised their 12-month price targets on the smartphone maker, none have changed their underlying opinion on RIM and some are still skeptical as to how much growth the company will see next year as it competes with Apple (AAPL) and Google (GOOG).
Of 41 sell-side and independent analysts tracked by Alacra Pulse, 20 are positive on the company, 8 are negative and the remaining 13 are neutral.
The median price based on the most recent targets tracked by Alacra Pulse is $70, up from $67 in our last prognosis on Nov 24. The mean target has risen to $71.92 from $66.71. RIM closed today at $58.48.
Current 12-Month Price Targets of Selected Sell-Side and Independent Analysts
(Click to enlarge)
"RIM gets no respect," said Charlie Wolf of Needham & Co. in a report, noting the stock's low valuation. Wolf has a Buy rating on the smartphone maker and lifted his price target to $90 from $75. Wolf also added that the new tablet PlayBook, set to be released early next year, could "take the business market by storm," with its security features.
Canadian analyst Gus Papageorgiou of Scotia Capital has the highest estimate tracked by Alacra Pulse at C$ 130 or about $128. "We believe several positive catalysts are coming over the next three to six months and RIM's prospects should become increasingly brighter."
Morgan Keegan's Tavis McCourt raised his price target to $96 from $76. Caris & Co.'s Robert Cihra maintains a Buy rating and a $75 price target:
Prepaid traction's increasing and leverages RIMM's unique NOC/data efficiency/compression, while we think BBM keeps boosting adoption in emerging geos.
Wedbush Securities analyst Scott Sutherland maintains a Neutral rating on RIM, and raised its price target to $60 from $58. Wells Fargo's Jennifer Fritzsche also reiterated a Market Perform rating on RIM, and adjusted its valuation higher to $63-$66 from $60-$63.
GigaOm's Kevin Tofel points out that although Research In Motion reported strong smartphone sales, shipping 14.2 million BlackBerry devices in the quarter, which helped boost revenues to $5.5 billion:
A breakdown of the sales figures reiterates that RIM is losing ground in the U.S. market as consumers and enterprises alike continue to adopt phones running Apple's iOS and Google's Android platforms.
Most people now want to use a single device to handle both their personal and professional lives. That's what Apple's really good at — and now RIM is playing catch-up.
…we expect continued strong international BlackBerry sales and steady sales of the Torch through the holiday season. As such, we are raising our F2011 pro forma EPS estimate to $6.33 from $6.13 and our F2012 estimate to $5.99 from $5.69.
The structural challenges RIM is facing aren't badly impacting reported numbers yet, but we see a long list of clear signs of weaknesses.
While sell-in of new models, higher holiday inventory, and a larger international mix explains some of the increase, we continue to believe an inventory correction looms in RIM's future.
Other analysts argue that most people in the rest of the world either can't afford or don't even have access to an iPhone: "Sector analysts sometimes seem to ignore sales patterns in Brazil and Indonesia and even Europe," said Tero Kuittinen, an analyst from MKM Partners. 80 percent of mobile phone users live in countries where carriers don't subsidize the initial cost of a device, he said. "It's not necessarily a very productive way of looking at RIM to be always asking can they challenge the iPhone."
Disclosure: No position