P.T. Telekomunikasi Indonesia Tbk. (NYSE:TLK), the largest telecom operator in Indonesia, recently announced that its wireless subscribers will grow year over year by 10-13% in 2011, much below a peak growth rate of 28-30% a couple of years ago.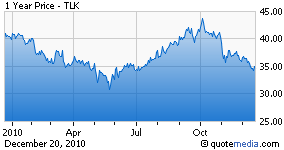 The company now expects its year-end 2010 wireless subscriber base to be around 94 million. This indicates a net addition of hardly 1 million wireless customers during the ensuing fourth quarter. Telekomunikasi is likely to add approximately 10-12 million wireless subscribers in 2011.
The Indonesian wireless services market is quickly maturing as several operators are offering more or less similar services. Recently, Telekomunikasi forecasts that its fiscal 2010 revenues will decline by 4-6% year over year. This was a drastic deterioration from the company's earlier prediction of a year-over-year growth of 5%-10% in its top line. Management cited declining growth of its wireless revenue as the primary reason for this downward revision.
Deregulation of the telecom segment by the Indonesian Government has enabled several competitors to provide similar services at a lower cost to subscribers. Indonesia's wireless service providers slashed prices in 2008 in order to boost market share. As a result, ARPU (average revenue per user) declined across the industry. Major competitors of Telekomunikasi are P.T. Indosat Tbk (IIT) and P.T. Excelcomindo Pratama.
To counter the growing internal threat, Telekomunikasi has taken the strategic move to expand globally as it may generate growth at its top line. On December 15, the company announced that it will acquire majority stake of CamGSM, the largest wireless operator in Cambodia, for a financial consideration of over $500 million. However, industry sources disclosed that France Telecom S.A. (FTE) is also a contender for a majority stake in CamGSM.
We remain apprehensive that near-term sales of Telekomunikasi will remain inconsistent as both wireless and wireline telephone markets become competitive in Indonesia. Operating expenses will also increase due to network upgrades and promotional activities. Consequently, we maintain our long-term Underperform recommendation for Telekomunikasi. Currently, it is Zacks #4 (Sell) Rank stock.