So you've probably read the bulleted summary by now and are wondering how Rose Rock Midstream L.P. (NYSE:RRMS) is not already in your portfolio or watch list, right? The answer is RRMS is relatively small entity, totaling just $1.8B in market cap and around $2.5B EV. Another matter is the fact RRMs has risen close to 50% YTD for 2014, and has absolutely crushed larger, headline-running MLPs Enterprise Products Partners (NYSE:EPD) and Kinder Morgan Partners (NYSE:KMP) by 2x: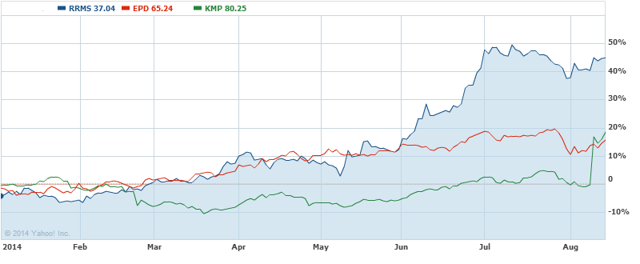 So much for a "buy the dip" strategy. With this in mind, has Rose Rock already experienced full bloom? I believe the answer is not yet, as the company is well set for growth for years to come, and I believe this RRMS is a buy high, sell higher situation.
Distribution Growth and GP IDRs:
For starters, Rose Rock recently announced a $0.535 distribution, which amounts to just a 3.8% yield. This was an 8% increase from Q1 and a whopping 22% increase from 2013's Q2, as well as the 10th consecutive quarter of raising the distribution.
As of Q2 2014 results, management is targeting continued 25% distribution growth rate and a DCF coverage ratio of 1.1x-1.2x through 2014 from 2013 levels. This means forward looking, the real yield should be closer to 4%, since 2013's distributions totaled $1.785. If we do the calculation, FY payout should be about $2.2312/unit. Management has refused to guide into 2015 due to timing of drop downs, but I anticipate this sort of trajectory to continue, as growth will be driven by drop downs from the GP, SemGroup Corporation (NYSE:SEMG).
The GP is incentivized to drop down performing assets to the LP not only because they receive payment for the drop, but also because the GP is currently receiving 23% in IDR thresholds, with a 48% IDR coinciding with the .54375 distribution level fast approaching. This may seem a bit troublesome, not only because RRMS is already mingling in the high end of the IDR thresholds, but I assure you they are industry standard percentages. These IDR increases incentivize the GP to do these drop downs, and will allow RRMs to grow quickly. After all, incentive distribution rights (IDRs) are named this for a reason; they provide incentive to the GP to spin down assets to the LP. Here is the IDR schedule as per the 10-k:

Semgroup seems to have plenty of firepower to continue drop downs, with a consolidated debt/cap ratio of 41% and a net debt to capitalization ratio 3.2x, and $1B in liquidity, leaving room for acquisitions and expansions.
There are always two sides to the coin, but I believe the GP will be even further incentivized to drop down assets as they will receive larger payments from here on. Considering RRMS has an EV of just $2B, even small drop downs will have pronounced affects on distribution levels, thus growth will come easy despite the 48% IDRs, and will therefore serve as a tailwind, not a headwind as some would believe. Slide #24 from the recent Q2 2014 presentation seems to support my train of thought: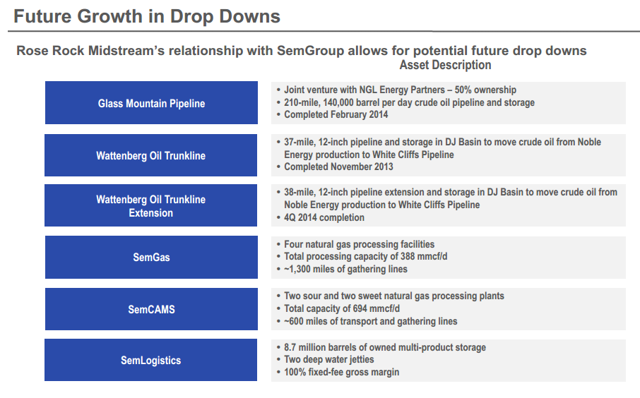 Oil Assets Are A Breath Of Fresh Air:
So why am I so optimistic? For starters, about 54% of RRMS EBITDA was generated by crude pipelines in 2013, which is certainly a pleasant difference from competitors like EPD and KMP, which are heavy into NGLs for EPD, and Natural Gas/CO2 for KMP.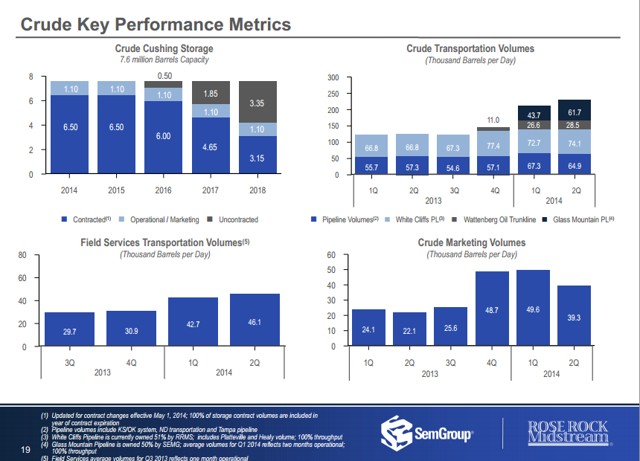 Generating over half of company earnings, there is little doubt crude operations are the backbone of this company. Some oil assets are:
7.35M barrels of crude oil storage capacity in Cushing, Oklahoma
624-mile crude oil gathering and transportation pipeline system with over 620,000 barrels of associated storage capacity in Kansas and northern Oklahoma that is connected to several third-party pipelines and refineries/terminals in Cushing, Oklahoma
a crude oil gathering, storage, transportation and marketing business in the Bakken Shale in North Dakota and Montana
a crude oil trucking fleet of over 130 transport trucks and 150 trailers
33% net interest stake in a 527-mile pipeline that transports crude oil from Platteville, Colorado to Cushing, Oklahoma ("the White Cliffs Pipeline")
12-mile crude oil pipeline that connects the Platteville, Colorado crude oil terminal to the Tampa, Colorado crude oil market
new 16-lane crude oil truck unloading facility with 230,000 barrels of associated storage capacity in Platteville, Colorado, which connects to the origination point of the White Cliffs Pipeline.
Rose Rock Midstream's 4% distribution, which is growing at a 20%+ clip, is backed by 1.1x-1.2x DCF coverage, oily cash flows from midstream assets, and a strong GP, which has moderate leverage and ample cash reserves.
RRMS is still a young MLP with an EV just over $2B in early stages of growth, as the GP SEMG is currently sitting in the tier 3 distribution level and in ample position to continue drop downs to RRMS. RRMS is up huge this year, but the move is more than justified, in my opinion. RRMS has to be the best example of buy high and sell higher in the MLP space today.
Disclosure: The author has no positions in any stocks mentioned, but may initiate a long position in RRMS over the next 72 hours. The author wrote this article themselves, and it expresses their own opinions. The author is not receiving compensation for it (other than from Seeking Alpha). The author has no business relationship with any company whose stock is mentioned in this article.
Additional disclosure: I am long Kinder Morgan