Introduction
So far this year, the MRI-producer and medical management company, Fonar (NASDAQ:FONR), has seen its stock decline by 33.9%. In the following, I will provide an overview of the company, estimate its fair value, discuss management and risks, identify potential catalysts, and determine a price range in which the stock is attractive to investors.
A few clarifications regarding terminology. I will be using "FONR" to describe the company as a whole (including all subsidiaries), "Fonar" to describe the company's medical equipment segment, and HMCA to describe the physician management and diagnostic services segment.
Overview
FONR operates in two business segments. One is the designing, manufacturing, selling and servicing of MRI-scanners, which is conducted by Fonar. The other is the physician management and diagnostic service segment, which is conducted through Health Management Corporation of America (HMCA) that is a wholly owned subsidiary of Fonar. The overall organizational structure is visualized below.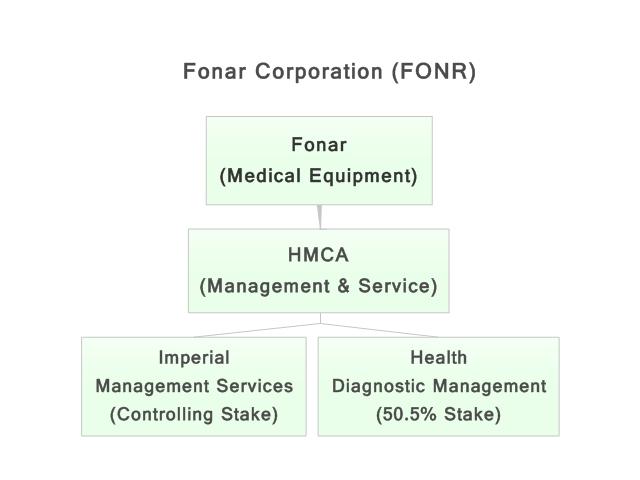 Source: Author's illustration. Information from FY13 10-K.
Fonar produces two products: the "Upright® Multi-position™ MRI" and the "Fonar 360™ MRI". The Upright MRI employs an "open" design that enables the patient to be scanned in multiple positions such as sitting, standing or bending. Furthermore, the open design alleviates patients' claustrophobic fear which is a common issue with traditional "tube" MRIs.
The other product, the Fonar 360 MRI, is a full-size room with magnetic poles in the center, which also employs an open design concept. The company has not realized revenue from this product.
Through HMCA and its subsidiaries, FONR runs 25 MRI scanning centers, 18 of which are located in New York and 7 of which are located in Florida. The following description of HMCA's business is from FONR's FY13 10-K:
"HMCA provides management services, administrative services, billing and collection services, office space, equipment, repair, maintenance service, and clerical and other non-medical personnel to medical providers."
Overall, FONR generates revenue in two ways:
by selling and servicing the company's own MRI's through Fonar.
by managing and servicing medical providers through HMCA and its subsidiaries.
The company has consistently grown revenue and net income since 2010.
Click to enlarge
Source: Author's illustration. Data from Morningstar.
The majority of FONR's revenue is derived from HMCA and its subsidiaries. Based on FONR's FY13 10-K, revenue from HMCA and its subsidiaries amounted to roughly 60% percent of total revenue. The figure below illustrates the distribution of FONR's revenue.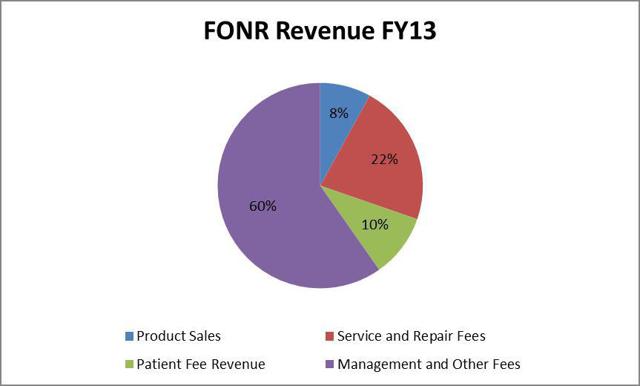 Click to enlarge
Source: Author's illustration. Data from FY13 10-K.
FONR's medical segment has shown a steady decline in revenue since 2009. This is mainly attributable to weaker MRI sales that have plummeted 77% from $17.2 million to $3.9 million in FY13. The company, however, has stabilized its service and repair fees that have been consistent since 2009. FONR expects modest growth in these fees, as MRI warranties expire and software upgrades become available.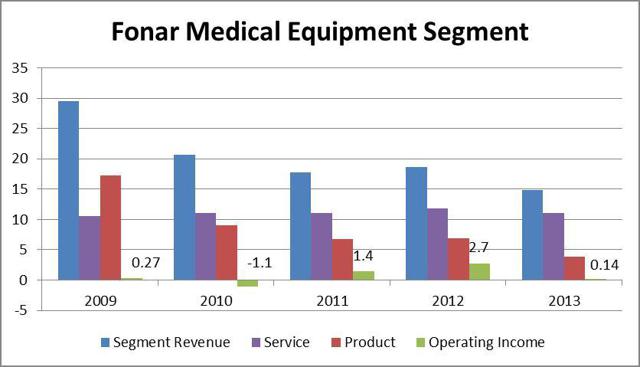 Click to enlarge
Source: Author's illustration. Data from FY13 10-K.
In the latest quarterly statement (Q3 2014), the company reported that revenue from product sales grew from $416.000 in Q313 to $478.000, and service and repair fees fell from $2.867 million to $2.518 million in the same period.
In total, the medical segment is hardly profitable for FONR (as illustrated above), but it is, however, an essential part of the company because of the production of the Upright MRI.
FONR's management and services segment, which are conducted through HMCA, is a lot more promising and profitable than the medical equipment segment.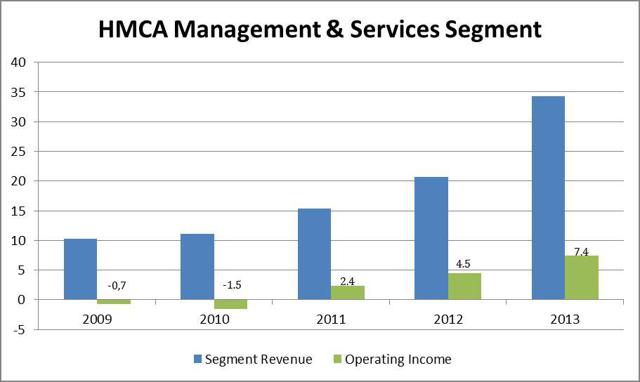 Click to enlarge
Source: Author's illustration. Data from FY13 10K.
Since 2009, HMCA has shown consistent growth in both revenue and operating income. In FONR's 3Q14, HMCA's management fees grew by 69.2% from $18.8 million to $31.9 million in the first 9 months of FY14 compared to the first nine months of FY13.
Competition
The medical equipment segment is highly competitive and consists of large corporations such as Siemens, GE, Philips, Toshiba, and Hitachi. These corporations have substantially higher financial and marketing resources available than FONR, which makes it a challenge for the company to penetrate the market. Furthermore, competitors often have subsidiaries that offer financing at reasonable prices, which is relevant due to the high unit cost of an MRI.
In its FY13 10-K (p. 18), FONR reported that it had seen competitors "heavily discount the sales price of their scanners" which illustrates why the company is struggling to penetrate the market. When competitors are in a position to offer both cheap financing and discounts, it becomes exceptionally hard to penetrate the market.
HMCA operates in a competitive environment as well. FONR states that the management and service segment is "highly competitive", and that it has seen large hospitals acquire medical practices, which is a trend expected continue.
HMCA is also facing competition in its diagnostic imaging facilities. Competitors in this field are primarily "hospitals and independent or management company-owned imaging centers" (FY13 10-K, p.29). The field is highly referral-based which makes it essential for companies to establish and maintain good relationships with physicians. As a result of this, it can be difficult to penetrate the market.
Strategy
According to the FY13 10-K (p. 25), FONR's strategy is to expand by acquiring more scanning centers to manage and fill with Upright MRIs. Furthermore, the company has expanded its marketing efforts in an attempt to strengthen demand and gain wider market recognition of its brand. As a result of these efforts, SG&A saw an increase of 44% from $8.3 million in 2013 to $12 million in 2014 (first nine months of each FY).
First Valuation - Liquidation Value of Assets
My first valuation represents a worst case scenario. What would FONR's assets sell for if they were liquidated? The situation would resemble a fire sale, which is the reason why I used a rather aggressive discount rate. Bear in mind that this is a rough estimate of what the assets could sell for if liquidated.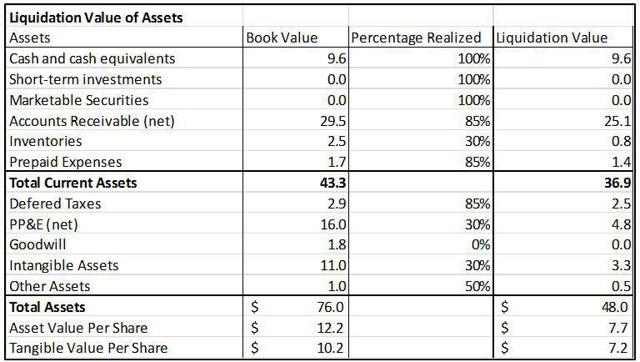 Click to enlarge
Source: Author's table and calculations. Data from FY14Q3, 10-Q.
I have discounted the inventory and PP&E rather aggressively, as these are highly specialized and would not be easy to liquidate without a substantial discount. Normally, I would not add intangible assets to my calculation, but in this case FONR has some valuable assets that namely concern patents relating to the Upright- and 360 MRI as well as several software patents. It is difficult to calculate the liquidation value of these assets without any appraisal, but to be conservative I have set the realization rate to 30%.
Not long ago, FONR traded around $9.70. At that level, the stock was trading only 20% above asset value and 25% above tangible asset value when considering the liquidation value. When considering book value, the stock traded below asset value and tangible asset value, which could indicate a bargain.
Second Valuation - Simple EBIT Multiple
Using FONR's TTM EBIT, the current value of the company's operations and cash holding is as estimated below. Margin of safety, for this valuation and the following, is calculated based on Wednesday's (Aug. 13th) closing price of $13.39.

Source: Author's table and calculations. Data form Morningstar and FY14Q13, 10-Q.
If one chooses the most conservative multiple, EBIT X5, FONR appears to be overvalued. However, at a more reasonable multiple, EBIT X8, the stock seems undervalued, but does not provide a satisfactory margin of safety (I prefer 30%). At a multiple of X11 and above, the stock appears substantially undervalued and provides a more than adequate margin of safety.
Third Valuation - EBIT Multiple
Using FONR's TTM revenue and average 3-year EBIT%, the company would have a fair value per share as calculated below.

Click to enlarge
Source: Author's table and calculations. Data from Morningstar.
A caveat should be mentioned. Normally, I would use a 4-year average (at least) of EBIT% of revenue. However, since the company has experienced a turnaround, I do not consider it representative of the firm's current state to use numbers prior to 2011, as these include a negative EBIT%. I believe that this would distort the current value of the firm, which is why I am using a 3-year average from the period 2011-2013.
Again, the conservative valuation does not offer an adequate margin of safety. The normal valuation suggests that FONR is fairly valued, therefore not providing a satisfactory margin of safety. The company, however, seems undervalued when applying the "optimistic" 11X EBIT multiple, therefore offering a satisfactory margin of safety. Should one be an aggressive investor that believes in the company's future, then the stock seems substantially undervalued with a more than adequate margin of safety.
Since I am a conservative investor, I would not use the optimistic or aggressive multiple. I consider the stock to be fairly valued around $13-14, and would consider buying at ~$10. It is up to the individual investor to decide which multiple to apply, since temper and investing philosophy tends to differ. With that being said, I do not believe it is unheard of to use the X11 multiple for a growth company.
A final note regarding the three calculations. Investors should be aware that many other valuation methods could be used to determine the fair value of FONR. Therefore, you should always do your own research, as other methods may not provide the same results as above. I, however, like the simplicity of the EBIT multiple and have found it useful over the years.
Management
FONR was founded by Dr. Raymond Damadian who currently serves as Director, Chairman of the Board, President, Treasurer, and Director of HMCA. Dr. Damadian is definitely an asset to the company. He is well-educated and has extensive knowledge about medical practice and equipment. I do, however, have some concerns regarding his role in the company.
Dr. Damadian exerts an overwhelmingly degree of control over the company. He has placed himself in several key positions throughout the entire company and seems reluctant to delegate. This can be very dangerous because the success of the company rests solely upon his shoulders. While I do not doubt Dr. Damadian's academic abilities in the medical field, I am often skeptical of people who operate beyond their area of expertise.
Currently, I have no reason to doubt Dr. Damadian's competency as CEO, but I would prefer a "professional", seasoned CEO to lead the company, although there are costs associated with this. Optimally, in my opinion, Dr. Damadian should be allowed to focus exclusively on product development while daily operations, strategy development, etc. should be entrusted to a professional CEO.
My biggest concern about FONR's management is how the power is distributed. I mentioned Dr. Damadian holding several key positions in the company, but that is no concern compared to the distribution of shareholder votes. FONR has four stock classes; the common stock ("our" stock, 1 vote), Class A preferred stock (no votes), Class B common stock (10 votes), and Class C common stock (25 votes). In total, based on the number of shares issued in each class, there are 15,589,360 votes in the company.
Guess who holds the majority.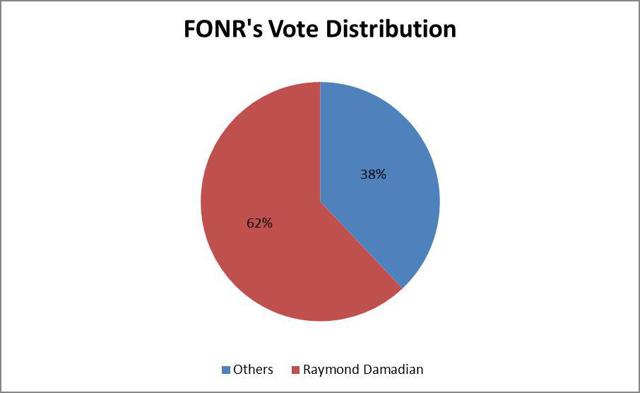 Click to enlarge
Source: Author's illustration. Data from proxy statement 14A.
Based on the above, FONR is not, in my opinion, a shareholder-friendly company. Shareholders hold no influence over the company what so ever, and management cannot be held accountable by shareholders at the annual meeting. Dr. Damadian can continue as CEO as long as he pleases, and he can select whomever he wants as Director and Officer. This is an extraordinary concentration of power that reflects a man's wish to control all aspects of "his" company. I find that very disturbing.
Risks
It goes without saying that a micro-cap company holds risks, but in FONR's case, I consider them to be above average. Here is a quick overview:
Stockholders hold no influence over the company
In my opinion, the company's success rests upon the shoulders of one man
The organization and stakeholder interests cannot easily be understood
HMCA's (and its subsidiaries) management agreements and fees are negotiated on a yearly basis (FY13 10-K, p. 26). This is concerning because it allows unnecessary fluctuations in revenue.
Management fees are highly dependent on the reimbursement rate of HMCA's clients: "To the extent reimbursement from third-party payors is reduced, it will likely have an adverse impact on the rates they [HMCA's clients] pay us, as they would need to reduce the management fees they pay to HMCA to offset such decreased reimbursement rates" (FY13 10-K, p.43).
The Patient Protection and Affordable Care Act (PPACA) is a possible threat: "Healthcare cost containment, reductions by Medicare and other payments, and increased regulation will present additional challenges for healthcare providers. We are unable to predict the full impact of PPACA at this time, but anticipate the possibility that it may reduce the profitability of both our medical equipment segment and physician and diagnostic services management segment" (FY13 10K, p. 43).
Collection of management fees relies heavily on others. Centers under management (contractual party) often have to collect medical fees from third parties, in particular insurance firms. Cash has to go through various intermediaries before ending in FONR's pocket.
"All borrowings under the loan agreements are collateralized by substantially all of the Company's assets" (FY14Q3, p. 18). Although FONR is not currently defaulting its loans, I still consider this to be a substantial risk, should the company begin to lack liquidity.
Because of the above, I consider FONR's risk to be above average. There is another risk to mention that cannot be summarized in a bulletin. As I mentioned above, the company's strategy is to expand by acquisitions and spreading brand recognition through a marketing campaign. The following is taken from p. 44-45 of FONR's FY13 10-K. I apologize in advance for the rather long quote , but I deemed it necessary, as it is very important that you form your own opinion about the statement.
"If we are not successful with our marketing efforts, we will experience a shortfall in cash, and it will be necessary to reduce operating expenses or obtain funds through equity or debt financing in sufficient amounts to avoid the need to curtail our operations subsequent to June 30, 2014. Current economic credit conditions have contributed to a slowing business environment. Given such liquidity and credit constraints in the markets, the business may suffer, should the credit markets not improve in the near future. The direct impact of these conditions is not fully known. However, there can be no assurance that we would be able to secure additional funds if needed and that if such funds were available, whether the terms or conditions would be acceptable to us. In such case, the reduction in operating expenses might need to be substantial in order for us to generate positive cash flow to sustain our operations."
I do not know what you make of this, but I think it is a warning signal. It is stated explicitly that the company will experience a shortfall in cash, should the marketing efforts not prove successful. Personally, I do not like this "all or nothing" scenario, as it is a gamble with investor's money. Should the company fail to obtain additional debt and/or equity funding, it is, in my opinion, a severe threat to the company's existence, although the balance sheet has yet to reflect this.
If FONR has to reduce its operating expenses "substantially", it seems unlikely that the growth strategy (growth by acquisition) can be executed. This will be a severe impairment of the investment case, as the main reason to invest in FONR has been (is) its rapid growth.
I have searched the SEC and FONR's website for any news regarding this situation, but have not found anything, which must mean that the company is yet to obtain additional funding.
Catalysts
In my opinion, FONR does not have many potential catalysts. However, one catalyst could be the FY14 annual report. The report will more than likely show significant growth in revenue and earnings, which could boost the stock short-term. Although this is positive, I would be more interested in other things such as how many scans were performed, how many Upright units were sold, what the SG&A costs amounted to, and if the company has found additional funding.
Conclusion
When relying on the information currently available to us, I do not consider FONR a long-term investment. This is primarily due to the apparent lack of financing and risks associated with the unsustainable management fees caused by the uncertainty surrounding the impact of the PPACA. Furthermore, I dislike the power concentration that eliminates shareholder influence, which for me is reason enough not to invest in the company.
However, this does not mean that other investors, who have a stomach for high volatility and risk, should not take advantage of the company's short-term prospects. Therefore, I have provided a table that shows which prices offer a margin of safety of 30%.

Click to enlarge
Source: Author's table and calculations.
Investors have to decide for themselves which method, multiple, and MoS to apply, as this is a matter of temper and conceived fair value. Personally, I would choose the X5 or X8 multiple, but keep in mind that I am a conservative investor. Please note that the table should be regarded a recommendation to buy.
To conclude, as a conservative investor, I believe the stock is fairly valued at current levels (~ $14) due to the associated risk. Nevertheless, it was not long ago FONR traded around $10. At that level, I would consider the stock undervalued. Potential investors would be wise to wait for this level to return, as the stock would offer a satisfactory margin of safety and a short-term upside of at least 40%.
Disclosure: The author has no positions in any stocks mentioned, and no plans to initiate any positions within the next 72 hours. The author wrote this article themselves, and it expresses their own opinions. The author is not receiving compensation for it (other than from Seeking Alpha). The author has no business relationship with any company whose stock is mentioned in this article.
Additional disclosure: The article should not be considered a recommendation to buy or sell. I am not an investment professional. Investors should always do their own research.
Editor's Note: This article covers one or more stocks trading at less than $1 per share and/or with less than a $100 million market cap. Please be aware of the risks associated with these stocks.