In this article, I will introduce the reader to a very interesting little Israeli company called G. Willi-Food International Ltd. (NASDAQ:WILC) - from hereon referred to as "WF". I have followed the company for a long time and now I think it is time to publish my thoughts about this company. There has been a couple of interesting articles regarding WF on SA before, but I hope that this article can bring some new insight on this case as well.
WF has a market value of $95 million and employs 130 people. Israel accounts for 80% of sales, the US 15% and Europe the last 5%. The company has its roots back in 1992 and was founded by its two current managers and Jewish brothers, Zwi and Joseph Williger. The business is simple and focuses on import, production and distribution of kosher foods to different super market chains, mini markets and institutional customers like the Israeli Army. The products are primarily marketed through the brands Willi-Food, Gold Frost, Shamir and Tifeeret. The product range is wide and spans from dairy products, meat and vegetables to ice cream, crackers and chocolate. With more than 600 kosher products on the market, WF is acknowledged for having the broadest product range in Israel.

Click to enlarge
The short version is that WF is interesting because of an exceptionally strong balance sheet, its valuation is ridiculously low, the long-term outlook for WF and its industry is promising and last, but not least, due to a recent ownership transaction which indicates that this company is indeed a bargain at current levels, thus creating a high margin of safety.
Kosher
Let us quickly talk about kosher. Kosher addresses mostly Jews, but Muslims and Buddhists are also using this type of food as are vegetarians and people with different allergies. Kosher is generally characterized by very specialized and intensive production processes that must comply with numerous religious rules and laws where purity is a key factor. These rules are as mentioned very comprehensive, and there is tight control within the industry to ensure that the producers obey the Jewish laws of kosher. Kosher is seen by many as a healthier alternative to regular foods partly due to these demands.
By far, the largest share of the growth in the global kosher sales is attributed to vegetarians and people with different allergies who "go kosher". One can argue that when it comes to kosher you are sure to know what is not in the product, and many people like this. Studies show that only 15% of people buy kosher for religious reasons. This indicates that kosher addresses many different kinds of consumers and the growth potential is thus enormous. The global sales of kosher is estimated to grow around 10% annually. Kosher also appeals to health conscious consumers.
The annual kosher sales approximates $15 billion in Israel, and the American market is said to be even bigger. The kosher market is therefore interesting due to several factors, and food is something that consumers will always demand. The growing middle class will probably also result in a steady and growing demand for kosher, especially since this food type is more costly than most regular foods.
The balance sheet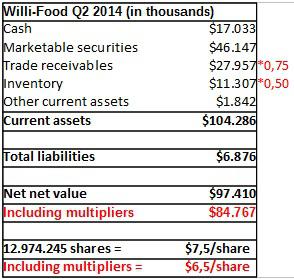 The balance sheet consists of an equity of $109.8 million and total liabilities of just $7 million as of June 30th 2014. The company has virtually no long-term liabilities and a quick ratio of 14x together with no debt nor goodwill. Moreover, the company has $63 million in cash and financial assets waiting to be partly invested in a possible acquisition on the US or European market. As one can quickly calculate, WF's cash pile equals around 66% of its market value. Moreover, the company currently has at a net-net value of $7.5 per share. The net-net per share is a financial concept invented by Benjamin Graham and is defined as current assets minus total liabilities divided by the number of shares outstanding. In comparison, the shares trade at $7.3 at the moment. It seems like the investor gets the business for free. Even if we cut off 50% of the inventory and 25% of the receivables as Graham would probably have done we still get a net net value of $6.5 per share. Very close to the actual share price of $7.3. This is remarkable considering WF is a sound business that generates consistent profits and which has had a ten-year average return on investment of 9.1%.
The management is very conservative and focuses on long-term shareholder value. They currently seek a possible takeover candidate on the US or European market to grow sales outside Israel. Some of the cash was collected through capital raises in 2010 and 2011 which was meant to be used for an acquisition at that time but it failed. Since then they have been waiting for a new opportunity. They have also bought back some of the shares through a stock repurchase program, which was canceled due to unexpected turbulent conditions in Israel. In general, the balance sheet has always been conservatively financed with a high equity ratio and with low debt. However, long-term shareholder value is not created by hoarding cash, and it is therefore of chief importance that WF finds a worthy takeover candidate.
Strong growth at a low price
WF has grown revenue and earnings consistently by 7% and 11.3% annually, respectively, the past decade with a few fluctuating years and one single year with a minor net loss. This has been accomplished almost without leverage. Moreover, WF has gown its book value by 11.8% annually in the same period. They have been growing due to a broad product range together with a rising demand for kosher foods. WF has even initiated a deal with Coca-Cola regarding import of the so-called "Green Cola" - a soft drink with natural sweeteners from the stevia plant. This is a healthier alternative to regular soft drinks. Due to initiatives like this, WF has increased its marketing expenses. A total of 20 new products are expected to be introduced through 2014.
Revenues in 2013 grew from $82.6 to $96.8 million (+17%), whereas the net income rose from $6.9 to $9.2 million (+32,5%). This resulted in an EPS boost from $0.53 to $0.71. Due to recent uncertainty in the Middle East and a general decrease in consumer spending in Israel by 4%, WF expects lower earnings in 2013 despite stable revenues. The gross margin has remained intact at 26%, but higher marketing costs and related selling expenses has resulted in a 30% decline in earnings. The macroeconomic troubles will most likely continue, hence the management's expectations that this year's guidance cannot be reached. However, the long-term trend is intact and indicates a growing demand for kosher foods which WF is in a position to exploit.
There is no doubt about the fact that WF is cheap. WF is not followed by institutions and analysts, but they should be able to generate an EPS in 2014 of $0.5, resulting in a P/E of 15x for the current financial year. The drop compared to last year is unfortunately due to the recent and unpredicted turmoil in Israel. This is why the market has reassessed its expectations from an EPS of $0.7 primo 2014 to $0.5, thus resulting in an increased P/E multiple for this year. An EPS of $0.72 is expected in 2015 forming a P/E-2015 of 10x. Moreover, they trade at only 0.9x P/B, and if we assess the price of the company compared to its operations, it trades at an EV/EBIT of only 4.5x. This is much cheaper than the general food distributors, and recent transactions within the industry indicates a consensus value of at least 12x EV/EBIT. I have used the EBIT results for the last twelve months in this calculation to reflect the current year's decreased EBIT. It is, however, difficult to compare such transactions since WF is a foreign food company specialized in kosher.
An interesting deal
A particularly interesting deal has taken place in 2013 which further indicates that WF is a bargain at its current price. The company is, as mentioned before, run by the two Jewish brothers, Zwi and Joseph Williger. The brothers own together 58% of Willi-Food Investments Ltd. - a holding company listed on the stock exchange in Tel-Aviv. This holding company owns 58% of WF. WF seems to be the only cash generating unit within Willi-Food Investments Ltd. In the beginning of March this year, the brothers chose to sell their 58% share in Willi-Food Investments Ltd. to another holding company called Emblaze Ltd. Emblaze is run by the Ukrainian billionaire Alexander Granovsky, who the Williger brothers know very well. Granovsky is known to be an international business man in contrast to the two brothers, and the primary reason why the brothers chose to sell was probably that they saw WF's international adventure in better hands with Granovsky, who has shown a strong interest in the Israeli food industry. Zwi announced in the company's webcast for Q4 2013 that Granovsky had presented the brothers with 3 possible takeover candidates on the US market. However, they have not published any further news regarding a possible acquisition in 2014.
The deal between Willi-Food Investments Ltd. and Emblaze has been executed, and Granovsky has made a deal with the two brothers that they will continue to manage WF. The really interesting thing with this deal is that it seems like Granovsky values WF at $17.4 per share. Granovsky has paid $76.6 million for the 58% stake in Willi-Food Investments Ltd. and has acquired a total of 61.8% of the holding company for $81.6 million. This indicates a total value of $132 million before we subtract the $17 million on the balance sheet. I know this statement can sound bold, but if we assume that WF is the only source of income in the holding company, then the 58% stake that Willi-Food Investments has in WF could be worth $227.6 million, or $17.4 per share. No matter how one puts it, Granovsky has paid around $82 million for a 61.8% stake in a company whose main asset is its 58% ownership of WF which is valued at $95 million. Subtracting the $63 million of cash and it seems like Granovsky values WF's business around $165 million despite its enterprise value of $38 million in 2013. I know that I have made some bold assumptions, but this deal looks very interesting, and Granovsky must see quite some potential in WF.
Risks
Even though WF has a lot of interesting features, one must remember to consider the risks as well. In 2013, their outlook regarding 2014 was very positive with expectations of double digit growth from top to bottom, but this got challenged by further uncertainty in the Middle East together with a decline in consumer spending. The interesting thing is, however, that the stock price has not moved. This is probably because the company is so cheap that no growth is reflected in the market value anyway. This further indicates a high margin of safety.
Since WF is dependent on the development in the Israeli currency, Israeli shekels, the exchange rate between USD and Israeli shekels can impact the company's financials materially. Moreover, WF must be able to continue to grow and adapt the product portfolio to current market trends and consumer demand. Since kosher is a growing market one must also anticipate increasing competition within the industry. Another risk factor is their dependence on few suppliers and customers as for example, the Danish dairy producer and privately owned company, Arla. This Danish dairy producer constituted 45% of WF's dairy supplies in 2013 and dairy products represented around $20 million of the company's sales. Thus, Arla is responsible for nearly $10 million of WF's revenue. This puts Arla in a strong position, but Zwi Williger has stated at several occasions that WF has a strong relationship with Arla. Moreover, two big super market chains in Israel, namely Shufersal Ltd. and Mega Retail Ltd., formed respectively 19% and 12% of WF's revenue in 2013. Also in this case, there is no indication of problems due to the rising demand for WF's products together with their broad and appealing product range.
Another fact the investor must remember is that WF's current cash position generates a rather large financial income which amounted to $3.7 million in 2013. A partial deployment of this cash will reduce the financial income, but hopefully result in improved earnings over time through the expansion. Key personnel like Zwi and Joseph Williger must also be taken into consideration. In my opinion, these two brothers are too well paid compared to their company's operations. It was difficult to find out exactly how well they are paid, but in 2013 the two brothers received compensation of $1.3 million, excluding their regular pay. This is in my opinion too much compared to the size of the company. These two brothers are, however, key factors in the company's success and it is furthermore crucial that they can find sufficient (and hopefully cheaper) successors when they retire. Zwi and Joseph are respectively 59 and 57 years old.
Finally, one must remember a contingent liability which can cost WF up to around $5 million. This is due to 3 civil lawsuits filed in December 2012, November 2013 and in December 2013. WF is accused of having sold mislabeled products. The extent of the situation is unknown to the reader of WF's latest annual report. Since they are sued for $5 million, the extent is probably limited but, nonetheless, material. Due to the early stage of the process, the management is not willing to assess WF's odds of winning this dispute. So far no provision has been recognized.
Conclusion
WF is a compelling investment opportunity for the patient and long-term investor. The company has a minor presence in the US and in Europe, thus one must hope that they find a worthy acquisition for their international expansion, since too much cash can be a bad thing as well. In the webcast for Q4 2013, the management strongly hinted that the company would find a takeover candidate in 2014. It is also of chief importance that the partnership with Granovsky evolves smoothly and that he can help WF to expand its business. Perhaps he is considering to buy the whole company? Who knows. Moreover, there seems to be a considerable margin of safety regarding the worth of their assets and the low price of their operations. The cheap valuation can be caused by the fact that it is a small unknown Israeli company, it is not investment potential for most institutions or perhaps most people see it as a little risky stock in an emerging market. However, the upside potential seems to far outweigh the downside risk at current levels.
Disclosure: The author is long WILC. The author wrote this article themselves, and it expresses their own opinions. The author is not receiving compensation for it (other than from Seeking Alpha). The author has no business relationship with any company whose stock is mentioned in this article.
Editor's Note: This article covers one or more stocks trading at less than $1 per share and/or with less than a $100 million market cap. Please be aware of the risks associated with these stocks.