Apple (NASDAQ: AAPL), the high tech leader of our generation, is believe it or not also a flight to safety destination. Even if Ukrainian and Russian troops trade fire and NATO considers its options, you'll want to keep your arms fully wrapped around Apple. Here's why.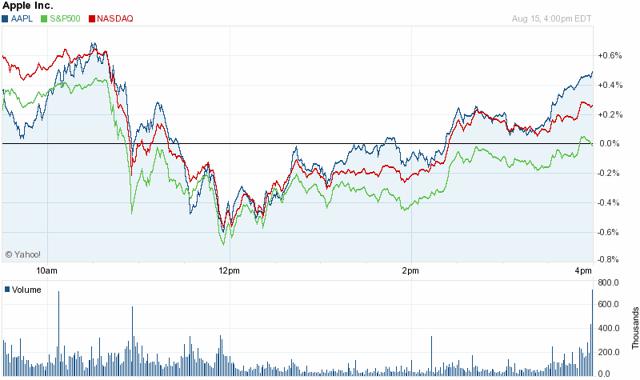 Day Chart 8-15-14 of AAPL, SPY, QQQ at Yahoo
It's not evident in Friday's chart for Apple, as it pretty much perfectly tracked the performance of the NASDAQ-100 (NASDAQ:QQQ) and to a lesser extent the S&P 500 (NYSEARCA:SPY). On a now-term basis, the beta coefficients of all assets go to 1.0 when all goes to pot. So, Apple shares fell along with the major market indices when a report surfaced Friday that Ukraine had struck Russian military assets within Ukraine's borders. Only volatility measures like the iPath S&P 500 VIX Short-Term Futures ETN (NYSE: VXX) and inverse relationship market index ETFs rose on the news. It's important to note here that Apple's long-term beta measures 0.74 (below 1.0), and that's indicative of insulation against market risk.
If something seriously threatened to weigh down stocks for an unforeseeable length of time in the near-term, for instance if Russia invaded Eastern Ukraine, which I fear could spur serious global economic fluctuation and currency warfare between east and west, then beta coefficients will diverge as capital seeks out longer term safe havens. The usual immediate safe haven in a flight to quality tends to be U.S. Treasuries, which would send interest rates lower and lift bond prices (NASDAQ: BOND). Gold (NYSE: GLD) should also draw capital at a time like this. I'll cover more safe havens in future articles, so follow my column to receive the reports.
The reasons why I view Apple as a safe haven today are logical:
Market share position in hotly demanded product market
Plans & expectations to introduce a new model that is anticipated to draw replacement demand and secure market share
New product introduction possibilities
Bargain valuation with dividend payout
First of all, Apple's dominant market position in the smartphone market has solidified with its entry into China with China Mobile (NYSE: CHL). The company's enterprise effort with IBM (NYSE: IBM) should effectively challenge Blackberry's (NASDAQ: BBRY) last bastion of strength. When the company introduces its new phone with a larger screen, it will address the market draw of its toughest rival Samsung (OTC:SSNLF).
Apple's next iPhone is highly anticipated by both consumers and investors, and offers support to the stock as a result. Also, because of its expected larger screen, it will very likely spur a significant replacement cycle. Longstanding Apple customers coveting the larger screens of Google (NASDAQ: GOOG) (NASDAQ:GOOGL) Android using rivals will soon have a comparable phone available to them. I expect they will upgrade to it en masse.
New product introduction possibilities have excited investors for years now, with few dreams coming to fruition. We've been waiting for the next greatest thing for some time now, but since the passing of Steve Jobs, the company has seemed to lack that disruptive skill that rejuvenated the company under his rule. There's been ample hinting by corporate leadership to expect something soon. Whatever the product(s), with the Apple name on it, it has got a good chance to sell through to Apple fans. If Apple innovation doesn't miss a beat, we could see a significant new driver or two for growth moving forward.
The final reason I like Apple as a flight to safety destination is its valuation versus the market, and also the dividend it pays out in comparison to the S&P 500. The stock is in a good position to benefit from the very specific catalysts the company has ahead of it during these volatile times for the broader market. The P/E of the S&P 500 is 19.4X currently, which compares to AAPL's P/E ratio of 16.4X trailing 12-month EPS. So AAPL is cheaper than the market, and yet it offers what sure seems like near-term growth that will exceed the market's pace. Analysts are looking for 11% EPS growth in FY 15 (Sept.) for AAPL, which is not far off the pace expected by Wall Street for the market. Analysts see a faster pace of growth for AAPL over the long-term, which is indicative of the upcoming production introductions, though the 12% rate forecast could see significant revision higher if Apple introduces a blockbuster new product or service for iOS this fall. Meanwhile, AAPL pays a dividend of 2.1%, versus 1.9% for the S&P 500. So, on a valuation basis, the stock is attractively matched against the market, while still sporting some significant corporate specific catalysts for the immediate future.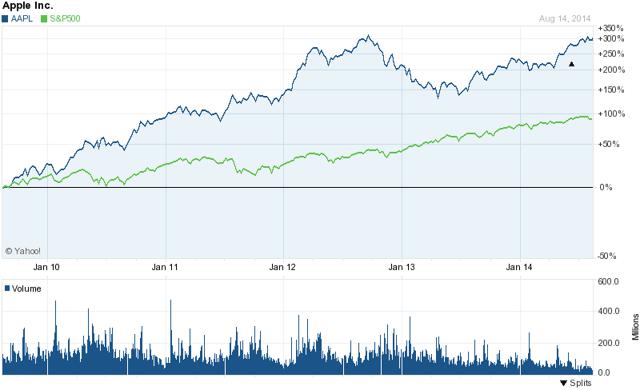 5-Year Chart of AAPL vs. S&P 500
Plus, AAPL has a pretty good track record against the S&P 500. So, as stock selection increases in importance in the evolving interest rate environment that could weigh on the market, and at a time when capital might look for safe haven due to extraneous events, AAPL looks like a good destination to me. I follow Apple somewhat frequently, so consider following my column for updates on the stock.
Disclosure: The author has no positions in any stocks mentioned, and no plans to initiate any positions within the next 72 hours. The author wrote this article themselves, and it expresses their own opinions. The author is not receiving compensation for it (other than from Seeking Alpha). The author has no business relationship with any company whose stock is mentioned in this article.