JD.com (NASDAQ:JD) reported 2Q14 results with net revenue of $4.6b (+64% y/y) and non-GAAP EPS of -$0.01 that easily beat consensus of $4.4b in revenue and -$0.02 in EPS. While the guidance of $4.6-4.7b was below consensus of $4.8b, I suspect that the management is being conservative to manage the market's expectations. Nonetheless, I see the current strength suggesting that the near-term growth story remains intact. Specifically, the solid growth in both gross (+107% y/y) and net GMV (+64% y/y) are supported by the ongoing strength of what I consider is the best in class operating profile such as active customers (+94% y/y) and orders fulfilled (+125% y/y).
As expected, opex increased 4ppts y/y to 14%, driven by investments in fulfillment and marketing. I expect the cost to continue to pressure margins in the near-term as JD is still pursuing its market share acquisition strategy, but I also believe that the positive sentiment will be supportive of JD's shares in that the company has highlighted that it can maintain its current growth profile. I reiterate my positive bias on the stock.
Best in class growth profile
JD's first quarterly report highlights the company's robust revenue growth profile that is supported by its solid operating metrics. GMV of RMB63b (+107% y/y) was a function of solid active customer active growth (+94% y/y) and orders per active customer (+16% y/y). Despite an -8% decline in GMV/order (possibly due to lower GMV/order from WeChat), higher volume per customer was able to offset that weakness to drive this quarter's outperformance.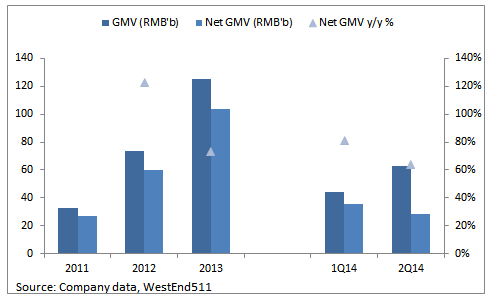 Active customers of 38m was a 5m sequential improvement from Q1 and compared with 19m a year ago, highlighting JD's unique value proposition, as it expands its platform offerings beyond its traditional 3C categories and into furniture, baby products, apparels and food. Orders fulfilment of 164m was a +125m y/y increase, and the 1H14 fulfilment already reached 293m units, vs. 323m fulfilled in 2013. The company is well on track to reach 600m units by year-end and one of the reasons could be attributable to the increasing number of orders per active customer. I note that orders/customer was 4.3 in Q2 vs. 3.9 in Q1. In addition, GMV/order increased 13% sequentially, an encouraging sign that customers are moving up the value chain.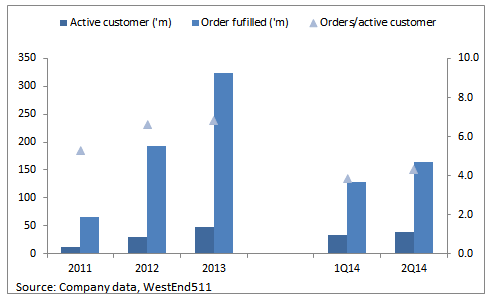 In my view, product expansion will continue to attract rising number of active customers and encourage purchase per customer, which in turn will flow positively into the financial growth metrics. I continue to be positive on the product expansion strategy into food and cosmetics, as JD leverages its nationwide logistics and fulfilment to deliver superior and consistent products to consumers. Most important, the partnership with WeChat to be accretive to revenue growth in that I believe the lower GMV/order will be offset by the rising order volume.
Investment to weigh in on near-term margins
JD's 4ppt increase in opex spending should come as no surprise, as the management has flagged well ahead of the quarter and during the IPO that JD is focused on market share acquisition strategy and logistics investment. At the end of the quarter, JD operates 97 warehouses, 1,808 delivery stations and 715 pickup stations. The company's logistics network covers 1,780 counties and districts across China, with expansion of the next-day and same-day delivery to 1/3 of the areas covered. Most important, the current investment phase has been focusing mostly on lower tier cities, where the limited selection of goods in department stores and supermarket encourages consumers to shop more online, and this could potentially further drive higher volume on the JD platform.
To conclude, I maintain my positive bias on JD, as I believe the near-term investment in logistics and new product is highly accretive to its future revenue growth, which coupled with a declining opex spend, would put the company back on profitability.
Disclosure: The author has no positions in any stocks mentioned, and no plans to initiate any positions within the next 72 hours. The author wrote this article themselves, and it expresses their own opinions. The author is not receiving compensation for it (other than from Seeking Alpha). The author has no business relationship with any company whose stock is mentioned in this article.