Since I recommended Barrick Gold (NYSE:ABX) in June, the stock has risen nearly 7%, and has been pushing to break through an important resistance level around $19.20. The stock received a major endorsement from Goldman Sachs (NYSE:GS) earlier this week, and 13F season - the quarterly period during which major hedge funds reveal their major holdings - had some interesting movements. When you factor in bullish comments on gold from an industry insider and a significant bet against U.S. stocks, Barrick looks like it has additional upside from here. If the stock can break through a higher resistance around $21, the stock should have significant upside.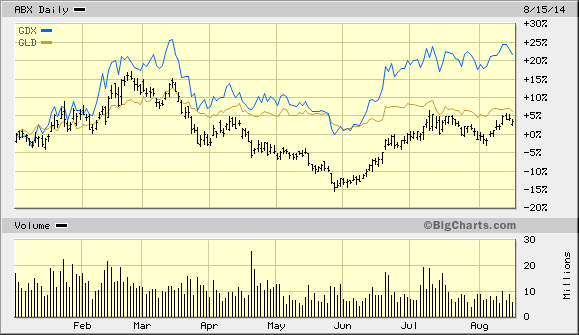 A Major Endorsement
About a week prior to this writing, Goldman added Barrick to its Americas Conviction Buy List. The primary reasons cited were:
(1) Improving operational profile: We expect the company's high-quality core assets to contribute c.80% to total cash flows leading to a decline in overall costs; (2) Inflection in FCF generation: On our estimates, Barrick Gold should turn free cash flow positive beginning in 3Q14, generating more than $5bn of FCF over 2014-18E; (3) Continued portfolio optimization: We expect Barrick to continue divestments in 2014 and beyond which, combined with strong FCF generation, should lower the company's net debt and improve its financial flexibility; and (4) Growth in copper production
The company was one of the weakest players amongst the majors last year, falling somewhat out of favor as it got its house in order. So far this year, the stock has kept pace with the SPDR Gold Trust (NYSEARCA:GLD), while lagging the Market Vectors Gold Miners ETF (NYSEARCA:GDX) by roughly 20%. With improving internals, the company should be positioned to perform as it seeks to "catch up" once again with its peers.
Mixed Signs From Soros
While legendary hedge fund manager George Soros - through his Soros Fund Management - dramatically cut his position in Barrick, he also levied a significant bear-call position against the S&P 500. During the second quarter, the fund reduced its holding in Barrick from about 6.8 million shares to less than half a million. While not a perfect offset, the fund did significantly grow its position in GDX, of which Barrick is a major holding. The move seems to indicate a bullish opinion of miners, if not Barrick specifically.
Adding to the seeming conviction that Soros may be placing in gold is the negative bet taken on the S&P 500. While this may simply be a hedge against other positions - if the position even remains in place (13F filings lag by 45 days or more) - Soros has a reputation for sousing out trouble. Any precipitous fall in U.S. stocks would likely be bullish for gold, although global macroeconomic factors have been mixed: a near stagnant print for the PPI pushed gold lower, but this was somewhat offset by renewed and deepening tension between Russia and Ukraine.
Other Positives
Also earlier this week, Robert McEwan of McEwan Mining (NYSE:MUX) made bullish comments on the yellow metal: "I'm a long term believer in gold and I see it ultimately getting to $5,000 an ounce." While the founder admitted that this price carried a three to four year time frame, he stated that until there was significant price appreciation, he saw no reason for miners to hedge. We should certainly take this with the proverbial grain of salt, given his position in the industry, but McEwan has proven his expertise in the sector.
Ultimately, the positives are strong for miners and specifically for Barrick. I believe it has additional upside from here, and a move above $21 could carry it much higher. With a modest 1.1% dividend yield, the stock adds some downside protection, but any sharp moves in gold will be of concern. I continue to be a buyer at current levels.
Disclosure: The author has no positions in any stocks mentioned, and no plans to initiate any positions within the next 72 hours. The author wrote this article themselves, and it expresses their own opinions. The author is not receiving compensation for it (other than from Seeking Alpha). The author has no business relationship with any company whose stock is mentioned in this article.