Giant Interactive Group (NYSE:GA) has been the third best-performer among Chinese online game stocks year-to-date (Table 1). Its good relative performance is mainly due to reasonable Average Revenue Per User (ARPU), effective cost controls, and attractive investor relations policy. The company is currently testing new game ZT Online 2 (ZT2), which will largely determine its financial results for 1H11. Based on my research, ZT2 has performed well in its current unlimited technical testing and is poised to be a nice complement to ZT and ZT Green, the two leading games in Giant's ZT Series.
ZT2 had over 280K Peak Concurrent Users (PCU) during the past seven days, according to my tracking. The game currently has eight server groups, up 60% from five at the launch of techinical testing on November 19. Compared with Giant's flagship game ZT, ZT2 has incorporated latest technologies and design theories, and made significant improvements in graphics and in-game balance. Most of ZT2's current players have previously played at least one game in the ZT series. The strong PCU number shows that ZT Series' existing user base really likes the state-of-the-art elements of ZT2. In addition, my checks suggest ZT2 will likely have a significantly lower ARPU than ZT. It will be Giant's another successful new game to retain players within the ZT series, following ZT Classic and ZT Green.
Giant has been smart in the strategy on its key game ZT: Recognizing that a portion of its user base has the tendency to leave ZT to join new 2D games that boast lower ARPU and newer technologies, Giant has been following the trend to launch its own new-generation ZT games (ZT Classic, ZT Green , ZT 2) to retain these players. As a result, the company's overall user base should be relatively stable despite ZT's gradually declining usage. Another benefit is that the cost of attracting players under this strategy is much lower than launching brand-new game franchises.
This has protected Giant's profit margins. In fact, many game developers also have aging hit games and have adopted the same strategy for their flagship games, but Giant has executed the strategy better than most competitors. The combination of smart strategy and superior execution is another reason why Giant's stock has outperformed most peers in 2010. Looking ahead into 2011, I expect Giant to remain one of the safest stocks within the Chinese online game industry.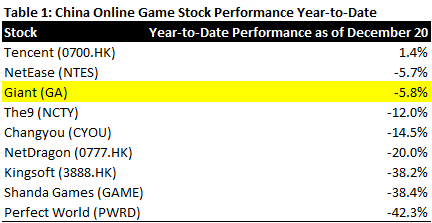 Disclosure: My virtual investment portfolio has a long position in GA.