Well, well, well…. look what we have here. What many in the industry have suspected for a while has finally come to fruition: "Mass Effect 3 to be released simultaneously on the Playstation 3 as well as the Xbox 360." The series which started out as an exclusive on the 360 with the first two games in the trilogy; has now seen a release of the second game on the PS3 one year later (due to be released on January 18 2011 in North America.) And finally, the simultaneous release slated for the 2011 Holiday season. Questions were raised whether the third game would even be released PS3. On Monday the answers were clarified.
Electronic Arts Money by Areade Dare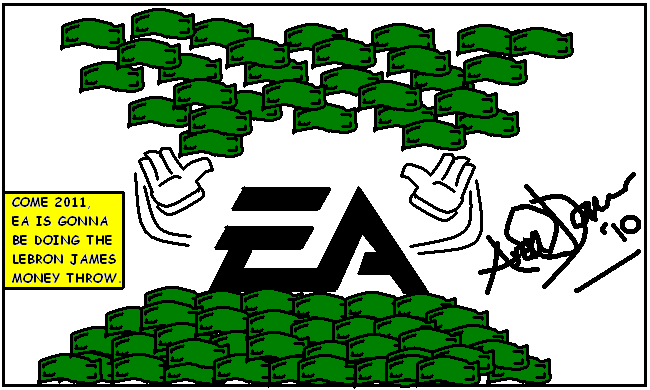 Now why should we care? Well, with the additional Playstation 3 install base, NPD numbers will be much higher than an exclusive release on the 360. Higher NPD numbers just means more sales, which means more money for Electronic Arts (ERTS), Mass Effect's video game publisher. The Mass Effect franchise is probably the third most popular 360 franchise behind the Halo and Gears of War series. Therefore a multiplatform release for Electronic Arts means a lot more money. This strikes parallels with simultaneous release of Grand Theft Auto 4 on the Xbox 360 and PS3 by Take Two Interactive (NASDAQ:TTWO).
Along with the releases of SSX: Deadly Descents, Dead Space 2, coupled with annual "sales juggernauts" like FIFA and Madden NFL (from its EA sports faction), Electronics Arts is looking to have a better than average 2011.
The "evil empire" as it is known amongst gamers has made a few mistakes from production gaffes on NBA Elite 11 (which led to its cancellation) to the laughable "Medal Of Honor". As the company enters the 2011 holiday season without a marquee title to hang its hat on, Activision Blizzard (NASDAQ:ATVI) will most likely continue to eat up the market with Call of Duty Black Ops while Sony (NYSE:SNE) and Microsoft (NASDAQ:MSFT) pick the table scraps with their Move and Kinect offerrings, respectively.
But as far as 2011 is concerned, look out for Electronic Arts, because as a guy who follows the games industry, these guys don't mess up twice.
Disclosure: I have no positions in any stocks mentioned, and no plans to initiate any positions within the next 72 hours.