Since taking power, Japanese Prime Minister Abe has embarked on a three-part plan to kickstart healthy economic growth in Japan and put an end to the deflation that has plagued the country since the lost decade of the 1990s. This much heralded plan has been dubbed "Abenomics" and has arguably been successful thus far, helping the country reach the Bank of Japan's 2% target inflation rate. The plan consists of "three arrows," namely: a broad monetary policy, flexible fiscal policy and structural reforms.
This week, Abe's economic reform plan for Japan hit a bump as recent economic data casts fresh doubts over the prospects for sustainable growth. On Friday, Japan's Cabinet Ministry released data showing that core machinery orders tumbled 10.4% in the period from April to June, the sharpest fall since the global financial crisis five years ago (See table below). Core machinery orders excludes volatile orders from electric-power companies and order for ships and is viewed as a leading indicator of corporate capital spending. The precipitous decline in orders reflects the effect the April 1 sales tax hike has had on discouraging investment.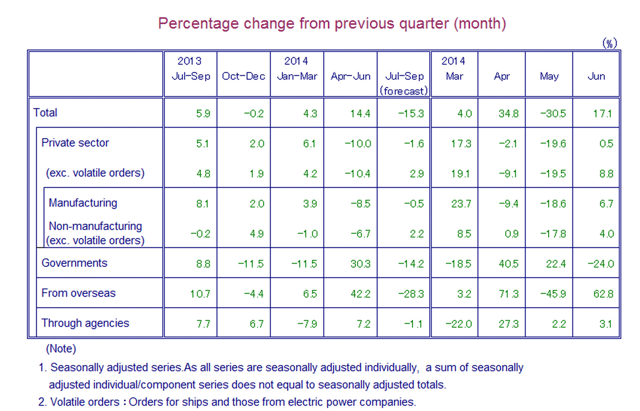 Click to enlarge
All is not gloom and doom however, as an increase in June core machinery orders may provide a sliver lining. For the month of June, core machinery orders increased by 8.8% from the previous month, an improvement from a 19.5% plunge in May. While such volatile machinery orders show that Japan's exports and industrial production remain weak, the positive data in June suggests that Japan's economy may stage a moderate recovery in the third quarter. The Cabinet Office also forecasts that orders would rise by 2.9% in the July to September period, and capital investment should pick up in the second half of the year.
On Wednesday, we saw that real gross domestic product contracted by 6.8% in Q2 on an annualized basis from the prior quarter. The graph below shows that this was the first time in almost two years that economic growth shrank during the April-June quarter.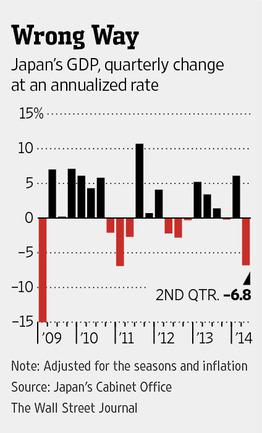 Nevertheless, this was no major surprise -- the -6.8% print was not too far off from the 7% contraction anticipated by economists. The dismal data on GDP and core machinery orders came in the aftermath of the consumer sales tax hike (from 5% to 8%) on April 1, which is part of Abe's fiscal reform agenda designed to get Japan's debt levels under control. Herein lies the policy dilemma facing Japan -- the need to restore fiscal discipline by raising taxes risks curtailing gains the country has made in terms of jumpstarting economic growth.
In this vein, one of the greatest headwinds facing Japan is its debt levels. Japan has the highest gross debt-to-GDP ratio in the world (amongst developed nations). It has been increasing steadily since 2010 and in 2013, the debt burden reached 227.2% of GDP (See graph below). The debt-to-gross domestic product ratio is the size of a country's debt divided by the size of its economy.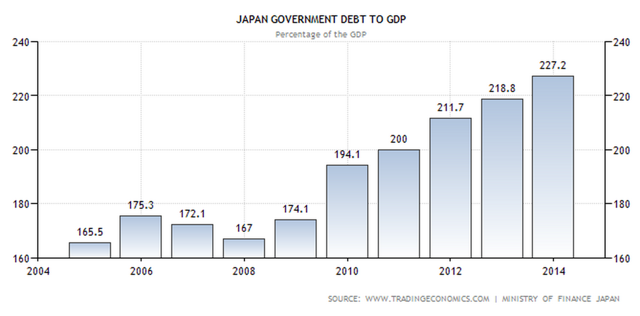 Click to enlarge
On 8 August, Japan's Finance Ministry announced that the central government debt stood at 1,039 trillion yen (US$10.2 trillion) at the end of June 2014, an increase of 14.46 trillion yen from the end of March. Such deficits year after year are definitely not sustainable in the long-term. The worsening of public finances could potentially erode confidence in Japanese government bonds, leading to a spike in interest rates that would make it harder to meet debt obligations. Indeed, the OECD has warned that Japan must do more to arrest rising debt, saying that "stopping and reversing the rise in the debt-to-GDP ratio is crucial".
To this end, Abe called for an increase in tax revenues with the first hike in consumer sales tax in April and if necessary, another round of sales tax increases (to 10%) in October 2015. According to Yasunari Ueno, chief market economist at Mizuho Securities, Abe's decision on whether to proceed with the second tax hike will depend on growth data for the July-September period. Another way to restore Japan's fiscal health would be through the use of the three arrows of Abenomics (broad monetary policy, flexible fiscal policy and supply side reforms) to enhance nominal GDP. The aim is to make the denominator in the debt-to-GDP ratio as big as possible and get out of deflation.
By trying to use both strategies at once, Abe will have to skillfully navigate economic pitfalls and tweak policies if the incoming data calls for it. This is because raising the consumption tax will reduce government debt but may put a damper on economic growth. Striking the right balance between reducing debt levels and stimulating economic growth is therefore an imperative for Abe. Get it right, and he might just be able to pull off a remarkable economic coup, ending deflation and mitigating fiscal debt woes.
Disclosure: The author has no positions in any stocks mentioned, and no plans to initiate any positions within the next 72 hours. The author wrote this article themselves, and it expresses their own opinions. The author is not receiving compensation for it (other than from Seeking Alpha). The author has no business relationship with any company whose stock is mentioned in this article.