Valero (NYSE:VLO) is positioned to take advantage of the increased production of crude oil in the United States. Valero will continue to make a profit, and not only does the company hold a significant competitive advantage over its competitors, it's also undervalued compared to its peers. Using SWOT analysis and Porter's Five Forces, it can be determined that Valero is destined for growth better than the market.
SWOT Analysis
Strengths:
Valero Energy is an incredibly diversified refiner. It refines petroleum and natural gas into products that have consistently strong demand. These include -- but are not limited to -- methanol, chemical solvents, plastics, and alternative fuels. With methanol use vastly increasing in China and the E.U., this could potentially be a huge revenue booster. It also produces ethanol (1.2 billion gallons per year, ~10% of total demand in the U.S.). On top of that, it also hedges its position by engaging in alternative energy sources. Furthermore, by spinning off many retail locations to CST Brands (NYSE:CST), Valero is mitigating risk by disassociating itself from the part of its business that could be disrupted by uncontrollable forces in the industry. It has a long-term deal to sell gasoline with CST brands, which reduces risk involved with finding buyers. CST brands took over about 1,000 retailers from Valero and are the largest entity that it sells its products to.
However, Valero also sells its products to Exxon Mobil (NYSE:XOM) retailers. On top of the $1.05 billion Valero received from its spinoff of many of its retailers to CST Brands, and the 20% stake Valero sold in November 2013, Valero has also recently signed a long-term contract to sell gasoline to CST brands. CST Brands is increasing revenues at rates faster than the industry average, and should demand more gasoline in the future due to its increasing capital expenditures.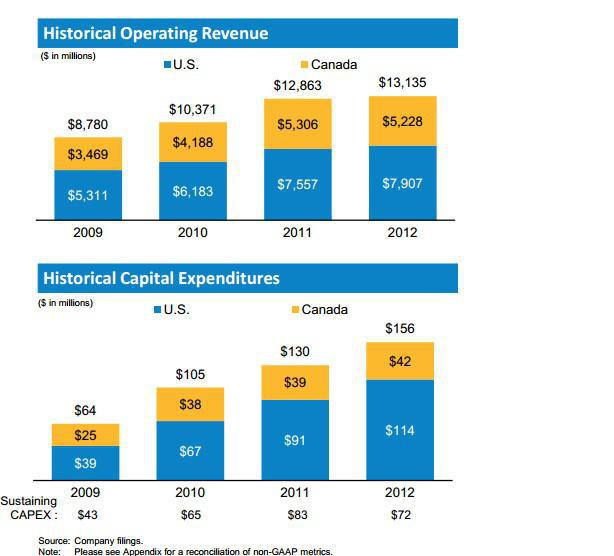 CST brands should also see increased revenues from the increase in population in the southwestern portion of the United States.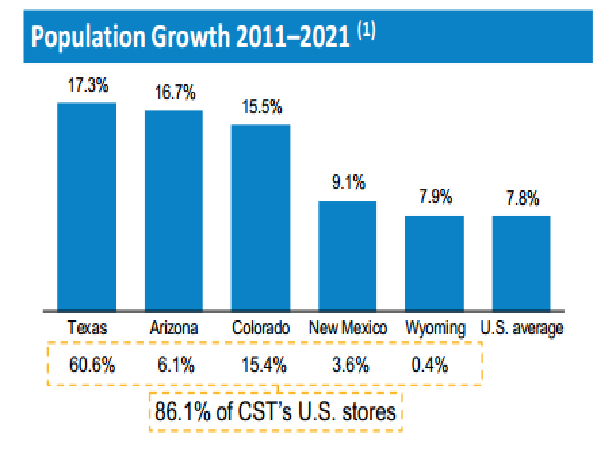 Valero is increasing its efficiency and reducing costs by spinning off portions of its business, but those still feed into Valero's revenues while reducing risk. Valero has also done this through Valero Energy Partners, which had its IPO in late 2013.
Weaknesses
Like most refiners, Valero Energy has a lack of its own supply of feedstocks such as crude oil and natural gas. It is therefore dependent on other companies to purchase feedstocks. This is the reason its third-quarter earnings tumbled to $312 million from $1.1 billion between 2012 and 2011, a huge drop in profit for any company. Another weakness is the fact that its feedstocks are non-renewable, but this is a very long-term risk. Short term and medium term, Valero is benefiting from the increased natural gas production in the Bakken, which is lowering the cost of feedstocks. Valero -- like most companies, not just refiners -- are also vulnerable to economic slowdowns that depress gas prices. This is, however, only a problem if there is an extended period of economic repression. Short term, Valero has pricing power; even when gas prices go up, volume remains constant.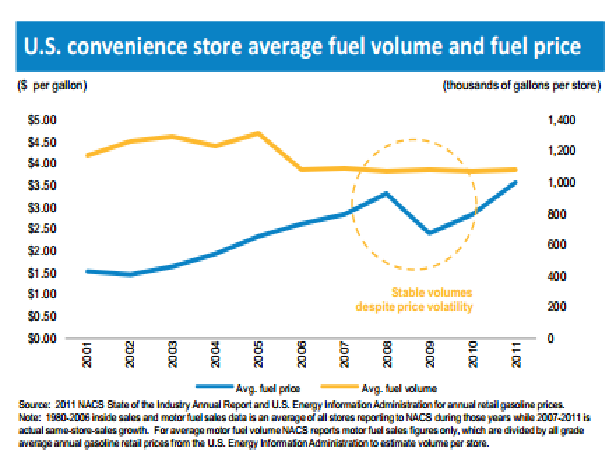 Valero is also at the mercy of regulators, and should hydraulic fracturing be banned in the United States, as has already been done in Europe and what many wish to do in the U.S, Valero's cost of revenue would significantly increase. Hydraulic fracturing, or fracking, as well as refiners and gas companies in general are also always receiving bad publicity from environmental groups and movies such as Gasland. However, Valero has a significant advantage over its competitors. Valero is always ahead of regulators. For example, the EPA previously called for 10% ethanol in all gasoline, but had to loosen these restrictions on ethanol in gas because other refiners could not keep up, but Valero was ahead of schedule.
Furthermore, Valero has its refineries in more business and oil-friendly areas than many of its competitors. Valero has seven of 16 refineries in Texas, a state known to be friendly to oil companies and refiners. Furthermore, the southern United States also has many more pipelines and availability of crude than other areas. Other states, such as New Jersey, are much less friendly. Look at the Hess refinery, which just closed in New Jersey. Two refineries closed in New Jersey in the last five years, so there are only four left. Unfortunately for Phillips 66 (NYSE:PSX), one of the most important refineries which can compete with Valero is in Linden, N.J. Recently, there has been a proposal to build a pipeline to deliver crude to the Phillips 66 refinery in Linden, which would give it a significant advantage, but this pipeline has very little chance of passing. In contrast, Valero will benefit from a new pipeline expected in Q4 2014, which will improve the transportation efficiency of its Quebec City refinery -- further reducing costs for Valero.
Revenue Growth Opportunities
Valero Energy has invested $700 million into a new petro chemical refining plant. They are now focused on domestic fuel and chemical manufacturing, capitalizing on low prices for natural gases, and benefiting from growing demand. Valero is also planning to invest another $750 million to increase refining capacity by 185,000 barrels per day. Valero already is the largest refiner in North America, producing over 3 million barrels per day, so any drop in the price of crude helps Valero significantly more than its peers. There is a growing supply of crude production in the United States, which is bringing the price of crude down and providing a greater product margin, and Valero is taking advantage, as shown below.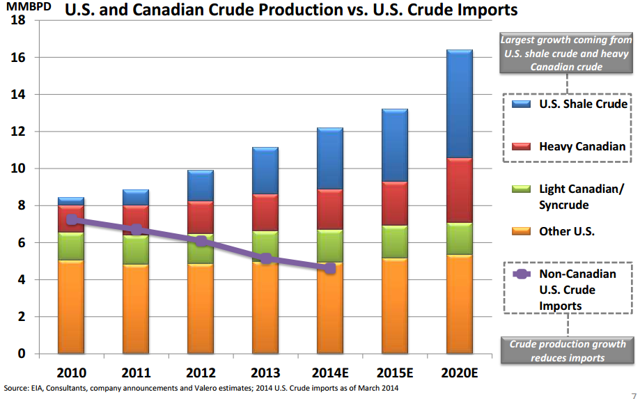 The company also could potentially benefit from policy changes. Flex-fuel may become a requirement in the near future, which would lead to increases demand for ethanol and methanol (ethanol is already being produced, while methanol production will be increased). They are heavily preparing infrastructure and resources for increased natural gas refinement, and a MIT study found that natural gas is the future. Valero is also discussing implementing a pilot project to refine natural gas into methanol. The company already has the infrastructure for it.
Threats
Valero Energy is threatened by rising energy prices. Refinery products exist in the spread between the price of oil and the price it can charge clients. The historical spread of crude is below. Notice how Valero is able to use lower quality crude to get higher margins. According to Valero, not only is the light sour crude less expensive, but it also yields 4% more product. The heavy sour crude is less expensive still and yields 8% more product.
(click to enlarge)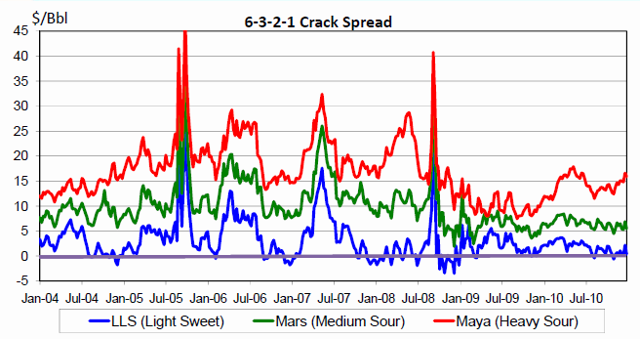 Source: Valero Investor Relations.
Failure to pass on the extra cost of its refined oil outputs would squeeze margins. It also faces potential stringent government regulations. The U.S. government has a history of making adverse changes to the operating ability of companies in this industry. The company also faces a larger focus on reusable energy by consumers. There is also rising petrochemical capacity in the Middle East. Competition hurts Valero due to companies offering services and products for lower prices; however, Valero is well-positioned in the industry. OPEC also sets a precedent for the price of crude that cannot be contested; however, the growing production in the U.S. is taking away much of OPEC's pricing power.
Porter's Five Forces
Threats of New Entrants -- Very Low
Getting into this industry requires large capital requirements. The majority of crude reserves are sour crude, which require expensive equipment. There are also stringent regulations for refiners, which makes it difficult for new refiners to enter the industry. Refining sweet crude is risky for smaller refiners because the spread can be volatile, and as a result smaller refiners are less inclined to enter the market. Valero is capable of using lower quality crude that other refiners are not capable of using. As a result, no new refineries have opened in the United States since 1976.
Bargaining Power of Suppliers -- High
The only real threat to Valero is the fact that it does not have its own supply of crude. Crude is sold on a market; however, it can be volatile. Two-thirds of the crude Valero uses is sour crude, which is sold at a significant discount to sweet crude because there is less demand and fewer refiners are able to refine it. Supply of crude is increasing due to increased drilling on the Gulf Coast and around the country, which reduces the price for crude and gives Valero more power. As the price of crude drops, Valero is able to acquire cheaper feedstocks and make a larger profit, as evidenced by its stock performance compared to crude below.
(click to enlarge)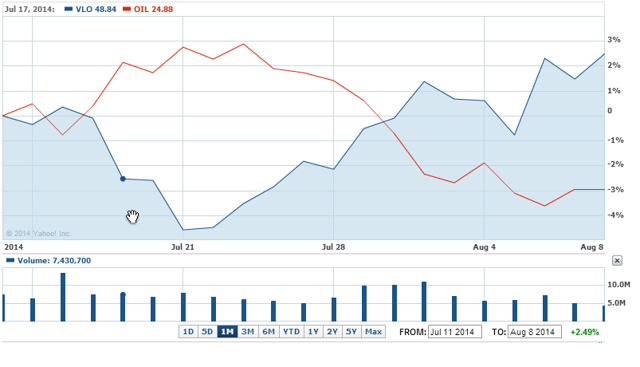 Bargaining Power of Buyers -- Medium
Valero has secured a long-term contract with CST Brands (a Valero spin-off), a gas retailer. It manufactures gasoline from lower-quality crude and is therefore able to produce lower-priced gasoline, giving buyers incentive to buy from it. There are a large number of competing firms producing identical products, but there is also consistently strong demand for gasoline products. Also, Valero has made deals with other large companies in the industry. It sells product to Exxon and Mobil gas stations, among others.
Rivalry Among Competing Firms -- Medium
The market for refined petrochemical products is large. However, Valero is considered a better investment than the majority of other industry leaders. This ensures better equity flow than competitors. Furthermore, all members of the industry are equally vulnerable to the largest risks. That includes price, availability and acceptance of alternative fuels and alternative-fuel vehicles, OPEC decisions, and technological breakthroughs that can create alternatives to refined petrochemical products. Among competitors, however, Valero has a strong advantage.
Threat of Substitute Products -- Medium
The implementation of charging stations for electric-powered cars is on the rise. Tesla Motors (NASDAQ:TSLA) plans to have charging stations for 80% of the population in the U.S. and Canada by the end of 2014, and for 98% of the population by the end of 2015. Over 71% of fossil fuel production in the U.S. is done by using fossil fuels, and Valero has a part in refining the fossil fuels used. A few charging stations from Tesla are using solar panels for some of the electricity. The cost of Tesla Motor cars and other electric cars are more expensive than more common cars powered by gasoline, but the technology is not yet there to make it cost effective for consumers to adopt. Charging stations with or without solar panels are expensive to implement and maintain. Therefore, Valero appears to have strong demand for its products.
Valuation
At a P/E of only 9.7, significantly below the industry average of 15.31, and a price to sales of .19, below the industry average of .34, Valero is undervalued compared to its competitors -- especially the big name competitors. Valero, in my opinion, is a buy at current prices.
Disclosure: The author has no positions in any stocks mentioned, and no plans to initiate any positions within the next 72 hours. The author wrote this article themselves, and it expresses their own opinions. The author is not receiving compensation for it (other than from Seeking Alpha). The author has no business relationship with any company whose stock is mentioned in this article.