Keurig Green Mountain (NASDAQ:GMCR), the maker of Keurig one-cup coffee brewers, may be negatively affected by pricing pressure in 2015, even as the company plans on rolling out a new machine later this year. The company said last week that it has secured coffee prices for 75% of its 2015 needs at higher prices than 2014.
"We've got essentially the first three-quarters locked out and each one of those quarters will be at higher coffee input costs than the prior year quarter," Fran Rathke, chief financial officer of Keurig Green Mountain, said on a conference call discussing the company's fiscal third-quarter results.
Coffee prices have notoriously spiked higher over the past year as an unprecedented drought in top grower Brazil during January and February took the entire industry by surprise. Arabica coffee futures prices, represented by iPath DJ-UBS Coffee TR Sub-Idx ETN (NYSEARCA:JO) below, nearly doubled within the first three months of the year.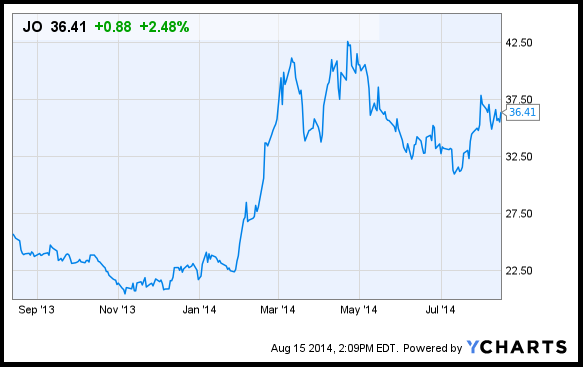 The benchmark price is now down around 10% from the 26-month high reached in April, but is still up more than 60% from a year ago. Coffee prices account for around 16% to 18% of Keurig's cost of goods sold. "The benefit from lower coffee costs in Q4 will be less favorable than year-to-date trends," Rathke said.
In response to rising costs, Keurig announced on Thursday that it is raising prices by as much as 9% on all its single-portion packs and other coffee products beginning November 3, 2014.
Starbucks Corp. (NASDAQ:SBUX) and Dunkin' Brands Group Inc. (NASDAQ:DNKN) both raised their coffee prices more than two months ago, due to the rising price of coffee futures.
Keurig Green Mountain has grown significantly in the U.S. coffee category over the past few years, having taken top place for retail sales in 2013 with 18.8% market share.
This growth has taken place mainly due to expanding demand for its single-serve K-cup coffee pods. In its latest quarter, Keurig reported a 33% rise in quarterly profit as more people opted for K-cups over traditional coffee packages.
Demand for such products could, however, be adversely affected if consumers shun the upcoming price rise. The chart below shows Keurig's quarterly cost of goods sold. COGS, as it is known, has fluctuated between $500 million and $900 million quarterly since 2012, and could exceed the $900 million marker should coffee prices continue to rise.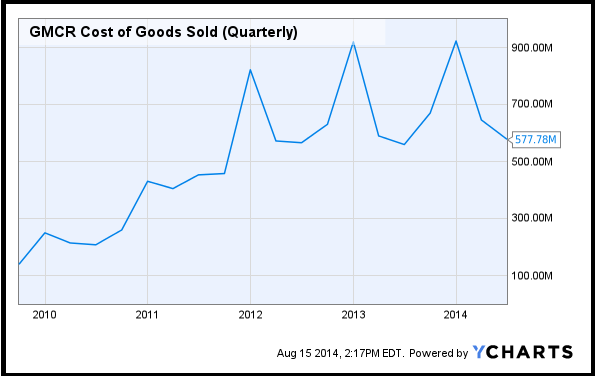 The company has planned to launch its Keurig 2.0 brewers later this year, and hopes renewed demand will lift future revenues. If coffee prices crimp sales, however, expect selling pressure to mount on the coffee maker's share price throughout 2015.
Disclosure: The author has no positions in any stocks mentioned, and no plans to initiate any positions within the next 72 hours. The author wrote this article themselves, and it expresses their own opinions. The author is not receiving compensation for it (other than from Seeking Alpha). The author has no business relationship with any company whose stock is mentioned in this article.