Unfortunately, with eight trading days left in the month we now find ourselves lagging the S&P 500 by 97 basis points (assuming no costs) in our theoretical Core and Opportunistic Long Model portfolios (see also our model based on real trade data). Even our larger, 57-stock, fundamental-only Naive Long Model Portfolio is lagging the S&P.
Something is going on here -- the market is not rewarding holders of "high-quality" stocks this month. Of the 1,176 stocks that traded on major U.S. exchanges and had a market cap greater than $2.5b as of the November 30, 516 of them have surged higher than the S&P 500 MTD return of 5.64%, with the top 20 averaging returns of 28.35%. At first glance, this smells like a junk rally in the works.
According to the table below, stocks that are beating the S&P 500 for the month-to-date have below-average low scores (but not abysmal) for the key four factors we use to quickly measure the relative attractiveness of stocks, which are: 1) Relative Value; 2) Operating Momentum; 3) Analyst Revision Momentum; and 4) Fundamental Quality.
In addition, these stocks have higher than average volatility and higher than average beta. Interestingly, 6 of the top 20 best MTD return stocks received at least one score of 5 in any given category, 13 out of 20 received at least a score of 4 or better, and 15 out of 20 stocks received a score of 3 or better.
This could indicate the market sees a silver lining in all of these stocks; that is, if a stock is ranked highly in one area, the recent price action may be suggesting that investors may be betting that the rest of the stocks relative fundamentals have a chance of improving as well. Maybe we are at the beginning of a "Silver Lining" rally as opposed to an "Anything Goes Junk Rally."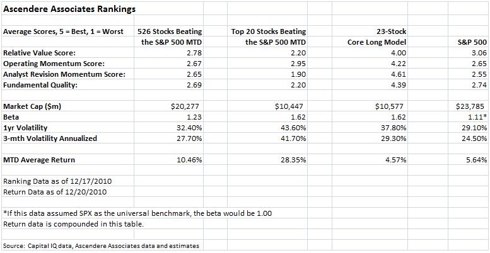 Click to enlarge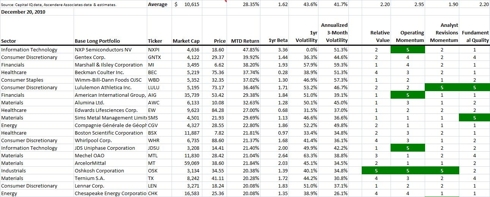 Click to enlarge
The last time our models lagged a surging market in a back test was in March and April of 2009, and as we explained last week, it is our opinion that 2011 will see continued earnings growth and multiple expansion. Perhaps we have a "happy problem" here, as our favorite old PaineWebber boss used to say. This "Silver Lining" rally potentially in the works provides further cause to be optimistic about market performance for early 2011. So what do to with this information?
In our opinion, modifying our "high-quality-only" model strategies to chase returns in the hope of beating the S&P 500 for December can backfire. On the other hand, why hold a stock under clear year-end selling pressure; why not replace it with something else that may help us beat our benchmark? We are considering replacing a high-quality stock under year-end selling pressure such as United Continental Holdings (NYSE:UAL), but the risk to that is losing out on any upside as investors start anticipating the end of tax loss selling. While we generally stay consistent in our approach in owning only the highest-quality companies as we define them, we do allow ourselves the occasional exception when putting our theoretical models into real world use.
For aggressive traders beholden to no one but their own P&L, there does seem to be a good opportunity here. Perhaps seeking out "Silver Lining" stocks that that look attractive on some key factors, but not all, might be highly rewarding in the short term. If any piece of this analysis is accurate, perhaps there may be opportunity with a few "Silver Lining" stocks that have risen roughly in line with the market so far for the MTD, with the most intriguing idea being Ford Motor Company (NYSE:F).
Interestingly, as we have mentioned in our previous weekly reports, Ford shares a few characteristics with Netflix, Inc. (NASDAQ:NFLX), Apple Inc. (NASDAQ:AAPL) and Chipotle Mexican Grill, Inc. (NYSE:CMG) from earlier in the year. Like Ford, all of these stocks scored a 5 for every category except for relative valuation just prior to moving on to incredible upward moves.

Click to enlarge

Click to enlarge
A pdf of this report is available on Scribd.
Disclosure: I am long UAL.
Additional disclosure: I am currenly long UAL and am considering the purchase of LRCX and F within the next 72 hours. Through the independent equity research and management firm, Ascendere Associates LLC, I offer a premium equity research newsletter for which I receive compensation. Recent issues of this newsletter have mentioned stocks in this article. I also receive compensation through various equity research consulting and advisory services, as well as for licensing brokerage trade data to Covestor, Ltd. for use in its investment advisory service.