By Richard Bloch
After seeing this Bloomberg article on Naspers (OTCPK:NPSNY), I recalled that I mentioned this company in a post about Africa a few months ago. This emerging markets media company happens to be the third largest holding in the iShares South Africa ETF (NYSEARCA:EZA).
Although Naspers may seem at first glance to be an African investment, it turns out the company has a footprint on five continents, mainly through its acquisitions and joint ventures.
According to the company's most recent financial presentation in September, the main contributor to Naspers earnings is its 35% investment in Tencent (OTCPK:TCEHY).
Tencent, of course, is one of China's leading internet companies, offering a variety of online and mobile services. Tencent's ADRs (American Depository Receipts that trade in the US) have been basically flat in 2010, but since January 2009 are up more than 300%.
A stake in Facebook, Groupon, and Zynga?
Naspers also owns a 29% share in Mail.ru Group, a large internet company serving the Russian market and that issued an IPO in November. Mail.ru Group, in turn, owns shares in Facebook, Groupon, and Zynga, which are some of the hottest internet companies that are not publicly traded themselves.
I'm not sure how much of a share in these three private companies would be represented in a share of Naspers, but overall, Mail.ru contributed about 70 million South African rand to Naspers' earnings in FY 2010, per Naspers' recent financial "snapshot."
Emerging market media opportunities
Here's a list of Naspers' other media holdings, according to the company's recent report: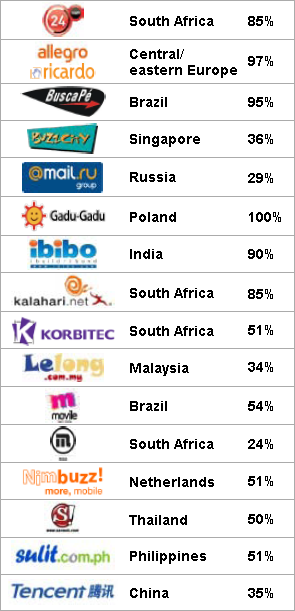 These companies represent online communities, shopping sites, instant message services, internet providers, and search engine portals throughout the world.
All told, the company's revenue breaks down as follows: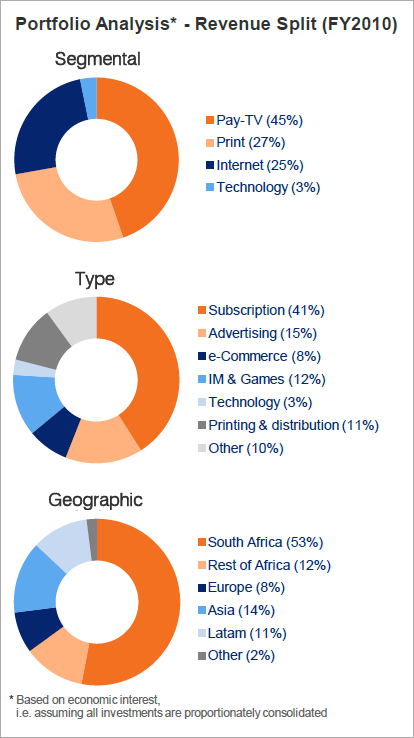 No expatriates
According to Bloomberg, Naspers learned an important lesson from some of its previous acquisitions – not to put expatriates in charge.
Not all investments by Naspers have been successful. It entered China in 1998, setting up an Internet service provider. After failing to earn a profit, the company shut the business in 2001. The experience taught the company to use local managers because they are more knowledgeable than expatriates, according to Naspers.

"We don't place any expats in any of our businesses," Roux said. "Zero. Not a single one."

With Tencent, Naspers doesn't mind keeping a secondary role because of its confidence in Chairman Pony Ma Huateng and President Martin Lau, CEO Bekker said.

"We make a contribution but we don't control or we don't lead it," Bekker said in an interview last month. "We are quite happy with that structure."
Naspers trades in Johannesburg, although as mentioned, ADRs are available in the United States. There are charts of both available here. (Select "exchange" at the bottom to switch between the two.)
Although the company is diversified across many holdings, it's still an emerging markets company, with all the risks that come with investments in that sector.
And remember that the company's shares mainly trade in South African rand, so there's currency risk to consider as well. Also note that the shares that trade in the US don't have much volume. That means the bid/ask spreads could be wide, making it a good idea to use limit orders.
While Naspers has a significant presence in modern day online media companies throughout the world, it turns out the company was founded all the way back in 1915, as a traditional newspaper/magazine publisher.
Sure, The New York Times (NYSE:NYT) is older, but its stock performance seems old and tired too, compared to Naspers.
Disclosure: None