SkyPeople Fruit Juice, Inc. (NASDAQ:SPU) produces kiwi, apple, pear, jujube and mulberry concentrated fruit juices and fruit juice beverages as well as fresh fruit. It also owns the largest kiwifruit plantation in Asia. As a result, SPU is one of the fastest-growing fruit product companies in China today. The company rode out the financial crisis and has managed to maintain revenue growth of 40% annually for the past four years.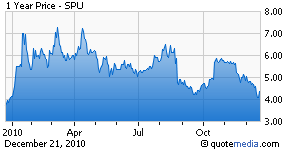 From September to October of 2010, concentrated fruit juice prices have risen from $850 to $1,600 per ton. Due to production cuts in apples from Europe, the price of apple juice in Portland, has already increased more than 20%, and the price of apple juice in China, is expected to reach $1,800 a ton in the near future.
China consumed 12.5 billion kiloliters of fruit and vegetable juice in 2009, according to Euromonitor International, and this figure is likely to reach 18.1 billion kiloliters within three years. Double-digit growth is therefore likely to remain a feature of the market for some time. In the long run, the future of concentrated fruit juice is very bright due to growing domestic demand. Sales of fruit juice beverages continue to benefit from strong demand from Chinese consumers as more middle-class consumers now drink fruit juices as a healthy alternative to carbonated soft drinks. In the short term, due to expectations of high inflation ahead, rising price will become the catalyst boosting stock prices for fruit juice companies.
First: Two major exporters – China and Portland – are facing inventory reduction and supply shortage problems today. China is currently the world's largest producer of apple concentrate around the world, with 95% of its annual output exported overseas. FOODNEWS showed that there will be a shortage of concentrated apple juice in China because of rising price.
Second: Orange Juice, once considered to be the substitute of apple juice, also experienced a sharp increase in price. The price of orange juice increased more than 50% in 2009 because of a freezing disaster in the United States, one of the major orange exporters. The price of orange juice has remained above $3,000 per ton due to tight inventories in 2010. As a substitute for orange juice, the rising price of orange juice will definitely increase the demand for apple juice.
SPU is a small-cap company, but its strength lies in its diversity. Huiyuan (1886.HK), the largest domestic fruit juice producer, and other peers in China mainly specialize in apple- and orange-related products. SPU, unlike its peers, however, specialized in kiwi juice, which has a much wider profit margin than apple- and orange-related products. Earlier this year, SPU introduced a bottled kiwifruit and mulberry juice under the brand name of Hedetang in Beijing. This helped the company to avoid direct competition with major players like Huiyuan in China, which mainly produces orange and apple juices.
In the recent quarterly report, the company reported a net income of $3.6 million, up 71.4% from 3Q 2009, and revenues from kiwifruit and apple concentrates increased 207.6% and 117.6%, respectively, on a yearly basis. Apple and orange concentrated juice are the most profitable products in SkyPeople's portfolio. They account for 60% of total revenue in the first 9 months of 2010 and continue to enjoy the rising price in today's fruit market.
As of September 30, 2010, the company had US$46.1 million in cash from strong internal cash flows, and its total liability is only $22.3 million. The company's rich cash position, as well as its strong relationships with local lending institutions, provides SPU adequate funds to support its growth plans.
Because of the strong financial reports and rising demand for its product, SPU recently updated its net income and earnings per share guidance for 2010. The GAAP EPS (diluted) is $0.82 to $0.91, which means the stock is traded at P/E less than 5 today! The price-to-book ratio of SPU is 0.99 with a PEG Ratio of 0.15, which is relatively low and suggests that SPU is a significantly undervalued company with great growth potential.
Considering the huge growth potential of China's fruit industry, increased fruit beverage consumption and SPU's strong past performance, SkyPeople Fruit Juice definitely represents a great opportunity for value investors.
Disclosure: Author long SPU