On this past Sunday, Rich Kinder delivered on his challenge issued on January 15th 2014, where during the earnings call, he stated "We proved the doubters wrong the first time around and I anticipate the same result this time. You sell, I'll buy and we will see who comes out best in the long run." Hard to say if this was his Plan B if he couldn't drive up the shares of Kinder Morgan Energy Partners LP (NYSE:KMP), but it certainly is a statement transaction that few thought was either possible or practical. For those who bet against Kinder Morgan, they are feeling the pain of the premium Kinder Morgan Energy Partners is receiving from the transaction. For those who chose to hold KMP in their IRA accounts, they will realize the greatest return from this transaction.
Since Sunday, the market has been speculating on the implications; that the MLP structure will not survive due to the inherent IDR burden of many LPs, or conversely, the structure will continue to flourish in spite of the unique circumstances of Kinder Morgan. Our view is the latter due to the limited IDR burden of high growth units, and the complications of other LPs being targeted and acquired by C-Corp GPs. One analyst questioned whether the packaged product industry, with over $72B of assets, will be able to survive in a shrinking markets, a provocative headline to say the least.
In other news, we continue to monitor the demand for sand, with QEP this week reaffirming test results using 10 million pounds of proppant in recent Bakken completions yielded returns in excess of 50% using $90/bbl assumption for crude.
Unit Movers
"Anything Kinder" led the week up as Kinder Morgan Energy Partners were offered 2.1931 Kinder Morgan Inc. (NYSE:KMI) shares and $10.77 in cash for each KMP unit. Kinder Morgan Management (NYSE:KMR) shareholders will receive 2.4849 KMI shares for each share of KMR. El Paso Pipeline (NYSE:EPB) unitholders will receive .9451 KMI shares and $4.65 in cash for each EPB unit. Both KMP and EPB unitholders can elect to receive the prorated cash amount rather than an interest in KMI. The EPB and KMP transaction is a taxable event, meaning unitholders, who hold these securities in an individual non retirement account, will need to pay the cumulative tax, upon the closing of the transaction late this year, associated with the reduced basis realized from previous KMP and EPB distributions. KMR holders will not be subject to tax since it is considered to be an exchange.
The below chart illustrates how the market has reacted to these terms since the deal was announced last Sunday evening:
Susser Petroleum Partners (SUSP) continues to rise in advance of Energy Transfer Partners' (NYSE:ETP) acquisition of Susser's GP parent, Susser Holdings Corp. (NYSE:SUSS), and strong Q2 revenue and distribution growth. SUSP's yield has compressed from 5.5% to 3.7%, as the market expects strong distribution growth from the combined entities.
Crestwood (NYSE:CEQP) and OCI Partners (NYSE:OCIP) revealed poor results and lowered 2014 guidance, sending units down for the week.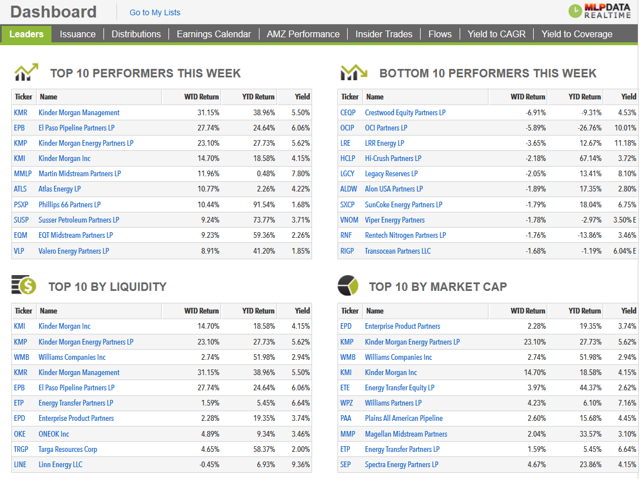 The Kinder Void
With over $40B of 7% yield soon to be taken away from MLP investors, the below table is a screen of Midstream LP's which yield above 6.5%. Coverage ratios, operating leverage, distributable cash flow composition and growth rates are additional key metrics investors should consider in the selection process. A previous article identified Kinder alternatives, which can be accessed here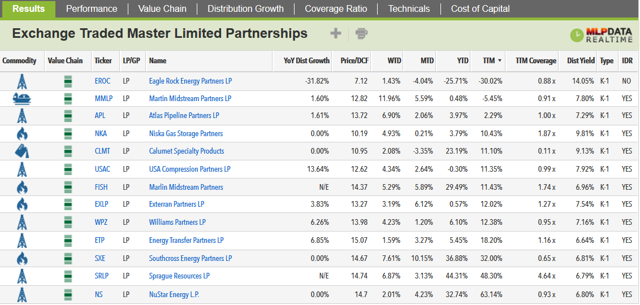 Retail investors are not alone amongst those who will be looking to replace KMP exposure. Funds, particularly those benchmarked to the Alerian Index, such as ALPS Alerian MLP ETF (NYSEARCA:AMLP) will need to reconstitute ~10% of their fund. Alerian will do a special rebalance likely around the time of the completed transaction, which is expected by year end. This rebalance will add two new units to the index and also will adjust the weights of the existing constituents, increasing the weights by market cap.
Issuance
Hi-Crush Partners' (NYSE:HCLP) GP sponsor sold 3.7MM units, which did not dilute existing unitholders. Nonetheless, those allocated the shares sold out their positions, driving units lower. Such events offer investors attractive entry points as the units recover once the selling is completed, as illustrated in the chart below, which plots Secondary and Earnings announcements with price action: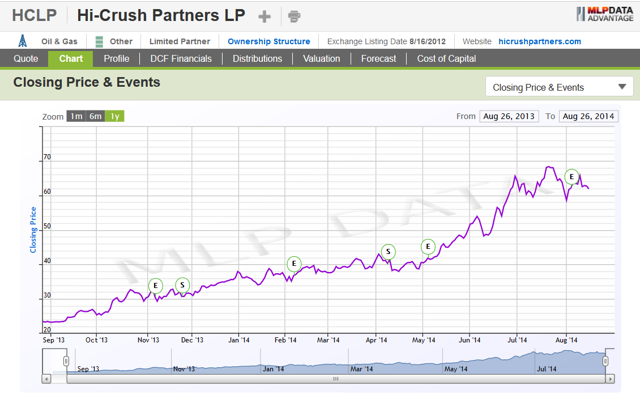 To get this round-up each week, please make sure you are following MLPData here on Seeking Alpha.
All charts and tables provided by MLPData.com
Disclosure: The author is long TEP, EMES, HCLP, SUSP. The author wrote this article themselves, and it expresses their own opinions. The author is not receiving compensation for it. The author has no business relationship with any company whose stock is mentioned in this article.