Most short targets are usually those focused on companies have just overshot rational valuations by traditional metrics such as price earnings ratios. Amazon (NASDAQ:AMZN) fits nicely into this category. Then we have companies whose ability to continue as a going concern might come into question. Until recently, Blackberry (NASDAQ:BBRY) was one of these and J.C. Penney (NYSE:JCP) currently occupies that space along with Sears Holdings (NASDAQ:SHLD).
Finally, we have small stocks without much analyst coverage or overseas companies that have accounting or fraud issues that go on for some time before being caught. Sino Forest which was brought down and exposed by Muddy Waters and collapsed once their fraud was verified is a good example of a successful short thesis in this space.
However, ever since Worldcom and Enron and the rules & regulations that followed their implosions, I am unaware of any large company that was brought down by accounting or fraud issues. Fraud and major accounting issues seem to be confined to the individual level (Madoff, Stamford, etc.) and small companies these days.
That has not stopped some hedge funds and "research" firms from trying to allege accounting shenanigans at some major names. Probably the effort that has garnered the most press in recent times is manager William Ackman's almost Ahab type quest to bring down Herbalife (NYSE:HLF). Mr. Ackman's initial short worked in late 2012 as he was successful in knocking the shares down some 40% before some big names like Carl Icahn took stakes on the opposite end of that bet. Even with the stock's big decline on unrelated issues, HLF is above where Mr. Ackman published his original allegations.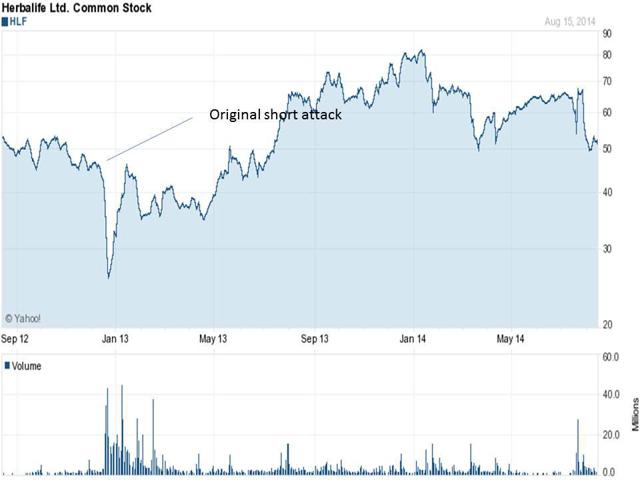 Click to enlarge
Hedgeye, a quasi-research firm, published a damning report on Kinder Morgan (NYSE:KMP) back in September 2013 and called for the shares to fall to $40 a share. Among other negative reasons Hedgeye cited was "Currently Kinder Morgan, a widely held consensus long, but it is so for the wrong reasons as we detail in this report. We believe the Kinder Morgan complex (KMI, KMP, KMR and EPB) has substantial downside to fair value, at least 50% below the combined market cap" for its short thesis.
Kinder Morgan was already up big from that report before it added substantial additional market capitalization this week upon announcing it will combine its various entities outside a master limited partnership (NYSE:MLP) structure. Not only is Hedgeye eating a significant amount of crow but also deep losses if they had the courage of the convictions and shorted the stock at the time of their scathing report.
This would be nothing new to this group as they are in a similar situation with another energy partnership, Linn Energy (LINE), which it hit twice in Barron's last year. I defended Linn at the time and booked some substantial profits once the market realized there was little to Hedgeye's allegations of "accounting irregularities". Hedgeye and Jim Cramer also got into a nasty "tit for tat" on this one.
This leads us to Chicago Bridge & Iron (NYSE:CBI), which is down more than 30% in recent months on allegation from another obscure short seller/quasi-research firm (Prescience Point) who has alleged "creative accounting" behind the company's recent acquisition and integration of Shaw Group.
I believe the decline is a significant buying opportunity and have been adding shares as they continue to pull back. One thing I have found from watching these short attacks over the years it is that these types of negative reports with accounting allegations can indeed take a stock down in the short term. However, unless corroborated by real analyst firms (who go over the company again with a fine tooth comb as they don't want egg on their face), these declines almost always are temporary and turn out to great buying opportunities.
As I recently detailed on Real Money Pro, Prescience Point has been successful in knocking several stocks down in the short term with their scathing reports - although none as big as Chicago Bridge & Iron. They also have a horrid long term record (bottom 2% of over 6,800 financial analysts according to TipRanks), that should make every investor read their reports with a huge grain of salt.
Four-star rated analysts at both Barclays and UBS have reiterated their "Buy" ratings on Chicago Bridge & Iron in recent weeks. Their price targets are $87 a share and $90 a share, respectfully. Both these targets are more than 40% above the current stock price.
Chicago Bridge & Iron has a massive order backlog, beat expectations on its last quarterly report and go for under 12 times this year's expected earnings despite tracking to better than a 20% year-over-year earnings increase. Finally, Berkshire Hathaway (BRK-A) just upped its stake by 12% in Chicago Bridge & Iron to just under 10% of the outstanding stock in its recently submitted quarterly investment report. Berkshire, of course, is the investment vehicle of some investor named Warren Buffett. So who should an investor believe on this battleground stock? I know which way I am betting. BUY
Disclosure: The author is long CBI. The author wrote this article themselves, and it expresses their own opinions. The author is not receiving compensation for it (other than from Seeking Alpha). The author has no business relationship with any company whose stock is mentioned in this article.