Target (NYSE:TGT) is going to be reporting earnings next week on Wednesday. The company came out earlier this month and issued Q2 EPS estimates of $0.78, against previous analyst estimates of $0.85-$1.00.
The company noted that its data breach cost it $148 MM when all was said and done. Consensus estimates, according to Yahoo are now for $0.80 on revenues of $17.39 billion. This would compare to revenues of $17.12 billion last year and EPS of $0.97 last year.
After reaching a peak over $72.50 in mid-2013, Target has pulled back as a result of the data breach coupled with decreased confidence in the brand and lack of "store sex appeal", as my sister-in-law called it, in a conversation we had about the name earlier this year.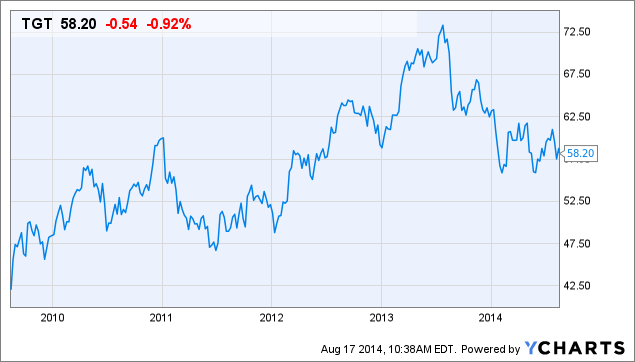 The company seems to have reached the end of its struggles related to the data breach. Target released final costs of the event earlier this month and in the process, they also updated their guidance.
Investors didn't seem to like the news and the stock has looked unsettled not just this month, but for the better part of 2014.
The company's new CEO, Brian Cornell, who came over from PepsiCo (NYSE:PEP), is tasked with tidying up the mess. His first problem is going to be preventing the store from having a "Wal-Mart, Part 2" feel to it. Retailer J.C. Penney (NYSE:JCP) was struggling with the same style of identity crisis and they completely made a meal of their reorganization. Can Target figure out a solution that will appease both customers and stockholders?
International sales, specifically in Canada, will also be under close examination. The company has implemented a plan in Canada where it just announced a few initiatives to try and keep growth on track. They're going to be focusing on pricing, stocking, and providing a variety of merchandise. It's likely going to take several quarters before we have any idea about how this program is working for the retailer.
Online sales continue to grow at a healthy clip, as noted in this morning's article "What I Need to See From Target When It Reports Earnings". However, as a slice of total sales, online can't be too much of a catalyst for the company.
Target's yield is currently near 3.5%. This chart doesn't show it, but it gives you an impression of the direction the yield is heading. As the price of the equity continues to come down, the yield begins to look more and more attractive. Many investors, as well as people looking from the outside in, such as our office, wonder if the dividend is safe. We hope to get more detail on this during the company's upcoming conference call and earnings presentation.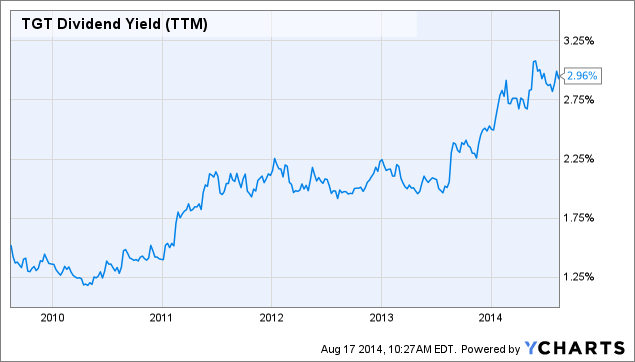 TGT Dividend Yield (TTM) data by YCharts
What caught our office's eye, however, is the company's newly announced plans to keep more than half of its U.S. stores open later. While this may have been a name I would have been quick to dismiss otherwise, I think the timing of this move is on point. Should the later hours -- which require very little overhead and potentially open stores up to significantly more business -- translate to an improved top line at the same time as investor confidence takes a turn for the better, we might just see a positive move in the name.
Of course, by staying open late, a company that doesn't want to become Wal-Mart runs the risk of the later hours giving stores a 24-hour Wal-Mart- like feel.

The Peel's Feel:
Retail isn't necessarily the sector that our office wants to be in at all right now. Target is robustly valued with a ttm P/E near 20x. However, we do believe there is long-term potential in the name and will continue to keep the retailer on our watch list.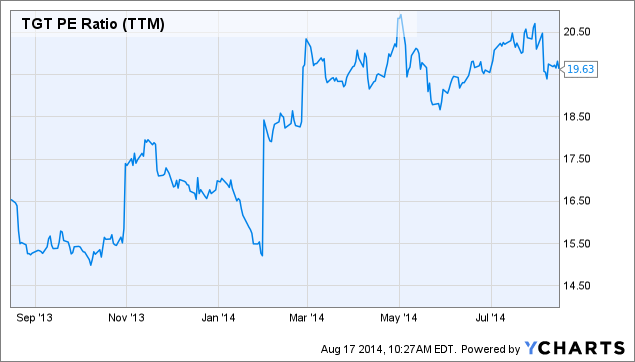 TGT PE Ratio (TTM) data by YCharts
We currently rate Target as RIPE (NYSEARCA:HOLD), but we will be keeping an eye on both earnings in the upcoming week, as well as what progress the company makes when it adopts later operating hours. Again, if this works as a catalyst for the store around the same time market sentiment begins to head in the right direction, Target could possibly present a good opportunity for value investors.
We're going to be extremely interested in the details that the company provides to investors in its financials and on its call. We will be on the call and could update our opinions on the company as soon as we have digested the data.
By the end of the year, we should have a better idea as to how Target's Canadian initiatives are working. Again, while we rate Target as a hold for the time being, we're going to continue to dynamically reassess our analysis as more data becomes available.
Disclosure: The author has no positions in any stocks mentioned, and no plans to initiate any positions within the next 72 hours. The author wrote this article themselves, and it expresses their own opinions. The author is not receiving compensation for it (other than from Seeking Alpha). The author has no business relationship with any company whose stock is mentioned in this article.