Youku (NYSE:YOKU) will report 2Q14 results on Tuesday with consensus expecting -$0.34 EPS (vs. -$0.63 a year ago) and $981m in revenue (+30% y/y). After an in-line Q1 and disappointing guidance, YOKU's shares have tumbled 22% over the past four months. Evidently, the market is concerned over the competition from Baidu (NASDAQ:BIDU) whose iQiyi and PPS are gaining momentum in terms of both user base and time spent, rising content cost and a mild ad environment. Given that much of the negativity has baked into the price, any improvement in both financial metric and/or outlook could be a positive catalyst for the stock, in my view.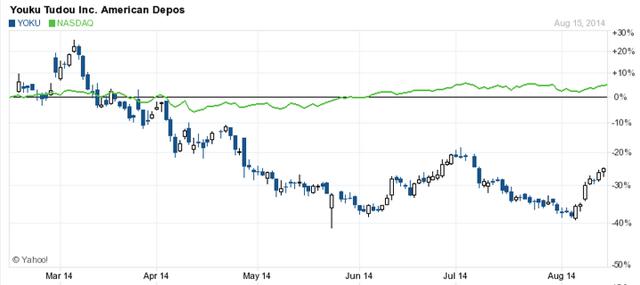 Click to enlarge
Mobile monetization a key focus
At the end of Q1, YOKU's mobile monetization accounted for a third of its total revenue, vs. only 10% in 4Q13. The new bundled pricing that encourages advertisers to use multiple screens may have helped mobile revenue contribution. According to management, mobile monetization has reached 50% in May. Time spent on YOKU mobile has also seen steady ramp up, which should further attract mobile advertisers.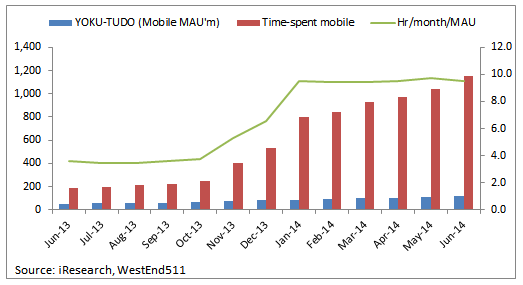 Mobile monetization will continue to grow in significance as PC time spent shifts to mobile. Although it is worth to mention that the PC engagement level seems to have stabilized in Q2, which is encouraging since Baidu no longer conducts business with YOKU on the PC side. However, competitive risk remains as Baidu's iQiyi and PPS both continue to extend their lead over YOKU in terms of time spent and users since becoming China's most popular video site last quarter.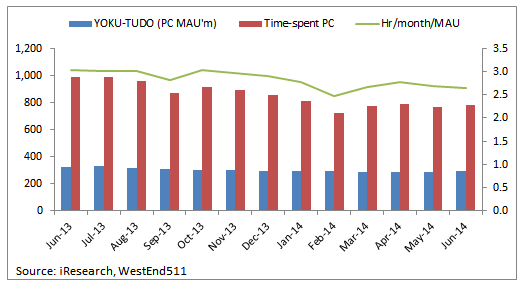 Focusing on the guidance
Q2 results could come within expectations but the market will likely to place a greater emphasis on the guidance for 2H14 when YOKU is expected to monetize its live broadcasting unit, Xingmeng that operates similarly to YY (NASDAQ:YY). Under the Xingmeng platform, YOKU users could purchase virtual items to the performers and it could generate incremental revenue growth for YOKU. However, I am skeptical that Xingmeng could become a relevant competitor to YY given that the latter's first mover advantage and that YY performers are unlikely to switch to a competing platform that require them to accumulate their fan base from zero base.
In short, I believe that much of the negative sentiment has already factored into the stock price and it would be a good time for investors to be constructive on the name should there be any positive surprises. I continue to have to a positive bias on YOKU in that the company is attractive as a stand-alone unit that continues to consolidate the online video space, or as an acquisition target for larger players such as Alibaba (NYSE:BABA) or Baidu that are looking to gain larger scale in online video.
Disclosure: The author has no positions in any stocks mentioned, and no plans to initiate any positions within the next 72 hours. The author wrote this article themselves, and it expresses their own opinions. The author is not receiving compensation for it (other than from Seeking Alpha). The author has no business relationship with any company whose stock is mentioned in this article.