When we first explored ideas about how to create an Ultra-Low Volatility Index, we zeroed in on some simple rules. Admittedly, the results are provisional. I need more time, data, and real-world events to fully vet these ideas. However, the provisional results are not bad. Fortunately, the market provides a real-time laboratory to test ideas.
Here are the provisional Ultra-Low Volatility Index strategy's rules.
Buy SPLV (NYSEARCA:SPLV) with 80% of the dollar value of the portfolio.
Buy TMF (NYSEARCA:TMF) with 20% of the dollar value of the portfolio.
Rebalance annually to maintain the 80%/20% dollar value split between the positions.
Here are the results in a linear scale: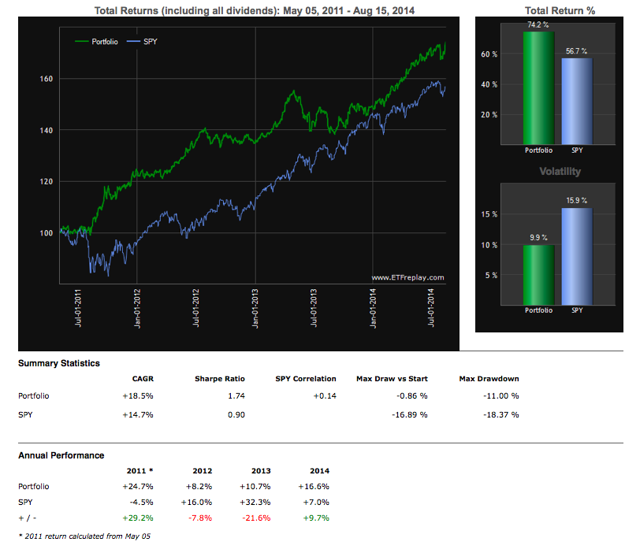 Click to enlarge
As before, there is a clear pattern of the strategy outperforming in tough years for the S&P 500 and lagging in strong up years for the S&P 500. During the minor recent volatility, it is heartening to see the strategy reach a new high. However, there is not enough data yet to make any firm conclusions.
Unlike some of our other work, this strategy is not very original. However, it may be another useful tool in our tool kit.
Disclosure: The author has no positions in any stocks mentioned, and no plans to initiate any positions within the next 72 hours. The author wrote this article themselves, and it expresses their own opinions. The author is not receiving compensation for it (other than from Seeking Alpha). The author has no business relationship with any company whose stock is mentioned in this article.